Are you looking for an easy way to optimize your WordPress website? Do you want to make sure your content is easy to find and navigate? If so, then adding Indexnow to WordPress is a great option! In this blog post, we'll discuss why it's important to add Indexnow in WordPress and how it can help improve the overall user experience of your website.
Introduction to IndexNow
IndexNow is a revolutionary protocol that allows users to quickly and efficiently index their content on search engines. It has been designed to save time and speed up the SEO process, making it easier for website owners to get their content seen by potential customers. IndexNow works by pinging search bots with the exact content that needs to be indexed, without having to visit already indexed links. This makes it an ideal choice for those looking to rank faster and increase their visibility online.
Why do you need add Indexnow in WordPress
 This allows the search engine to quickly index the new content and update the ranking accordingly. By using IndexNow, you can ensure that your website content is always up-to-date and properly indexed by search engines. In addition, it also helps search engines better understand the structure of your website and its content, allowing them to provide more relevant results for users.
For these reasons, in today's blog, we will give you a step-by-step tutorial to help you add Indexnow in WordPress. Now, let's check it out.
How to Add IndexNow in WordPress to boost seo results with a free plugin
Although there are some WordPress SEO plugins that support IndexNow features such as Yoast SEO, AIOSEO, this is a paid feature. If you are looking for a free plugin that gives you this feature, we highly recommend using IndexNow plugin for your Website. This plugin will automatically submit URLs from your WordPress sites to multiple search engines without registering or verifying your site. Thanks to that, your posts/page will appear on search engine results soon.
To use this plugin, first of all, you need to install it. You can check our brief guide below:
 Go to Plugins > Add New from your WordPress dashboard
Type the plugin's name on the search bar to find it
Then, click on the "Install Now" button and the "Activate" button to activate it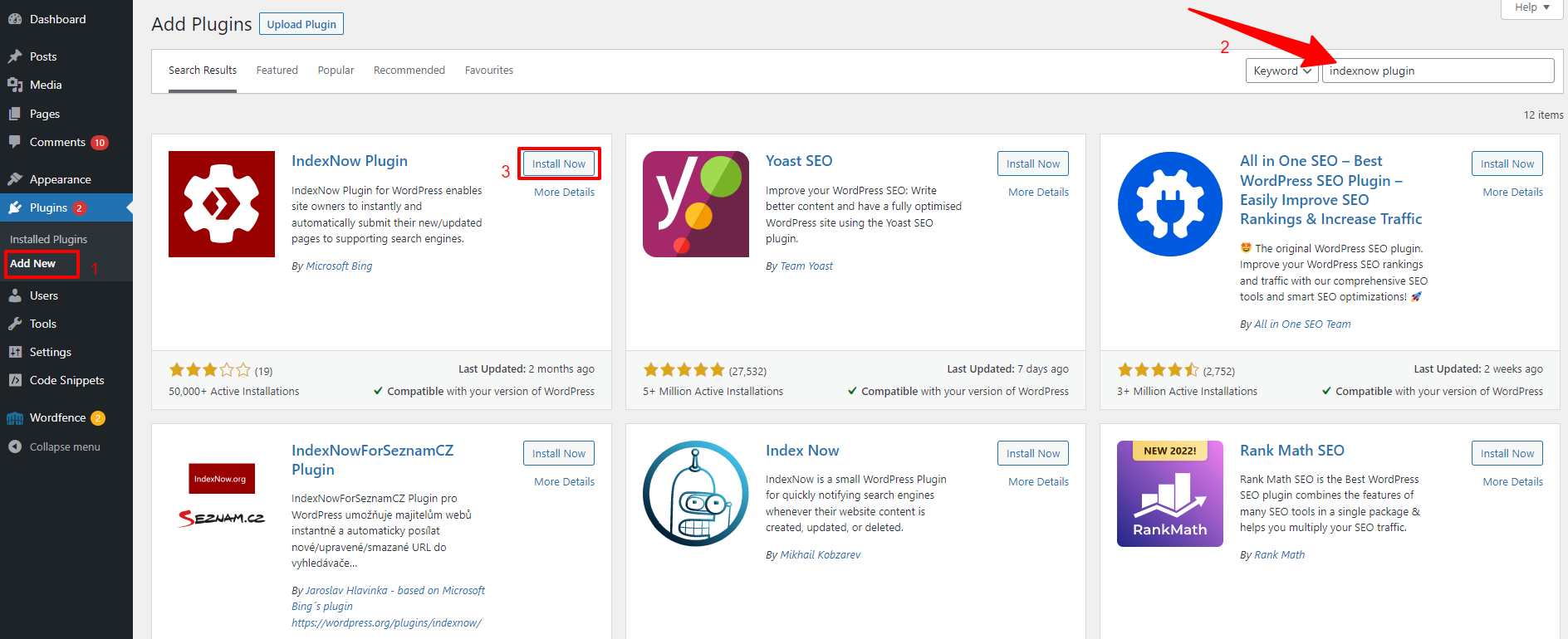 Once the plugin is activated. Now, you need to navigate to Settings > IndexNow from your admin panel. Then, click on the "Let's Get Started" button, this will automatically generate and host your API key on your website.
In addition, this plugin also detects creation/ update/deletion in your website and submits the URLs in the background automatically. As a result, your search engines will quickly have the latest updates about your site.

Within 48 hours, the plugin will display all successful and failed URL submissions. You can view this list from the plugin's dashboard. From this list, you can retry any failed URL submissions or download any URL submissions for analysis purposes.

The bottom line
Hopefully, with the assistance of our guide, you can easily add Indexnow in WordPress to speed up SEO results. In case, you need a plugin that helps you optimize SEO on your website, we suggest that you should use AIOSEO plugin to get more advanced features for your website. In addition, if you have any question about our blog, don't hesitate to leave a comment below. We will support you as soon as possible.
Moreover, we specialize in providing a wide range of stunning, eye-catching, free WordPress Themes. If you are looking for a professional theme, don't ignore our website.