Are you looking for an affordable and reliable hosting option for your WordPress website? Look no further than Hostinger. With plans starting at just $1.99 per month, Hostinger is one of the most affordable options on the market. But don't let the low price fool you – you need to consider other aspects of this hosting before using it for your website.
In today's blog, we will provide you with a detailed Hostinger review to help you deeply understand this hosting.  Let's keep reading to find out if Hostinger is the right choice for you.
The importance of using the right Hosting Provider for your site
Selecting the right hosting provider for your website is crucial for its overall performance, reliability, security, scalability, and support. A reputable hosting provider ensures that your website loads quickly,and remains accessible, and offers a seamless user experience.  Additionally, they have robust infrastructure, optimized servers, and high uptime guarantees, minimizing downtime and potential revenue loss.
Further, it comes with plenty of security measures such as firewalls, malware scanning, regular backups, and much more. Especially, the performance, uptime, and security provided by the right hosting provider can positively impact your website's search engine optimization (SEO) rankings, attracting organic traffic.
Hence, it is essential to research and consider these factors to ensure you choose the hosting provider that suits your website's needs and contributes to its success.
Hosting Review: Background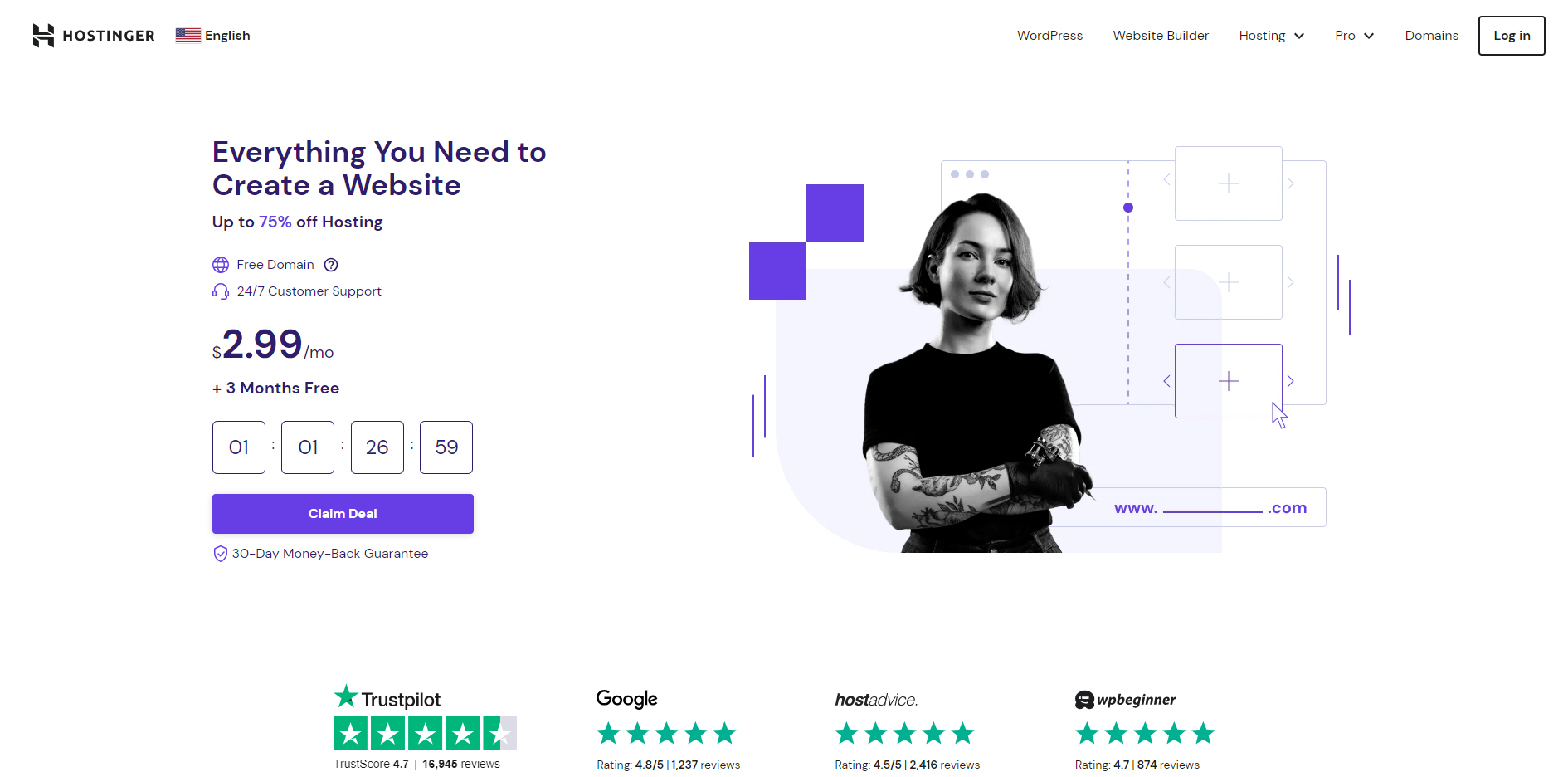 Hostinger which is a prevalent and trusted hosting provider was founded in 2004. It has become one of the leading providers of web hosting with more than 29 million users. The company originated in Lithuania and has since expanded globally, offering a range of hosting plans to suit any website needs. In addition to shared hosting plans, Hostinger offers WordPress-specific hosting plans and advanced hosting options such as VPS hosting and cloud hosting.
Further, Hostinger also specializes in WordPress hosting, so it provides optimized environments tailored specifically for WordPress websites. These plans include a lot of essential features such as pre-installed WordPress, automatic updates, and caching plugins for improved speed and performance.
Hostinger's  Notable Features Review
Easy to use
Hostinger is known for being user-friendly and easy to use, particularly for beginners or those without extensive technical knowledge. The most outstanding reason that makes Hostinger easy to use is its intuitive Control Panel.
Hostinger utilizes a custom control panel called hPanel that has a clean and intuitive interface, so you can effortlessly navigate, manage and access all the necessary tools & settings in a user-friendly manner.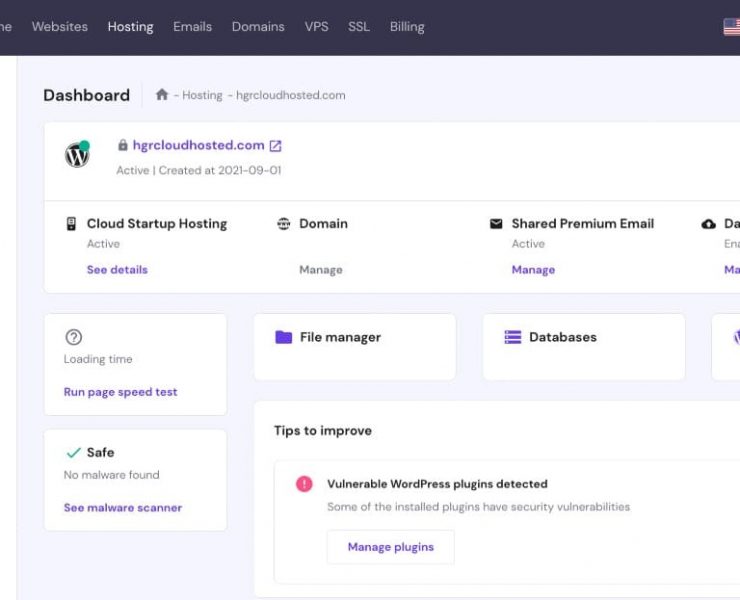 It's important to note that some technical knowledge or understanding of web hosting concepts may still be beneficial. Nevertheless, Hostinger strives to simplify the hosting experience and provide a user-friendly environment for individuals of varying levels of expertise.
Free 1-click WordPress Installation
The Free 1-click WordPress Installation offered by Hostinger is an important and advantageous feature for WordPress websites. It simplifies the setup process, saves time, and provides a user-friendly experience for individuals at all skill levels.
Whether you're a beginner or an experienced user, this feature helps you quickly establish a WordPress website and start building your online presence efficiently. Hostinger also provides you with streamlined process guides, so you can through the installation steps to ensure a smooth and hassle-free experience.
Great Security and Privacy
Hostinger has pretty good features and security measures available, although they are on the more basic side. The servers are taken care of by security experts while your data and your visitors are safe with free SSL. Depending on the plan, you also get weekly or daily backups and can set up 2-factor authentication (2FA).
Here are powerful features that help protect your website against unwanted threats:
SSL Certificates: Hostinger provides free SSL certificates for all websites hosted on their platform. SSL certificates encrypt the communication between the website and its visitors, ensuring that sensitive data, such as login credentials and personal information, is securely transmitted.
DDoS Protection: Hostinger employs robust DDoS protection to mitigate Distributed Denial of Service (DDoS) attacks. This safeguard helps to keep your website accessible and protects it from being overwhelmed by malicious traffic.
Firewalls and Security Rules: Hostinger implements firewalls and security rules to protect against common web vulnerabilities and malicious activities. These measures help prevent unauthorized access, brute-force attacks, and other security threats.
WHOIS Privacy: It offers WHOIS privacy protection, which allows you to keep your domain registration information private. This feature helps to prevent your personal details, such as name, address, and contact information, from being publicly accessible through the WHOIS database.
Secure Data Centers: This hosting provider operates data centres that are equipped with physical security measures, such as strict access controls and surveillance systems, to protect the servers and infrastructure where your website data is stored.
Free Domain and Free Website Builder
The combination of a free domain and a free website builder is a strong advantage for individuals and businesses seeking to establish an online presence without significant financial investment. These features save both time and money, allowing you to quickly launch a website without the need to purchase a domain separately or hire a professional web designer.
Hostinger gives you the option to register a free domain with your selected hosting plan. This feature is really beneficial as it allows you to acquire a domain name without incurring additional costs. Hostinger also offers a wide range of domain extensions to choose from, so you are able to easily find a domain that is suitable for your business.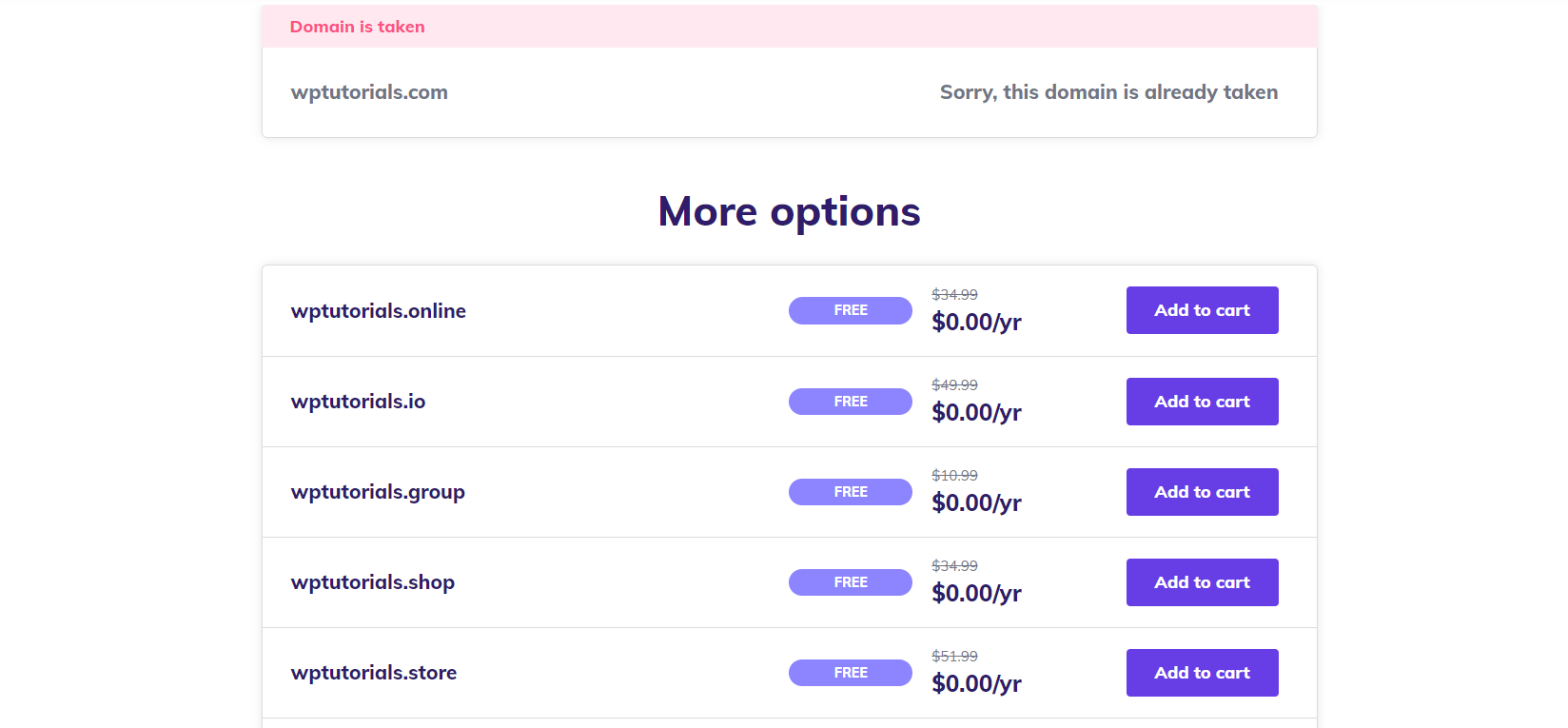 It is obvious that Hostinger offers a user-friendly website builder that helps you create a professional website without having coding skills. You are able to design and customize your website's layout, add content and incorporate plenty of elements such as images, videos, and forms.
Especially, the builder also comes with a collection of 100+ pre-designed templates that are designed for different websites such as online stores, landing pages, blogs, and Portlofio. As a result, you can save a lot of time getting started instead of building from scratch.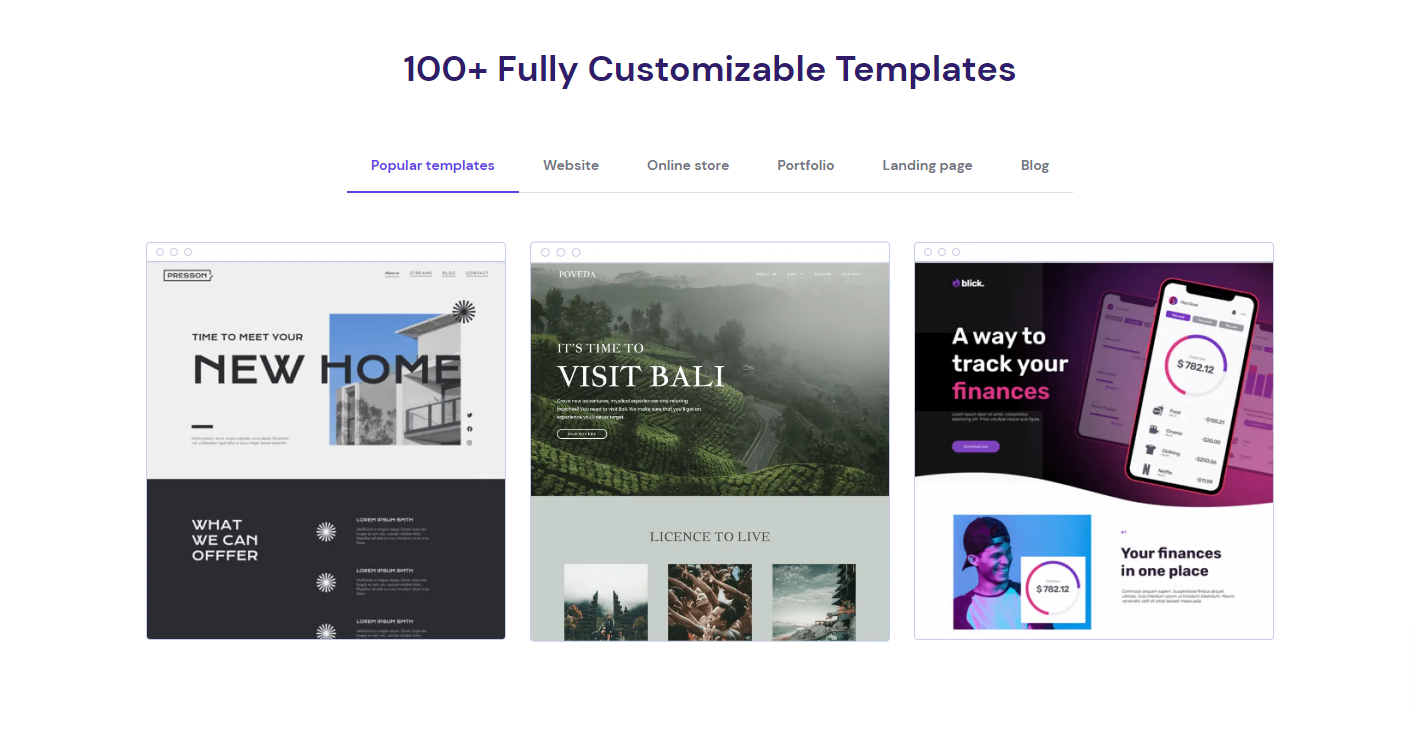 Hostinger's Performance
Hostinger stands out in our performance evaluations despite being considerably less expensive than various other common entry-level hosts. One of the main reasons making Hostinger have a stable performance is its global server locations.  Hostinger provides data centres located in various regions including the United States, Europe, Asia, and South America. This helps you easily choose a server location that is closest to your target audience, reducing latency and ensuring faster content delivery.
Besides that, Hostinger understands the importance of website loading time, so this provider has invested in high-speed infrastructure to deliver fast loading time. They use solid-state, drives(SSDs), optimized servers, and advanced caching techniques. As a result, your website will loads quickly, reduce bounce rates and keep your visitor engaged effectively.
In order to conduct a fair evaluation of Hostinger, we created a website that emulated a typical promotional site, complete with written content, excellent images, unique fonts, and intricate code for interactive components. Afterwards, we input the URL of this website into Pingdom-the third-party testing tool and conduct the test from different locations.
Here is the average results that we recorded after implementing three tests:
| | |
| --- | --- |
| Locations | Performance |
| Washington D.C | 0.81 seconds |
| San Francisco | 1.12 seconds |
| London | 0.54 seconds |
| Sydney | 2.49 seconds |
| Tokyo | 1.57 seconds |
From our result, we can realize that Hostinger's servers are working well on both coasts of the United States, and are performing exceptionally well in London. Moreover, the other two places we assessed meet satisfactory standards. Hopefully, these sources can provide valuable insights into the actual performance of Hostinger's servers and help you make an informed decision based on your specific requirements.
Customer Service options
Hostinger has gained a reputation for offering quality customer service to its users. Their commitment to providing timely and effective support is evident in several aspects of their customer service.
It can't be denied that Hostinger's customer support is available round the clock, 365 days a year. Hence, it ensures that you can easily reach out for assistance whenever you encounter issues or have questions regarding your hosting services. However, most of the time they only support through live chat and email. As a result, you might have to wait a long time to get the assistance of experts.
The best thing is that Hostinger's support team is available 24/7 in more than languages, so it is useful for users to get support whenever they need it. Especially, it eliminates language barriers and ensures that users can receive assistance in their preferred language
In addition to chat and email support, Hostinger also provides you with a collection of valuable blog articles and video tutorials. These resources cover a wide range of topics, including website creation, optimization, security, and more. The availability of educational materials further enhances users' understanding and empowers them to make the most of their hosting services.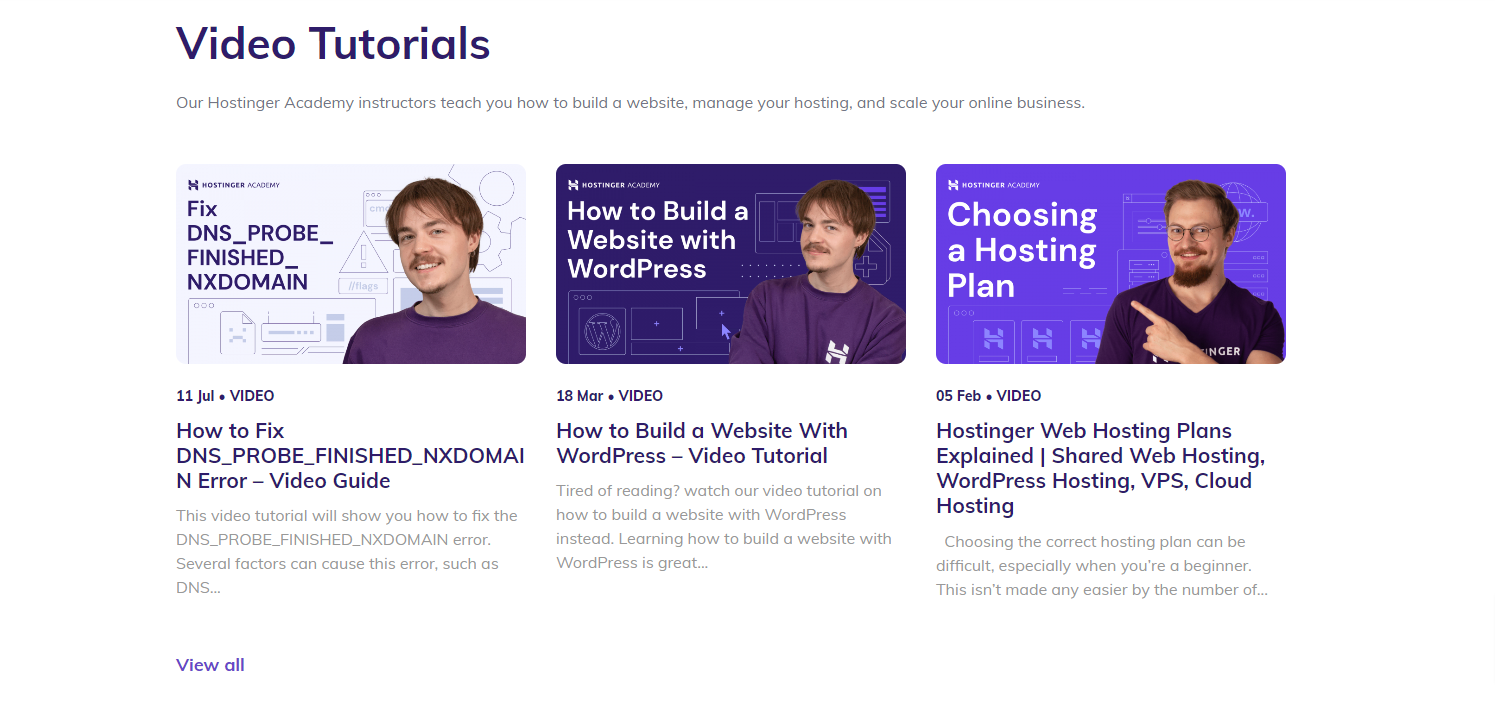 Furthermore, Hosting is packed with an extensive knowledge base that servers as a self-help resource for users. It contains a wide range of tutorials, guides, and FAQs that cover various topics related to hosting, website management, and troubleshooting. They are really useful for you when dealing with simple problems since you don't need to wait a long time to get support via live chat.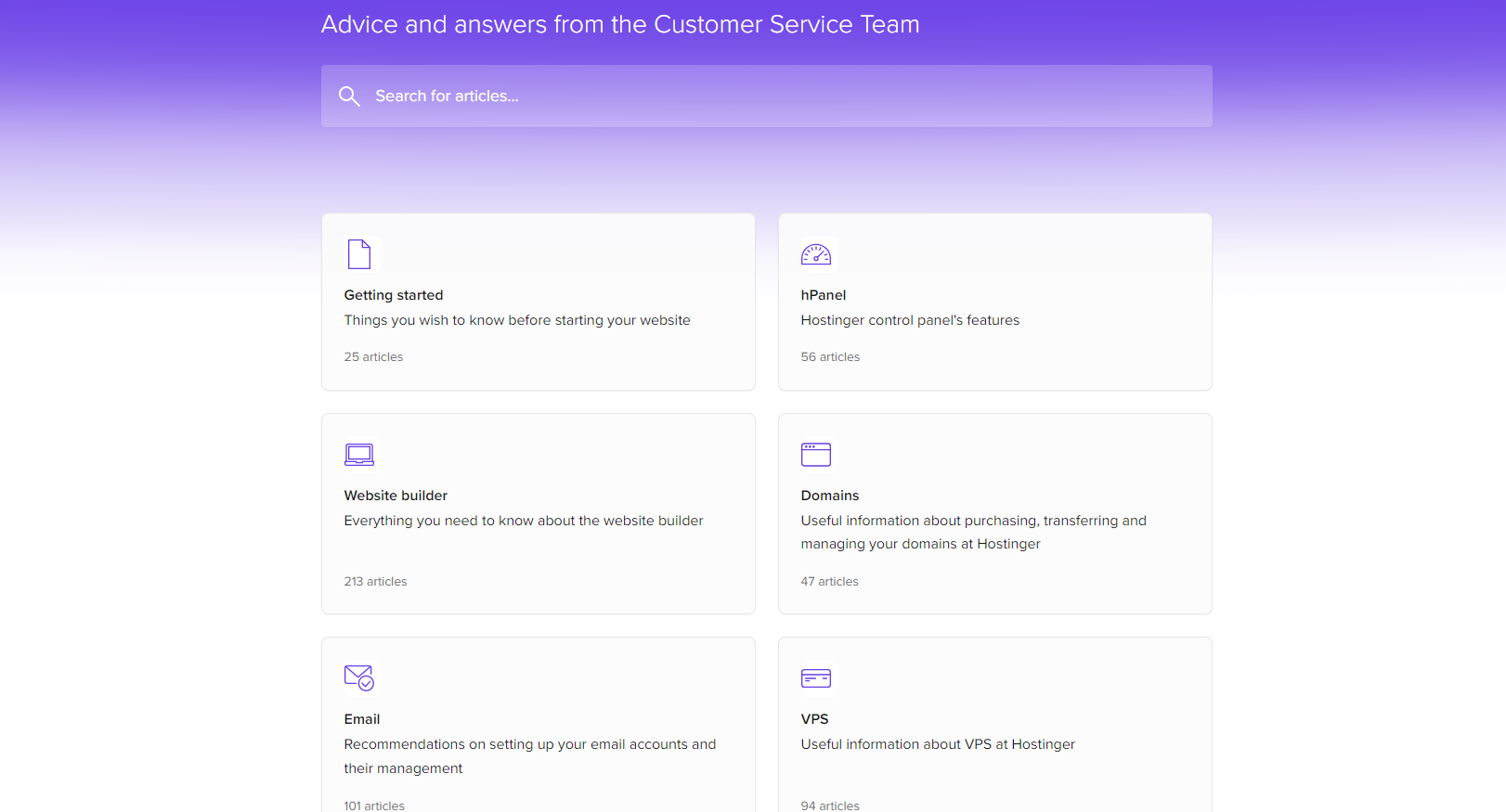 Hostinger's pricing plans
Hostinger's pricing plans are generally affordable, so it is easily accessible to users with different budgets. They provide good value for the features and resources they offer. Additionally, Hostinger often runs promotions and discounts, further enhancing the affordability of their plans.
| | |
| --- | --- |
| Pricing plans | Price |
| Shared web hosting | From $1.99 per month |
| WordPress hosting | $2.15 – $14.95 per month |
| VPS hosting | $3.95 – $29.95 per month |
| Cloud hosting |  $7.45 – $37 per month |
| Windows VPS hosting | $26 – $250 per month |
| Minecraft hosting | $8.95 – $29.95 per month |
In our point of view, Shared Hosting Plans offer cost-effective options, but they come with certain limitations in terms of resources. If you anticipate rapid growth or have specific requirements, upgrading to VPS or Cloud hosting plans might be necessary.
Hostiner's Pros and Cons
Pros
Cons

It has affordable hosting with good uptime
99.9% Uptime Guarantee
Has an excellent custom dashboard
Free Domain
It has a faster loading time thanks to the cache manager
Fast and stable performance
The price is extremely cheap
Multilingual customer support
30-day hassle-free money-back guarantee

Inconsistent Performance
Limited Disk Space for smaller packages
Limited customer service options, only via chat, and email
The bottom line-Should you use the Hostinger Provider?
It is admitted that the cheap price is the most significant advantage of Hostinger. However, if you consider other important aspects to choose a high-quality hosting provider, Hostinger is not still the ultimate option.
We highly recommend using Hostinger for small businesses and startups, since Hostinger's cost-effective hosting plans and features make it an attractive choice for those with limited resources. Moreover, it is extremely easy to use and navigate. It also loads faster than we expected from a cheap hosting provider.
If this hosting is not satisfactory for you, then you can refer to other excellent WordPress Hosting Providers.
By the way, it's a great idea to visit our website and discover tons of eye-catching, charming, free WordPress Themes on our website.