It's that time of year again! Halloween is just around the corner, and to celebrate, a lot of web design providers are having a huge sale on WordPress and Joomla products! If you are also looking for reliable WordPress & Joomla Providers with a good deal, don't miss our collection. We listed 6 trusted providers that provide tons of high-quality themes and templates at cheap prices. Now, you can find the best provider and grab a perfect deal for your store.
Top WordPress & Joomla Halloween Deals From Reliable  Providers
Enginetemplates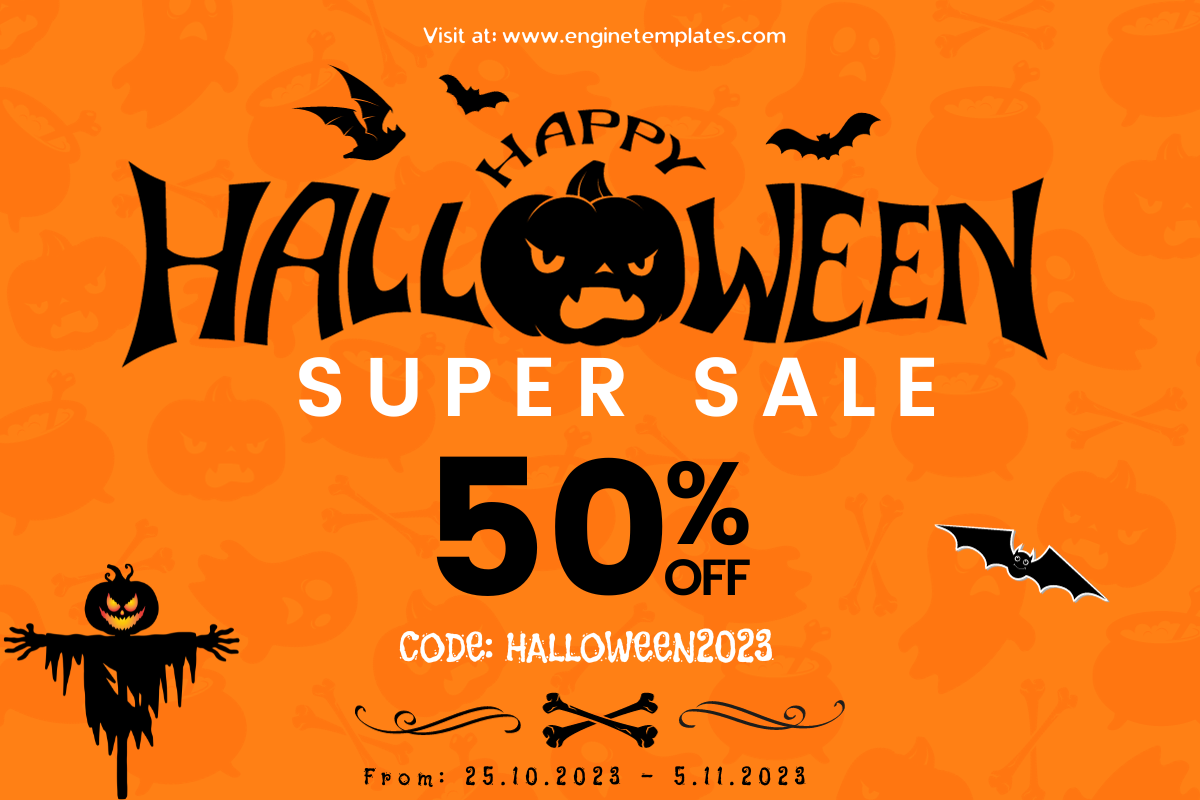 If you are going to make a new appearance for your website for the upcoming Halloween season, don't ignore an attractive deal from the Enginetemplates provider. They are having a big Halloween sale on all their WordPress and Joomla products. Thus, you should obtain this opportunity to buy plenty of eye-catching, high-quality templates at affordable prices. Now, it's time to discover all WordPress & Joomla themes of Enginetemplates and choose the best one for your website.
Code: HALLOWEEN2023
Duration: 25th October – 5th November 2023
Ltheme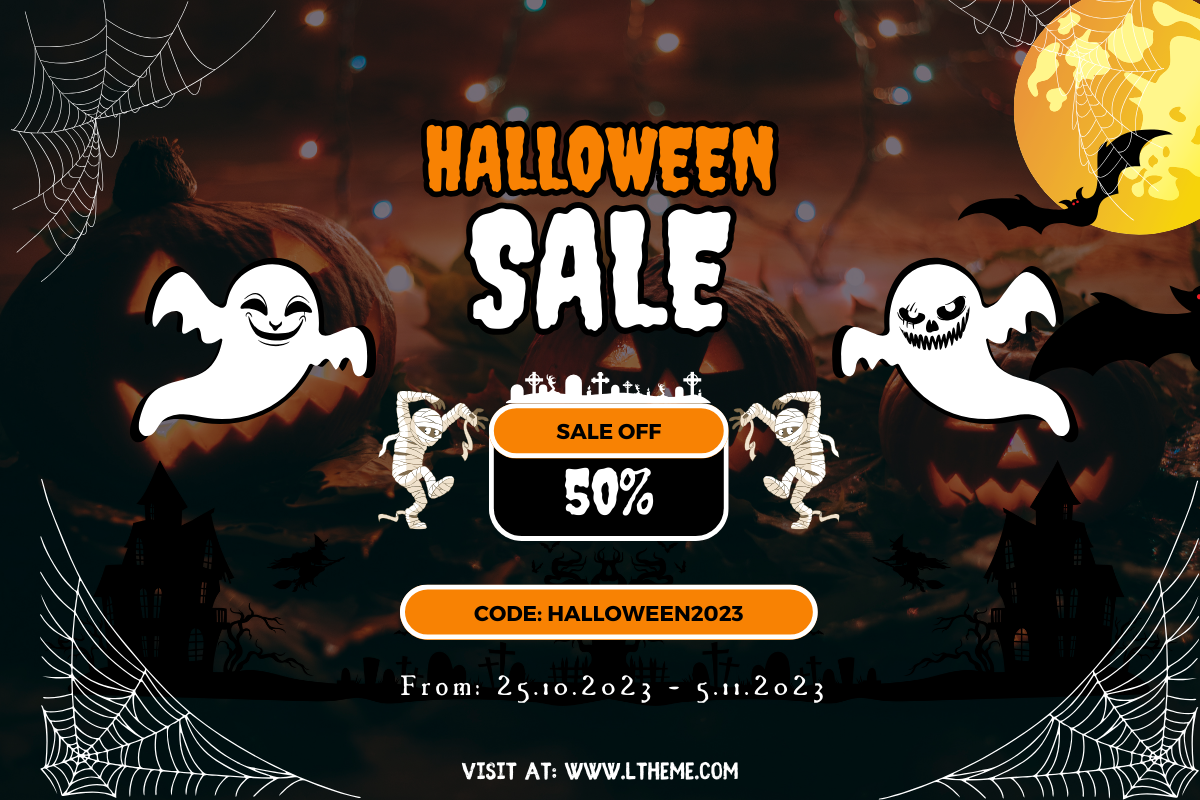 Ltheme is considered one of the internet's most reliable WordPress & Joomla providers. They have a collection of over 110 + WordPress Themes and 210+ Joomla templates that are equipped with plenty of essential features for your website. On this Halloween occasion, they have just offered a great deal with 50% sale off. Hence, you can take advantage of this chance to purchase plenty of stunning, professional designs at cheaper prices for your website.
Code: HALLOWEEN2023
Duration: 25th October – 5th November 2023
Galussothemes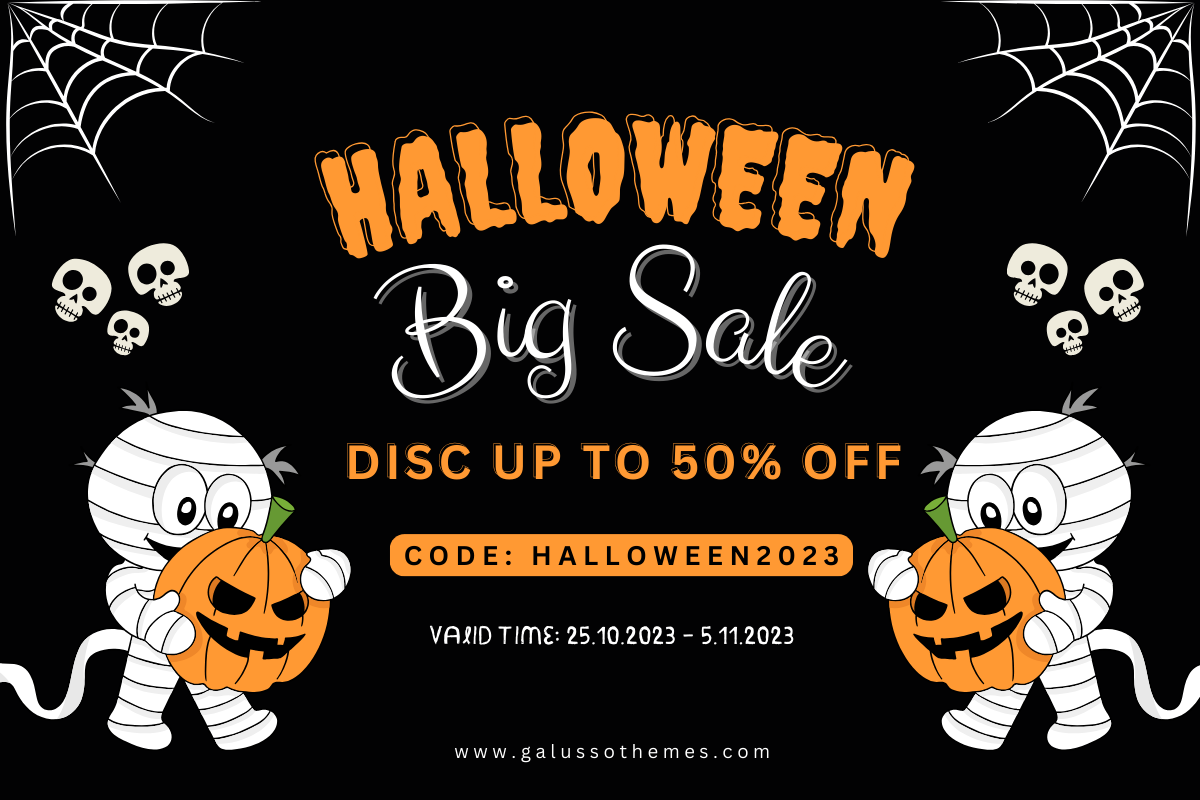 If you are waiting for a big discount from trusted WordPress & Joomla providers, this Halloween time is a great idea for you.  Galussothemes is offering a 50% sale off applied for all products on their website. All of Galussothemes's products are packed with the full necessary features for each topic. In addition, they are also famous for their excellent customer support, detailed documentation and other website development services. So, don't hesitate to grab this deal now.
Code: HALLOWEEN2023
Duration: 25th October – 5th November 2023
Agethemes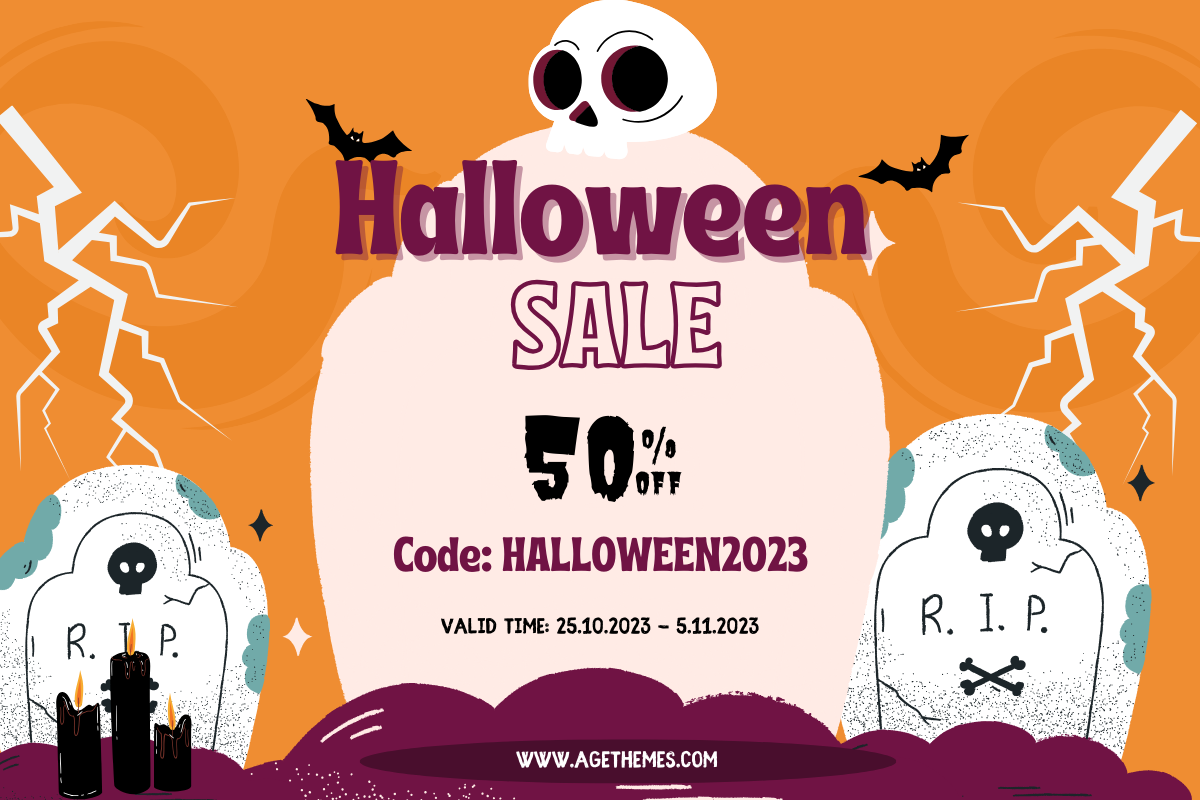 Whether you are a big fan of WordPress and Joomla templates, you'll be spoilt for choice with a collection of excellent themes provided by Agethemes. This provider has a wide array of WordPress themes and Joomla templates that come with a user-friendly interface and extensive customization options, so it is easy for you to customize them to suit your requirements. But that's not all! With the Halloween Deal, you have a great opportunity to buy their products at 50% off the original price.
Code: HALLOWEEN2023
Duration: 25th October – 5th November 2023
Ecomify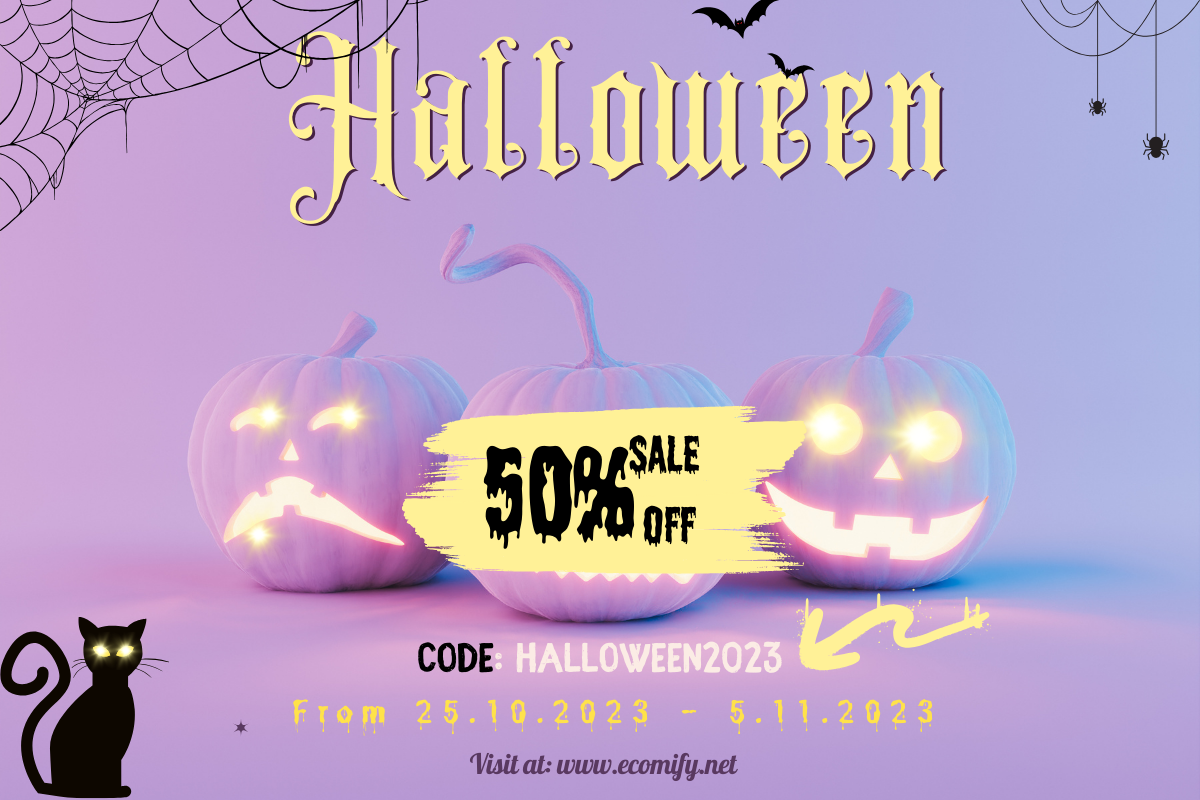 Similar to other web design suppliers, Ecomify has already declared plenty of special offers to light up the celebration for their beloved clients. If you are a new customer, you can also take this opportunity to buy their e-commerce landing pages at a cut price. Ecomify has tons of good-looking Shopify templates that are built by various page builders such as Pagefly and Gempages. For this reason, hurry up! Let's catch this special bargain and make a purchase right now.
Code: HALLOWEEN2023
Duration: 25th October – 5th November 2023
Wooskins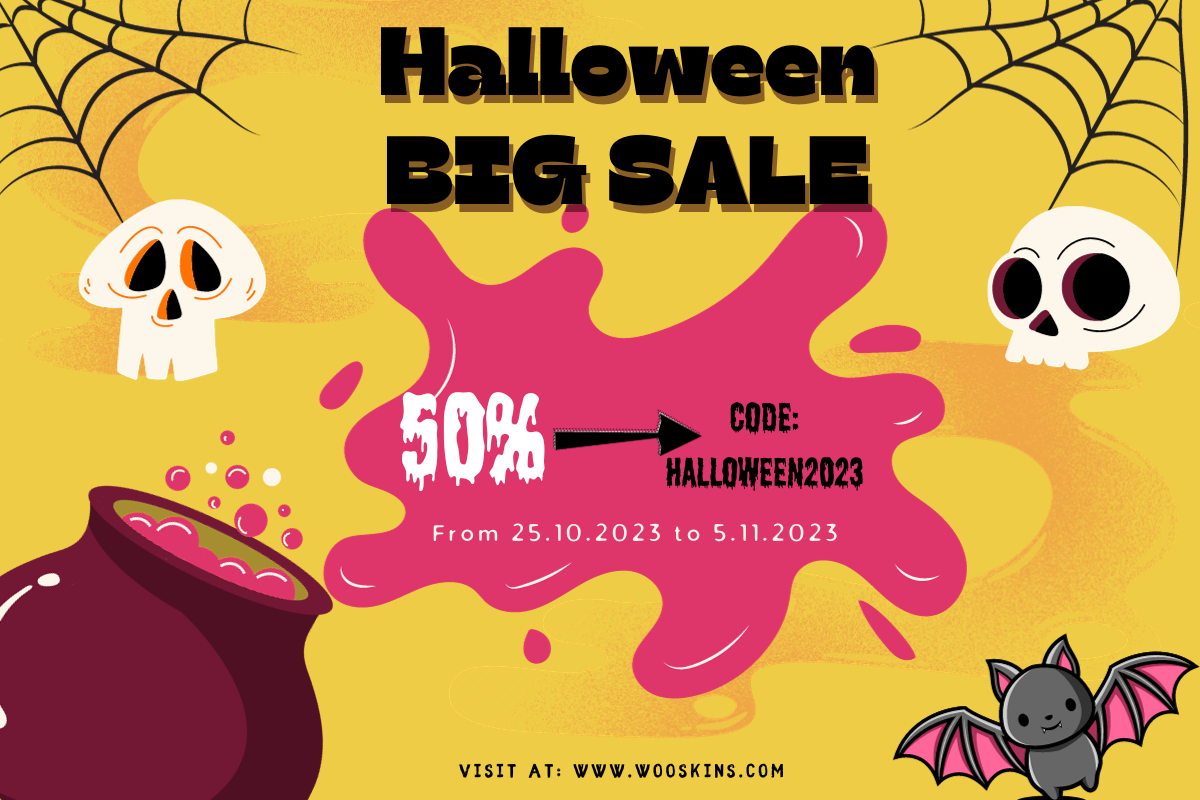 The majority of web design providers offer a great deal on this Halloween occasion and of course, Wooskins is no exception. They are providing 50% discounts on all their Elementor templates this Halloween. Whether you are seeking a stunning theme, you will be able to save big. So, don't wait – let's take advantage of their special Halloween sale and stock up on all your favourite designs right now!
Code: HALLOWEEN2023
Duration: 25th October – 5th November 2023
Takewp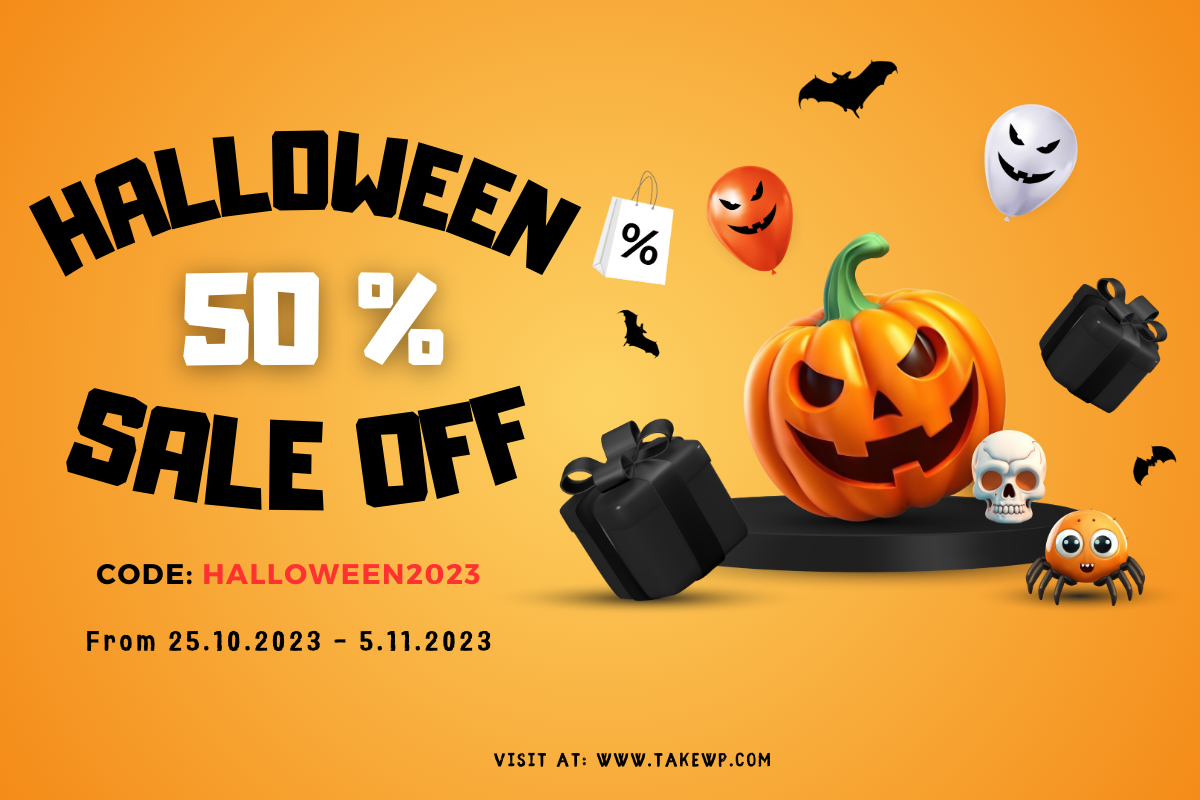 Takewp specializes in providing plenty of free and premium Gutenberg themes. If you are looking for bewitching themes that are specially designed for the Gutenberg editor, then don't miss this fantastic deal from this provider this Halloween. They are offering an irresistible deal – a spine-tingling 50% off on all their products. Don't miss out on this incredible offer! Now, it's time to browse through our collection and grab your favourite themes at half the price.
Code: HALLOWEEN2023
Duration: 25th October – 5th November 2023
Elementor
Elementor is well-known as one of the leading website builders for WordPress, trusted by millions of users worldwide. Thanks to its intuitive, drag-and-drop interface and robust features, you save much effort and minimize the process of creating a stunning website.
This Halloween event is coming, and Elementor is offering a massive discount on all their product. If you want to unlock pricing plans of Elementor at a bargain, don't forget to apply the discount code below to enjoy an amazing price on your purchase.
Code: Coming soon
Duration: Coming soon
Nextend
Next is a reputable provider of high-quality WordPress & Joomla plugins that help you effectively boost the functionality as well as the design of your website. It offers several extensions and plugins that allow you to add useful features such as social login, custom forms, and user registration to your site.
Another key benefit is that it enables you to log in to your website using multiple social media accounts like Facebook, Twitter, Facebook, and Linkedin. As a result, you can simplify the login process for users as well as reduce the need for them to remember multiple usernames and passwords. Further, it gives you a simple method to build stunning sliders and blocks. With its drag-and-drop interface, you don't worry about any technical details.
Code: Coming soon
Duration: Coming soon
Crocoblocks
Crocoblock is a prevalent plugin that offers a bunch of Elementor add-ons. It is built with tons of advanced tools to help you strengthen the capability of Elementor and Gutenberg page builders.
During the Halloween sale season, you can enjoy many deals from this plugin, don't follow our blog and get the coupon code quickly.
Code: Coming soon
Duration: Coming soon
YayCommerce
YayCommerce offers a range of tools and services to help online store owners easily build and manage their websites professionally. YayMail, YayCurrency, YayMail Addons, YayPricing, etc are some popular tools of this platform.
Code: Coming soon
Duration: Coming soon
YiThemes
If you are searching for YIThemes Halloween code, then this is the right place. YiThemes provides users with numerous fantastic themes and plugins for WordPress. They are designed for e-commerce, communities, corporates, and blog sites.
This Halloween YiThemes is giving some limited deals, don't forget to take time to try these offers.
Code: Coming soon
Duration: Coming soon
CTX Feed Pro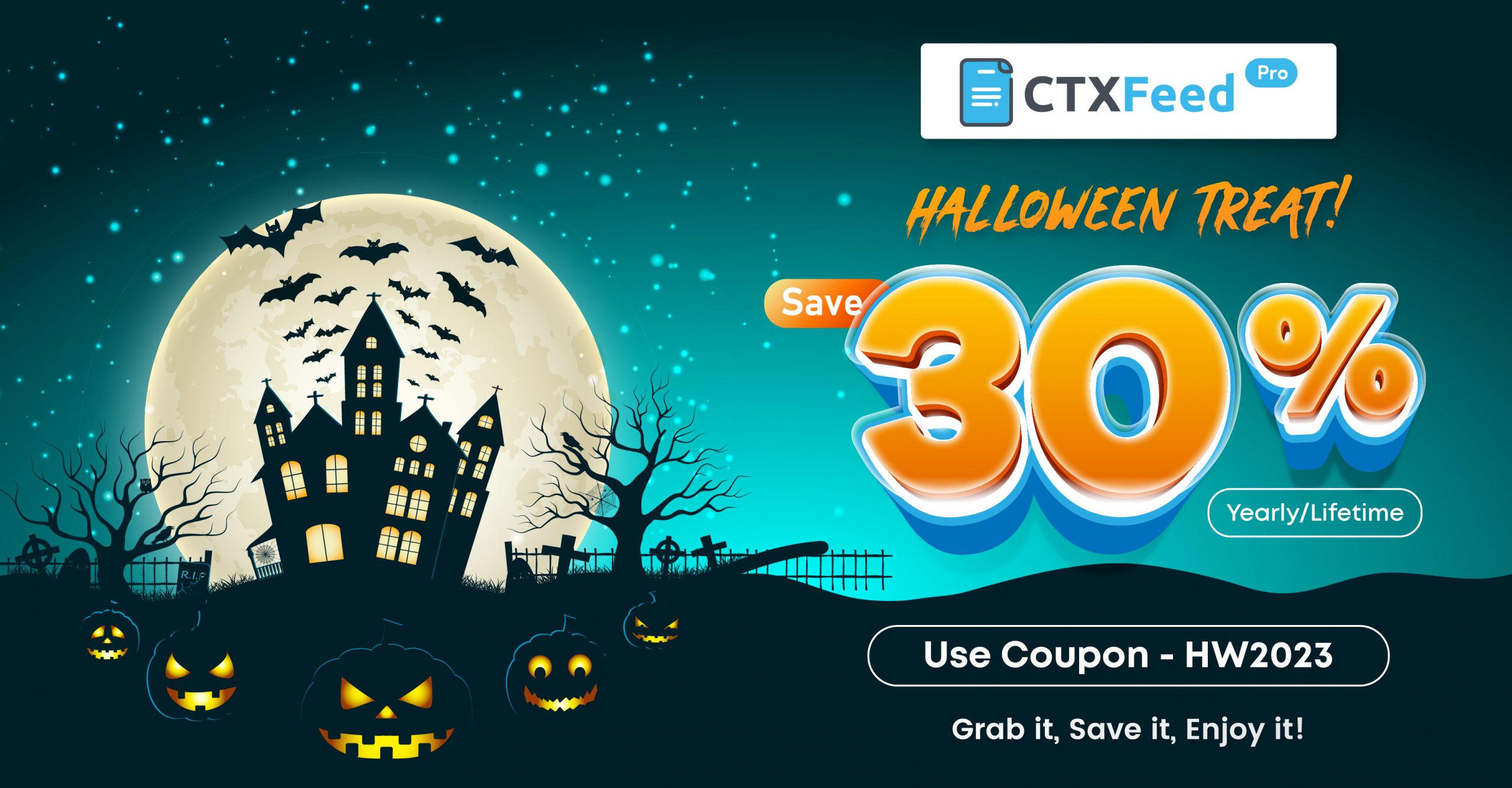 CTX Feed Pro is a powerful plugin that can assist you in showcasing and exhibiting your WooCommerce store products across various platforms effortlessly. This exceptional WooCommerce product feed plugin supports over 130 marketing channels, including renowned platforms like Google Shopping, Facebook, Snapchat, Instagram, Bing Smart Shopping, PriceGrabber, Walmart, Target, and many more. Additionally, you have the ability to generate fully customized feed files specifically tailored for any existing or new platforms. Furthermore, the pro version offers advanced functionalities such as category mapping, multi-language and currency support, attribute mapping, and more.
The CTX Feed Pro has an impressive track record, boasting over 70,000 active installations and a remarkable rating with over 500 five-star reviews. In essence, CTX Feed empowers you to effortlessly manage your product feeds, ultimately enhancing your store's visibility, reach, and conversions.
Act swiftly, as the CTX Feed Halloween deal is only available for a limited time! Seize your opportunity to enjoy a generous 30% discount and commence generating substantial sales. Don't let missed opportunities haunt you – unlock your WooCommerce success story by acquiring CTX Feed  Pro today!
Coupon Code: HW2023
Duration: 20 Oct, 3023 – 01 Nov 2023
WPLoyalty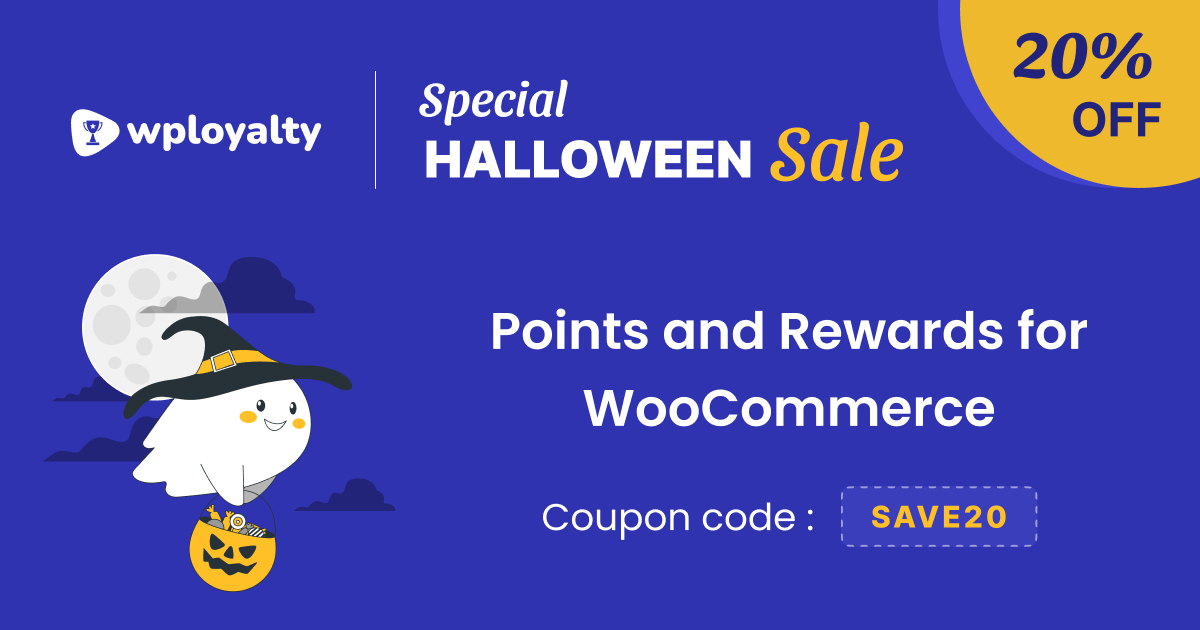 If you intend to purchase the premium version of WPLoyalty to increase your brand visibility, then it is a perfect time to enjoy your favourite plugin at a bargain. WPLoyalty is offering an attractive promotion on their website with 20% sale off. Now, you can access all their advanced features to streamline the process of offering points and rewards and get your customers coming back for more.
Coupon Code: SAVE20
Duration: Lasts till 31 Oct 2023
Master Addons
Are you looking for a way to enhance the capabilities of your Elementor page editor? Master Addons is the perfect solution for you! With its vast array of features, it's the ideal choice for creating any kind of landing page. Plus, it comes with a variety of elements, such as media, calls to action, marketing, and form elements. You can also take advantage of the pre-made landing page templates to quickly set up your desired website.
On top of that, Master Addons offers a range of helpful extensions, like Dynamic tags, Floating Effect, Custom CSS and JS. This Halloween season, don't miss out on the opportunity to get Master Addons's pro packages at a competitive price.
Coupon Code: SPOKY60
Duration: 20 Oct – 2nd Nov 2023
WP Adminify
WP Adminify is an essential plugin to customize and personalize your WordPress dashboard. It is built with a bunch of extensive modules and features so that you can easily control your admin experience as well as create a perfect dashboard.
One of the standout features of WP Adminify is the ability to disable admin notices that can often clutter your screen and distract you from your tasks. By removing these unnecessary distractions, you can focus on what truly matters – managing and growing your website.
Dark mode is another remarkable module offered by WP Adminify. This transforms your Dashboard into a sleek and visually appealing interface. This feature not only enhances the aesthetics of your Dashboard but can also reduce eye strain, especially during late-night work sessions.
Now, you can start enjoying the WP Adminify Halloween deal on their website from 20 Oct to 2nd Nov 2023. They offer up to 55% off.
Coupon Code: Auto Applied
Duration: 20 Oct – 2nd Nov 2023
Master Blocks
Master Blocks comes with numerous blocks that convert different aspects of web design, from headers and footers to testimonials, pricing tables, feature boxes, and more. If you are using Gutenberg editor, then Master Blocks can help you extend the capability of your traditional page builder. You can simply drag and drop the desired blocks onto your page, customize them to match your brand's aesthetics, and watch your vision come to life.
What's more, Master Blocks also excels in terms of responsiveness. All blocks are designed to be fully responsive and mobile-friendly, ensuring that your website looks stunning and functions seamlessly across all devices.
Why don't you indulge in a fantastic 40% Halloween discount on all premium plans from the Master Blocks plugin?
Coupon Code: SPOOKY40
Duration: 20 Oct – 2nd Nov 2023
WPmet
With over 700,000 customers around the world using WPmet's plugin, WPmet is proud to be a reputable tool provider on the internet. WPMet includes various features such as performance optimization, SEO improvement, social media, web design, and much more. Each plugin of WPmet is designed to be easy to use and offers plenty of customization options to suit individual website needs.
At the moment, WPmet is offering a lot of limited deals this Halloween discount season. You can save up to 35% on their single products and up to 80% if you purchase their product bundles. Hence, it is important to make the most of these good deals before their expiration.
Here are all the product bundles of WPmet:
Code: Auto-applied
Duration: 25th Oct – 8th Nov 2023
WPManageNinja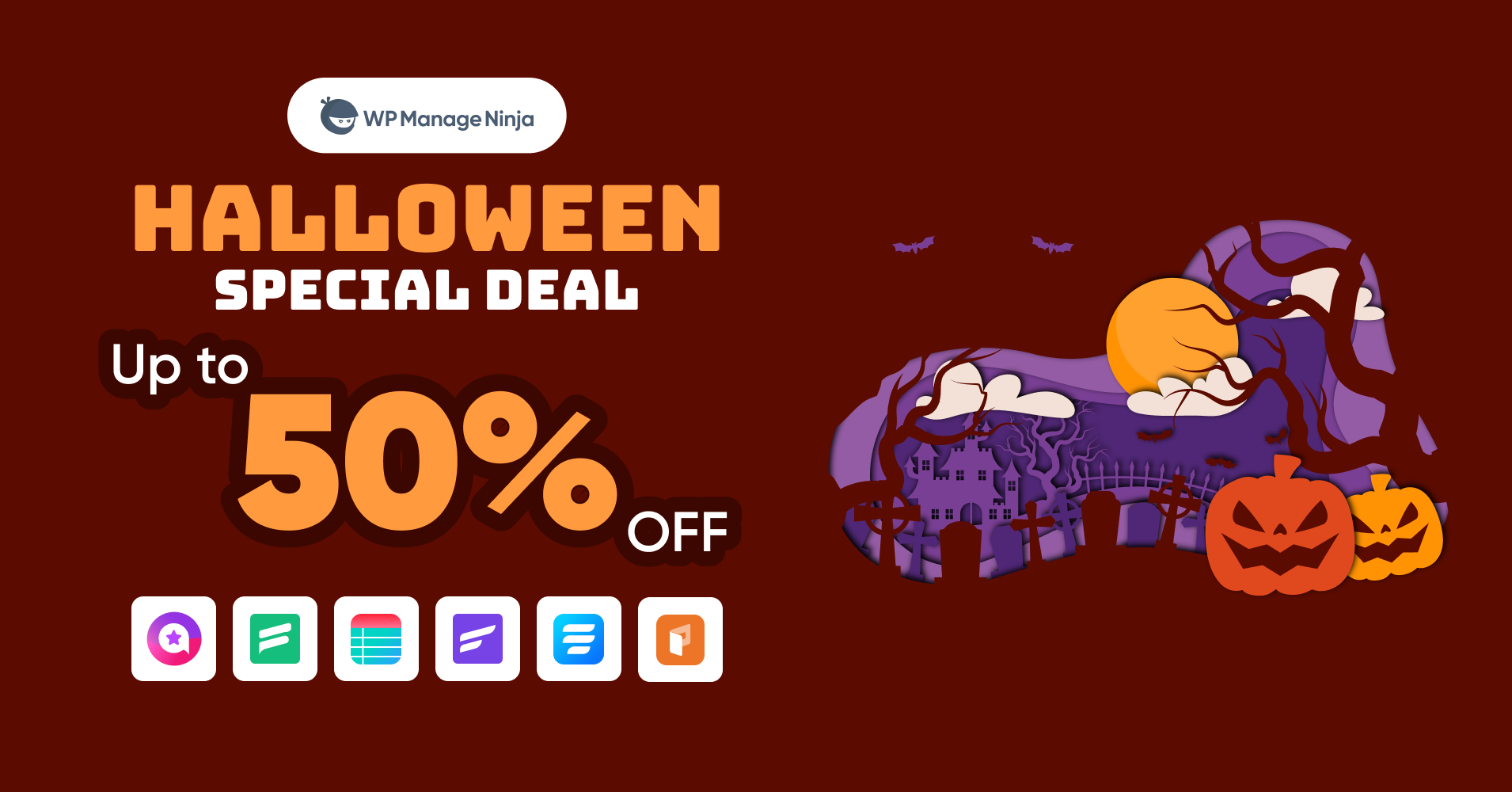 WPManageNinja is offering up to a 50% discount on all of its premium WordPress plugins and themes this Halloween. The deal includes their top-rated products:
Fluent Forms – The fastest form builder plugin.
FluentCRM – The complete email marketing automation plugin for WordPress.
Fluent Suport- The best customer support plugin in WordPress.
Ninja Tables – The most popular WordPress table plugin.
WP Social Ninja – The best social reviews, feed, and chat plugin.
Paymattic- The perfect lightweight WordPress payment and donation plugin.
Discount: Up to 50%
Code: Auto applied
Duration: 17th Oct – 2nd Nov 2023
Fluent Forms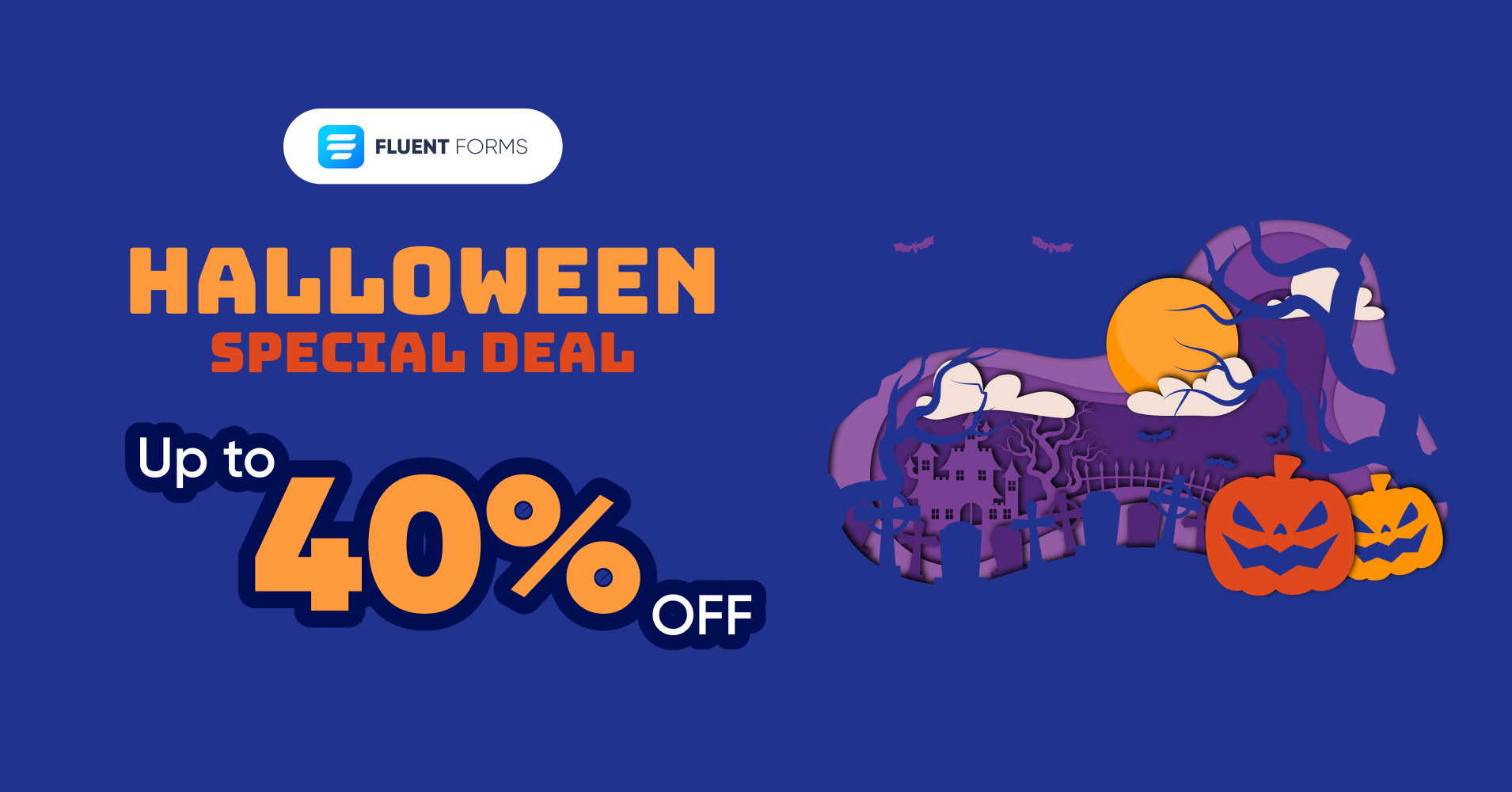 Fluent Forms is a drag-and-drop WordPress form plugin with tons of great features and functionalities. It is the fastest, smartest, and most lightweight WordPress form builder you will find in the market.
Fluent Forms allows you to generate leads, collect payments, build quizzes, and accomplish much more. You can never go wrong with this plugin when it comes to form-building.
Discount: Up to 40%
Code: Auto-applied
Duration: 17th Oct – 2nd Nov 2023
FluentCRM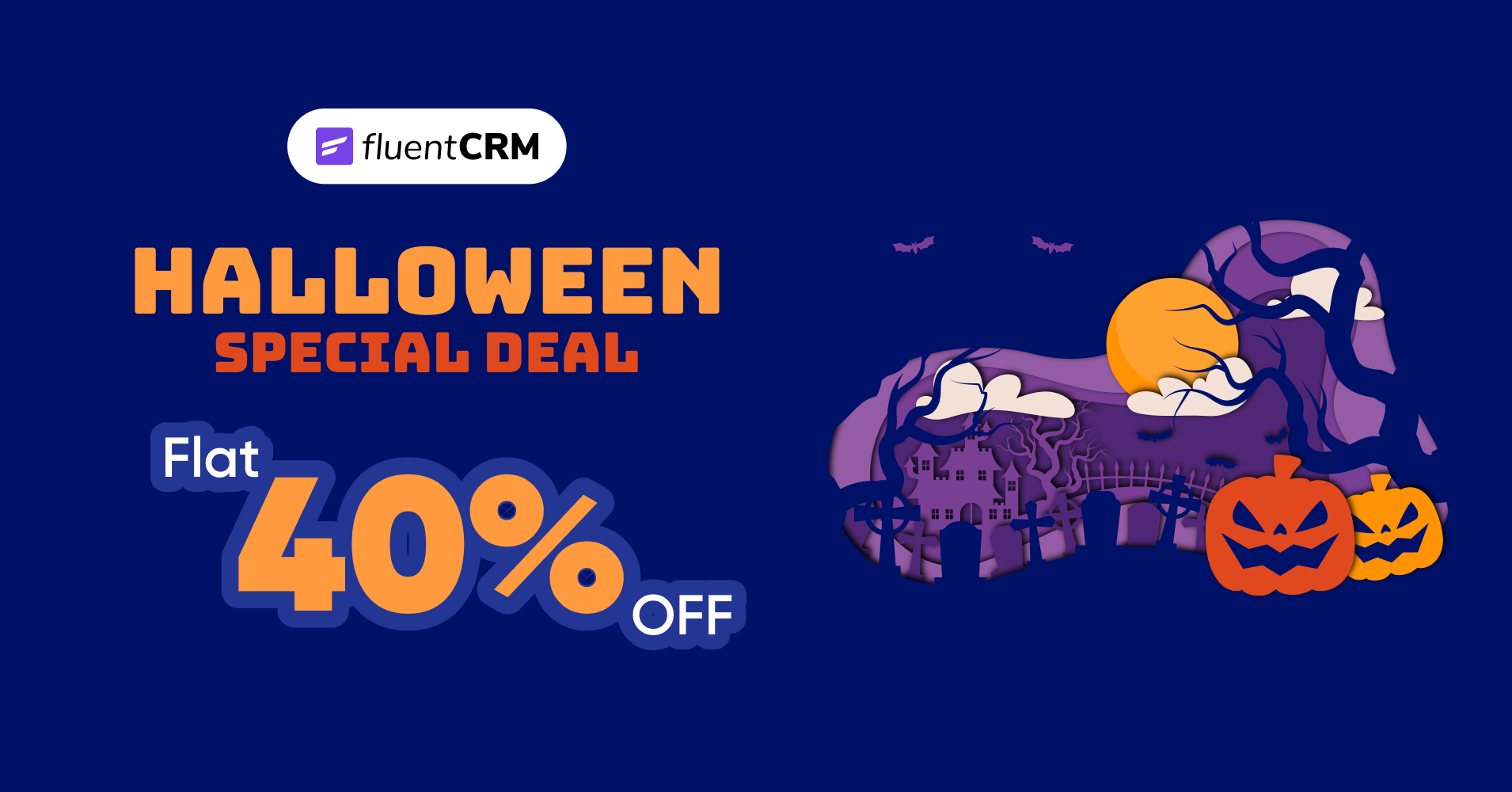 FluentCRM brings customer relationship management and marketing automation to your WordPress dashboard. Capture leads, manage customer relationships, set up high-converting marketing automation funnels, and get insights into your business—all inside a single tool!
Discount: Flat 40% Off
Code: Auto-applied
Duration: 17th Oct – 2nd Nov 2023
FluentSuport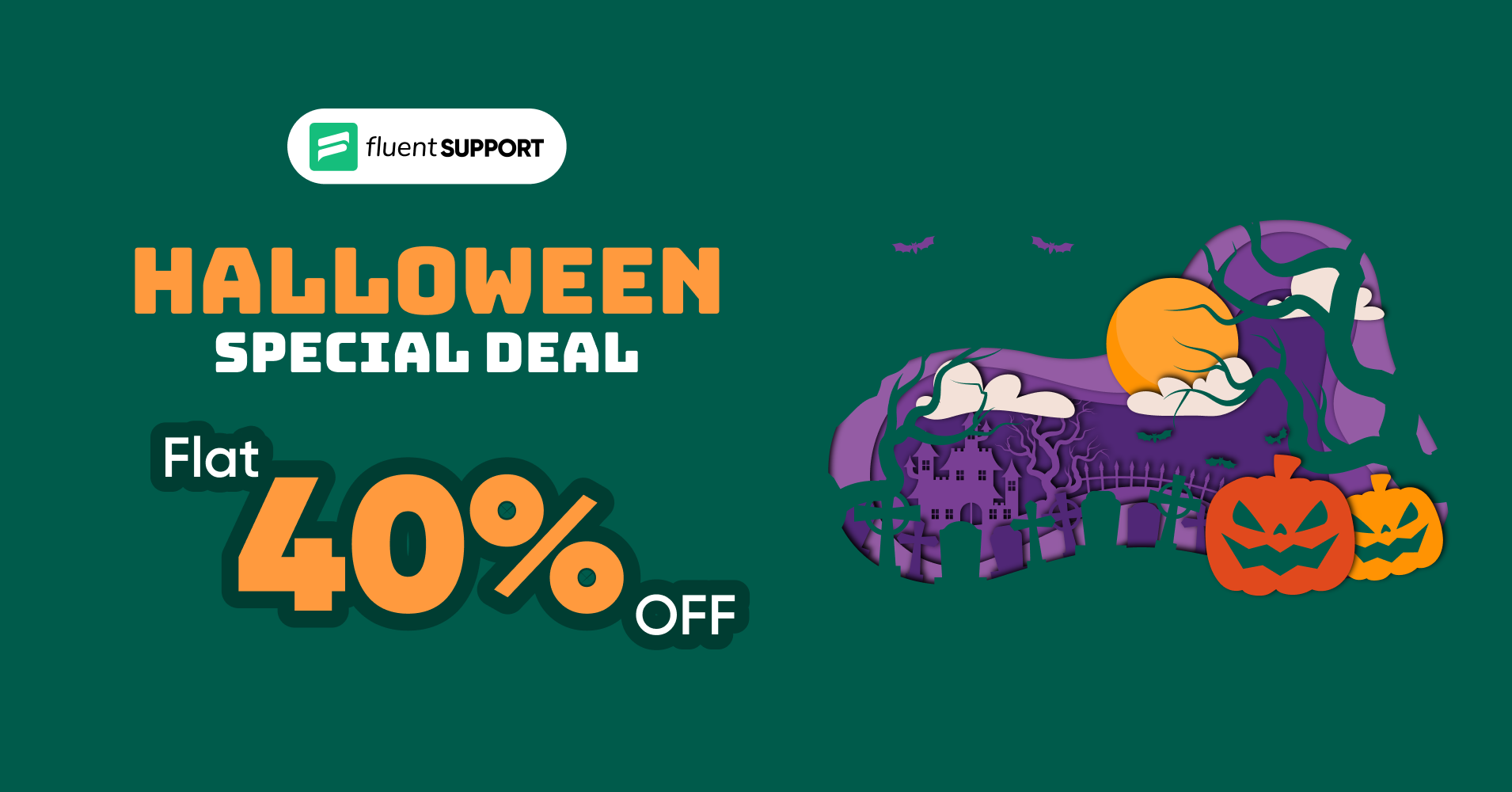 Fluent Support is your go-to solution for a seamless helpdesk experience. Easily manage unlimited agents, customize notifications, and integrate with 20+ tools—all within your dashboard. You can simplify your support hub with shared inboxes, collaboration through internal notes, and quick responses using saved replies.
Enjoy affordability, and scalability, and provide 24/7 support. It's customer support made easy.
Discount: Flat 40% Off
Code: Auto-applied
Duration: 17th Oct – 2nd Nov 2023
Ninja Tables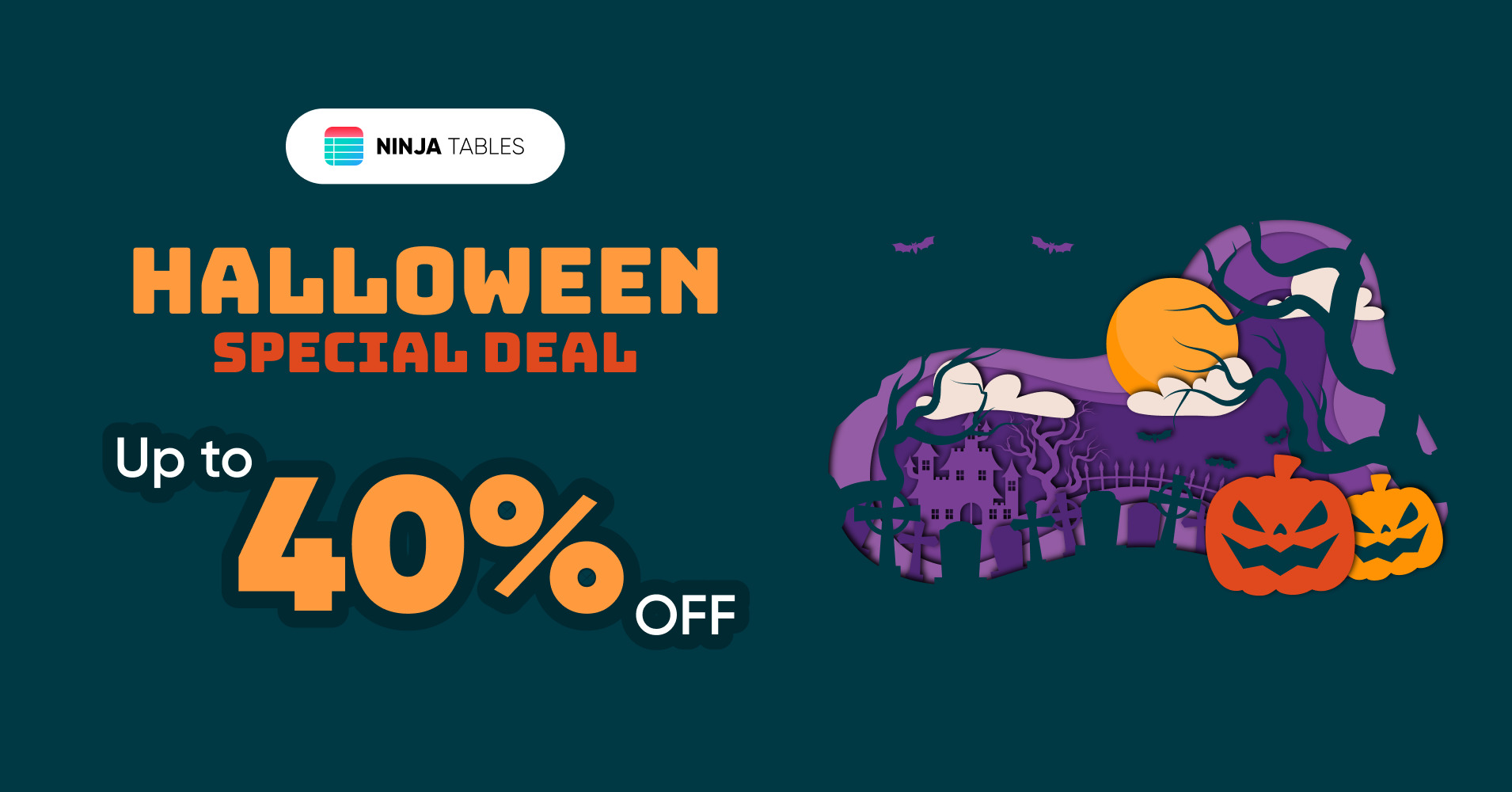 When you need to organize data into visually appealing data tables, Ninja Tables is your go-to plugin. This plugin has two different modes – Simple (drag and drop) and advanced. It also integrates with WooCommerce, Google Sheets, and Fluent Forms.
You can create tables easily and customize everything! Have fun using the simple interface, useful integrations, and huge set of features.
Discount: Up to 40% Off
Code: Auto-applied
Duration: 17th Oct – 2nd Nov 2023
WP Social Ninja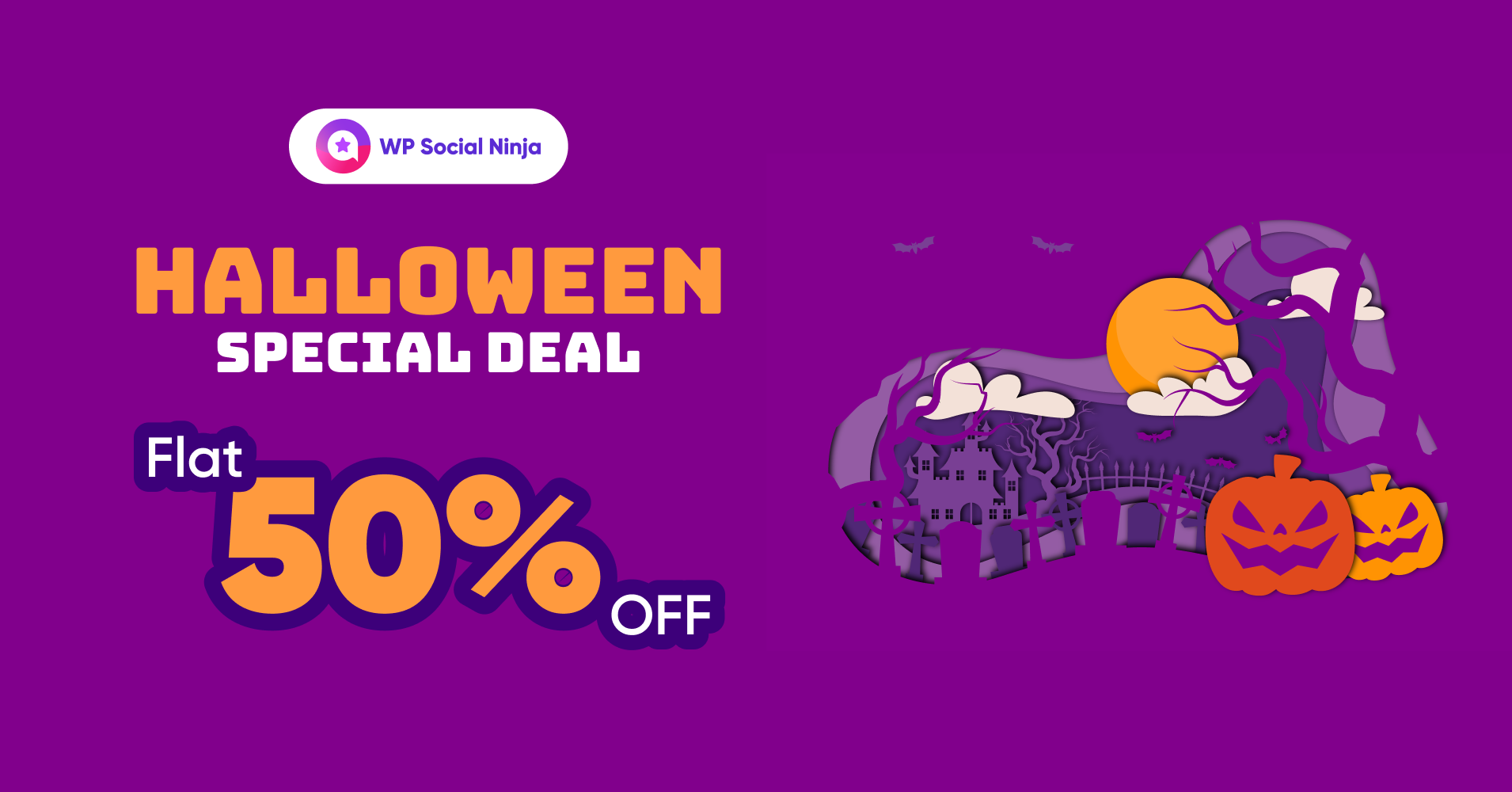 WP Social Ninja is a feature-rich social media WordPress plugin for small businesses. It turns your WordPress website into a social hub with 30+ features.
You can easily display 4+ social feeds from Instagram, Facebook, and others using this plugin. Moreover, you can also embed social reviews from Google, WooCommerce, and eight other platforms. Moreover, convenient chat widgets from 15+ can also engage visitors.
Discount: Flat 50% Off
Code: Auto-applied
Duration: 17th Oct – 2nd Nov 2023
Paymattic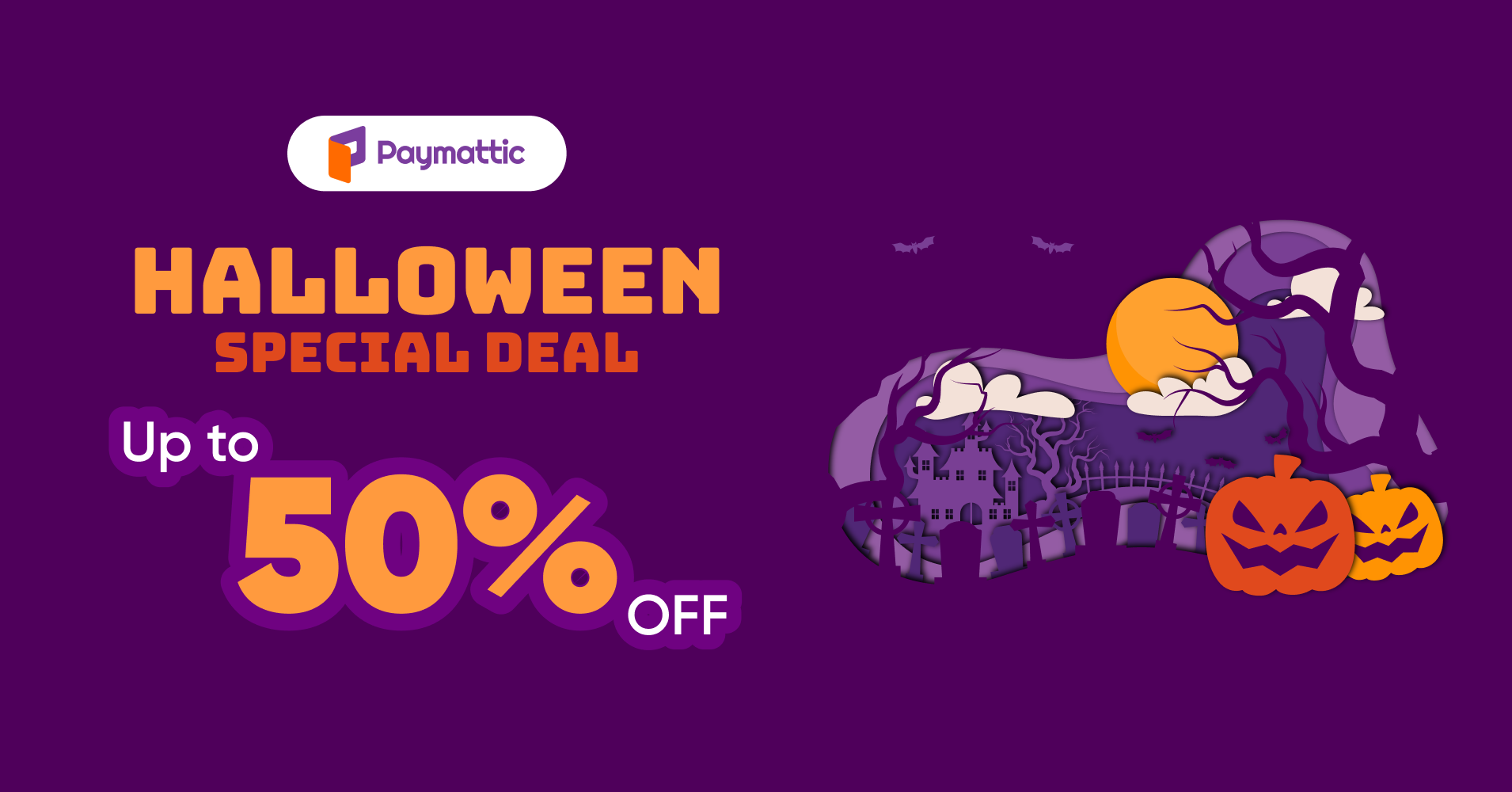 Paymattic is the best WordPress plugin for accepting online donations & payments. It's very easy to accept payments and create payment forms with 11 payment gateways. Besides, it comes with various donation features so you can run a full-fledged donation website with a single plugin.
Discount: Up to 50% Off
Code: Auto-applied
Duration: 17th Oct – 2nd Nov 2023
HasThemes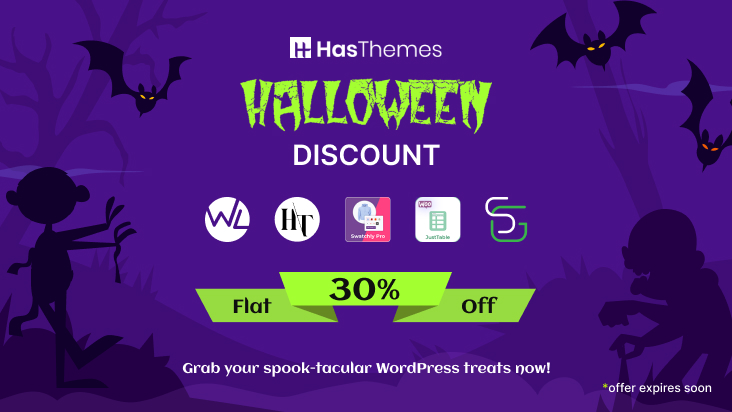 Join in on the Halloween fun with HasThemes! We're treating you to spooktacular discounts on all our premium WordPress plugins. Don't miss out on this eerie-sistible treat – enjoy a flat 30% off on HasThemes products. It's the perfect time to enhance your website and embrace the spirit of Halloween!
Discount: Flat 30% discount
Code: No coupon is required (Auto-applied)
Duration: 23 Oct- 1st Nov
ShopLentor: WooCommerce Builder For Elementor and Gutenberg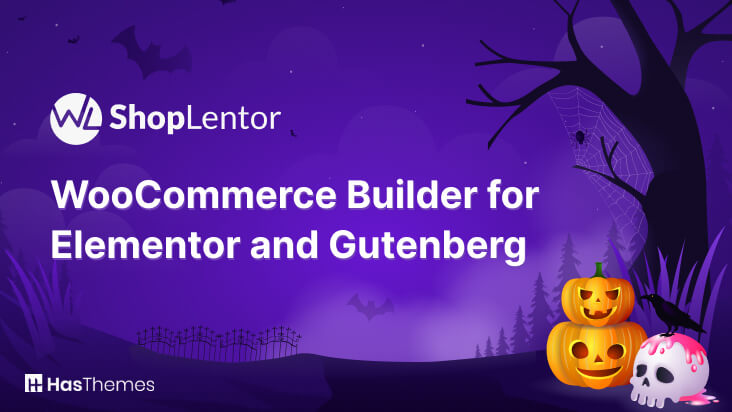 ShopLentor is a game-changing WooCommerce Addons plugin that integrates seamlessly with Elementor and Gutenberg, providing you with an impressive toolkit. With over 100 WooCommerce Elementor Widgets and 54+ Gutenberg Blocks, you can craft captivating and conversion-focused WooCommerce pages.
Elevate your online store using 24 specialized WooCommerce Modules, unlocking limitless possibilities for your e-commerce venture. Break free from the constraints of default WooCommerce layouts with ShopLentor's dedicated WooCommerce page builder, allowing you to fully customize your pages to align with your brand identity and creative vision.
Discount: Flat 30% discount
Code: No coupon is required (Auto-applied)
Duration: 23 Oct- 1st Nov
HT Mega: Absolute Addons For Elementor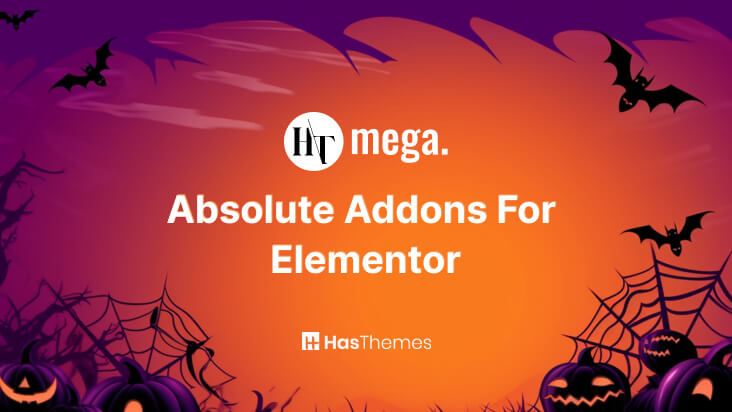 HT Mega is a comprehensive Elementor add-ons package designed for WordPress. This all-inclusive toolkit encompasses widgets, pre-designed templates, forms, tables, and more. It enables effortless website development using Elementor. With a vast selection of 110+ widgets, 760+ pre-designed blocks, and a variety of templates, HT Mega covers everything from blog elements to dynamic sliders.
This plugin guarantees responsive design striking portfolios and offers four distinct blog layouts to cater to all platforms. HT Mega empowers you to create professional, visually captivating websites, making it the ultimate choice for limitless creativity and web design efficiency.
Discount: Flat 30% discount
Code: No coupon is required (Auto-applied)
Duration: 23 Oct- 1st Nov
Support Genix: WordPress Support Ticket Plugin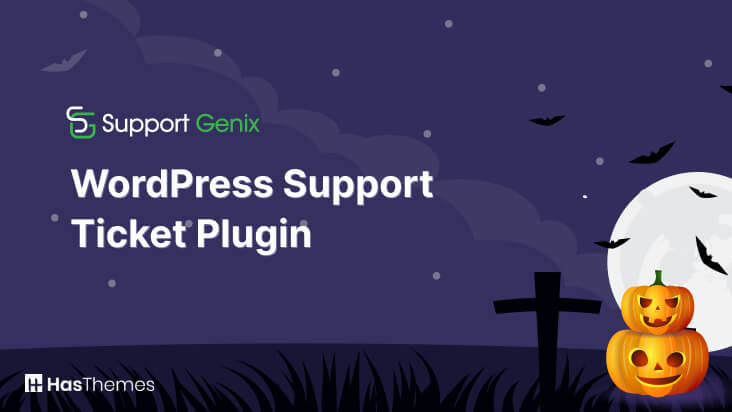 Support Genix, a potent WordPress plugin, seamlessly integrates a robust support ticket system into your website. It simplifies support ticket creation within WordPress, streamlining assistance processes. This plugin converts your site into an efficient Customer Support Ticketing and Helpdesk system suitable for businesses and individuals.
With user-friendly features and efficient ticket management, it ensures accessibility. Benefit from unlimited ticket creation, agent support, and user management, granting complete control over support operations. Support Genix enhances your site's customer service capabilities effortlessly, offering a seamless experience for your team and users.
Discount: Flat 30% discount
Code: No coupon is required (Auto-applied)
Duration: 23 Oct- 1st Nov
Whols – WooCommerce Wholesale Prices Plugin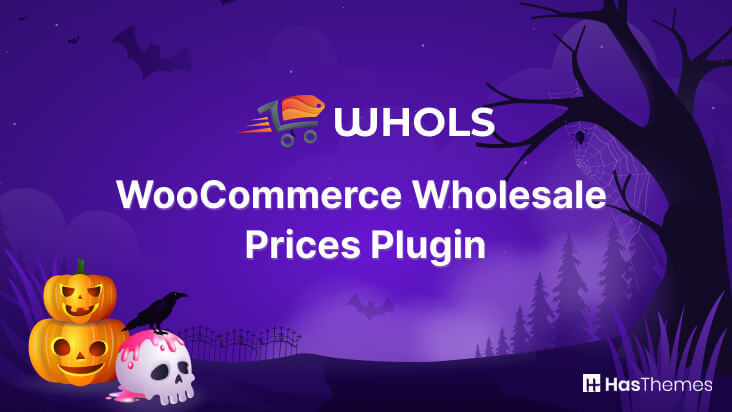 Whols is a top-notch WooCommerce Wholesale Prices Plugin that empowers online store owners to establish wholesale pricing for their product catalog. This remarkable WordPress plugin for WooCommerce enables the display of exclusive wholesale prices to wholesalers. It facilitates a streamlined process for users to apply for wholesale customer status through a straightforward online registration form.
Upon completion, store owners can conveniently review and approve these requests, either manually or automatically. With features like Category-Based Product Pricing, Wholesale Store Access Restriction, and free shipping for wholesalers, Whols offers comprehensive functionality for managing wholesale operations.
Discount: Flat 30% discount
Code: No coupon is required (Auto-applied)
Duration: 23 Oct- 1st Nov
HT Easy GA4 – WordPress Google Analytics Plugin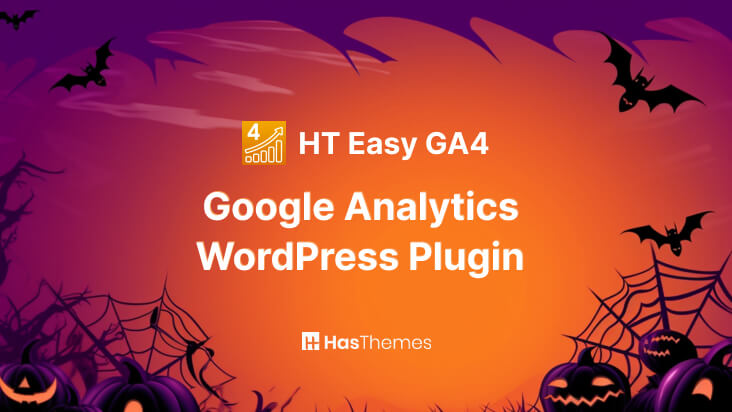 HT Easy GA4 is a WordPress Analytics Plugin that seamlessly integrates Google Analytics 4 into your website. This powerful tool offers a unified view of app and web analytics, providing comprehensive insights into user interactions. Its user-friendly interface empowers you with advanced reporting capabilities while prioritizing intelligent privacy features.
With the help of this plugin, you can now easily keep track of your eCommerce operations, which enables you to check on sales progress and improve your online business for higher profits. Experience actionable website insights directly on your WordPress dashboard with HT Easy GA4, complete with customized reports tailored to your business's essential growth metrics.
Discount: Flat 30% discount
Code: No coupon is required (Auto-applied)
Duration: 23 Oct- 1st Nov
Pixelavo – Facebook Pixel Plugin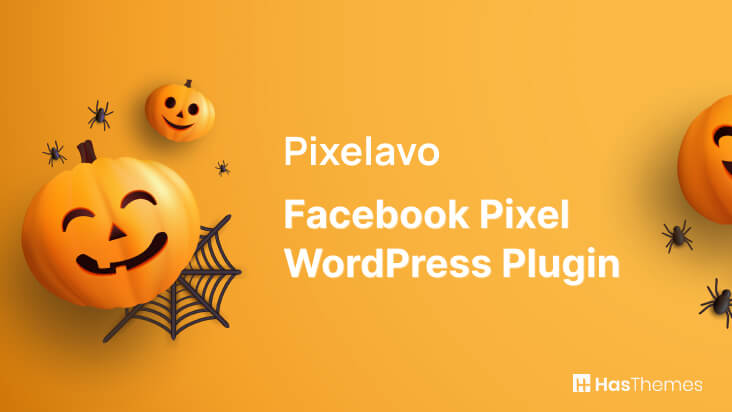 Pixelavo Pro is the ultimate plugin for WooCommerce users, providing seamless integration between your online store and the Facebook pixel. With the power of the Facebook Pixel, this plugin allows you to gather essential data about your website visitors, enabling highly personalized and targeted Facebook advertising campaigns.
Pixelavo also boasts an impressive range of advanced features to enhance your marketing efforts. From advanced tracking capabilities to custom audience creation, this plugin equips you with the tools you need to optimize your campaigns and drive conversions.
Discount: Flat 30% discount
Code: No coupon is required (Auto-applied)
Duration: 23 Oct- 1st Nov
JustTables – WooCommerce Product Table Plugin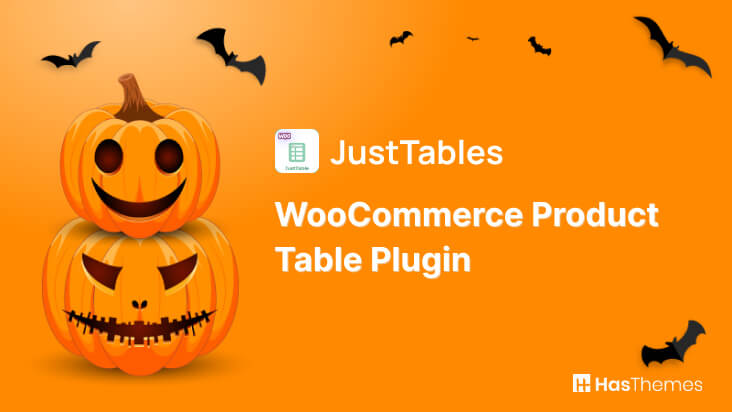 JustTables is a standout WordPress plugin designed to enhance your WooCommerce product showcase. It simplifies online store management by providing a sortable and filterable table view, allowing customers to explore product attributes and make side-by-side comparisons effortlessly. Offering 28 pre-built columns, users can enable/disable them and add personalized fields or taxonomies, ensuring versatility.
With an intuitive drag-and-drop feature, the customization of table columns is seamless, ensuring tailored product presentations. Perfect for online businesses aiming to save time and customers seeking convenience, JustTables transforms the WooCommerce shopping experience, enhancing both usability and efficiency.
Discount: Flat 30% discount
Code: No coupon is required (Auto-applied)
Duration: 23 Oct- 1st Nov
Swatchly – WooCommerce Variation Swatches Plugin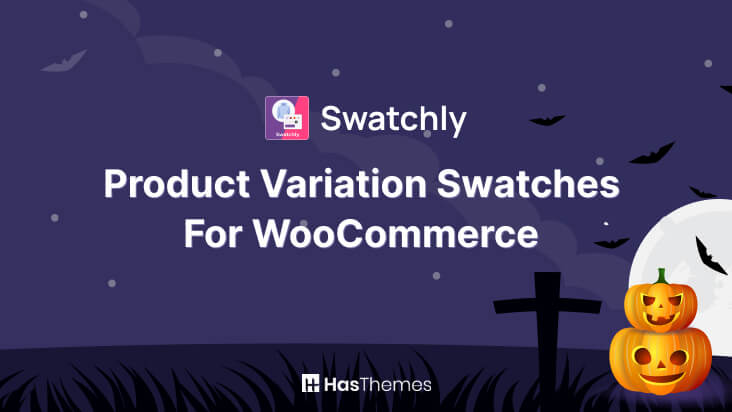 Swatchly, a dynamic WooCommerce plugin, revolutionizes product variation selection. Customers can effortlessly choose colors, sizes, and more, boosting engagement and conversions. It offers versatile features, enabling swatch control, custom hooks, and add-to-cart text customization.
With options like Variation Swatches,  individual product variations, and button swatches replacing dropdowns, Swatchly enhances product visibility. From enabling/disabling swatches to popup notices, Swatchly transforms the shopping journey, making it interactive, efficient, and visually appealing for WooCommerce stores.
Discount: Flat 30% discount
Code: No coupon is required (Auto-applied)
Duration: 23 Oct- 1st Nov
Conclusion
We hope you have an unforgettable Halloween night this year! Don't forget to spread the word about our deals if you think your friends can benefit from them. Thanks for reading! If you have any questions, just drop us a comment below.