VirtueMart 2 allows you to translate many form fields by adding a language key. This is for all fields.
We have an example: In a multilingual shop, you want to translate the gender-specific salutation (title) in the dropdown selection available in shopper forms. Take a look on this screenshot:

Go to VM Configuration > Shopper Fields > Title, then enter the keys like in the image below: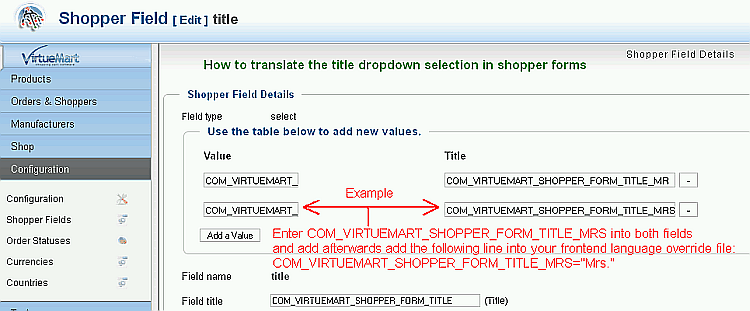 The next thing you need to do is to add your keys/strings to the en-GB and your language (de-DE in this example) file override files in the folder yourdomain\language\overrides. Or you can go to Language Manager > Overrides to add these lines to your language overrides.

If you have any question about this post, don't hesitate to leave a comment below. And don't forget to share with your friends if you find it useful! Thanks!