Helix Ultimate – The best Joomla template framework with many cool features that will help you create beautiful websites. In this post, you will get some settings options after installation.
Logo
It's very easy to set / upload a logo for your Joomla website, it can be an image or text. You can also adjust the logo height as you like.
Header
In this section, you can choose the header height and decide whether the header will be sticky or not or and upload a favicon.
Body
The website preloader option: If you turn on this option, it will show a spinning circle while loading your website.
The Boxed Layout option: If you turn on the Boxed Layout option, it will show several other relevant options to customize the boxed layout appearance such as background image, background size, background position, etc. You can switch between boxed and wide site layouts.
Footer
In the Footer section, you can turn on the "Copyright" option, it will show a copyright notice on your Joomla website footer.
Module Position: select the appropriate module position for the copyright notice.
Feature position: show some features along with the copyright notice module.
And you can put the footer copyright text into text box.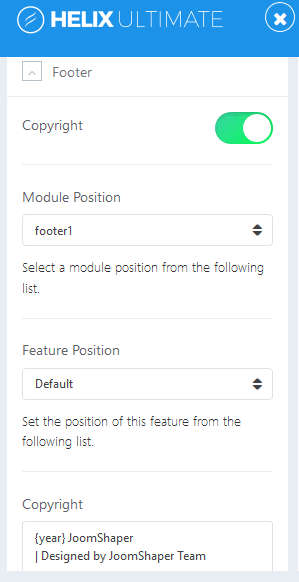 Image by Joomshaper
Go to Top
This feature allows your website visitor to scroll back to the top of the page with one click of the button. It gives your website better navigation and make your website layout look more professional.
Social Icons
You can switch this option on/off, when you turn on this option and customize links, your social media links will be displayed on your Joomla website.
Contact Info
When you turn on this feature, your contact information will be displayed on your site.
Coming Soon
You want to display a customized maintenance mode page when your site is under construction? So simple, just turn on the "Enable Coming Soon" option.
It also allows to add page title, page contents, date, logo, background image and social icons on your coming soon page.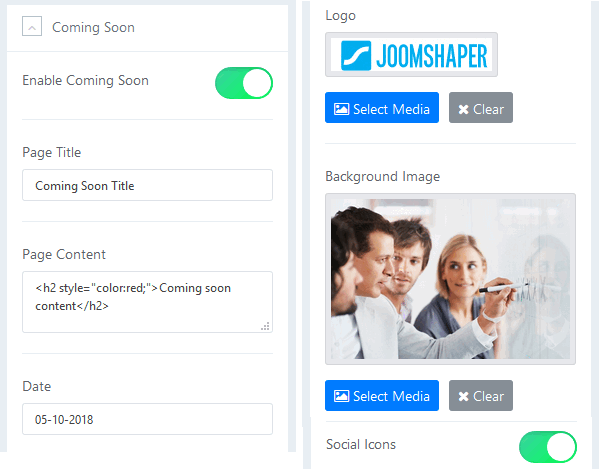 Image by Joomshaper
Error Page
Helix Ultimate allows you to create a custom page for several errors like 404 and so on. Very easy to create a custom page, just upload a custom background image and logo that you them to display on the error page.
If you have any question about this tutorial, don't hesitate to leave a comment below. And don't forget to share with your friends if you find it useful! Thanks! ?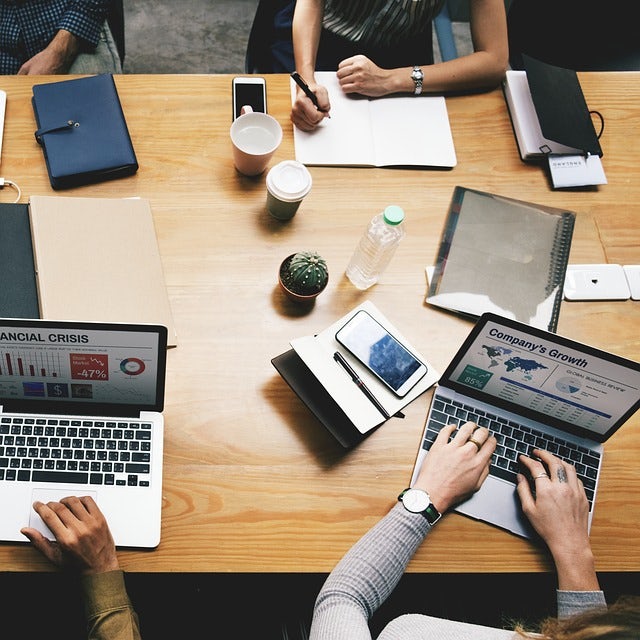 We're a Digital Team from EngineTemplate with 5 content experts. Our team has 5 years exp in open source Joomla and WordPress, we make daily blogs and build useful resources for everyone who is having issues with open source while using it.