Sometimes, you can delete your posts/pages by chance. Or you delete them since you think that they no longer are valuable for your WordPress site. However, one day, you will realize that those pages still contain a lot of crucial information for your website. Hence, you need to find solutions to restore deleted WordPress pages. And our blog is the right answer for you.
In this tutorial, we will show you some amazing methods that are definitely useful for your website. Let's dive into it.
How to Restore Deleted WordPress Pages
There are numerous ways to help you recover WordPress deleted pages. However, in today's blog, we will provide you with the 3 most popular ways so that you can easily restore your deleted pages by yourself.
Now, let's check them out.
Method 1: Restore deleted WordPress pages from trash
It is the easiest method to help you restore WordPress deleted pages. To do so, now, let's check the following steps.
First of all, you need to access your WordPress dashboard and go to Pages > All pages.
Next, click on the Trash tab, and you will see a list of pages that have been deleted during the last 30 days.
Simply hover over the deleted page that you want to restore, and you will see the "Restore" option. Let's click on it.

If you want to restore multiple pages, you simply check the boxes next to the pages you want to restore. Then, choose the "Restore" option from the "Bulk action"drop-down menu.
Finally, click on the Apply button to bulk restore all pages you have chosen.

Method 2: Restore permanently deleted WordPress pages by using plugins
In addition to restoring WordPress deleted pages from the trash, you can still use WordPress backup plugins to restore your WordPress backup that will include your deleted pages.
This method is a perfect solution if your deleted pages have been deleted permanently from the trash.
If you are using UpdraftPlus, luckily this plugin completely allows you to easily create a backup for the entire WordPress site. This tool has been trusted by over 3 million users around the world.
Before restoring your website backup, you need to make sure the backup that you are going to restore contains all the content you want. In other words, it has to include all deleted posts and pages that you have accidentally deleted before.
Now, let's track the following steps to restore your website backup.
Step 1: Install and activate the plugin
Go to Plugins > Add new from WordPress admin dashboard
Use the search bar to find the plugin
Then, click on the "Install now" button and activate it.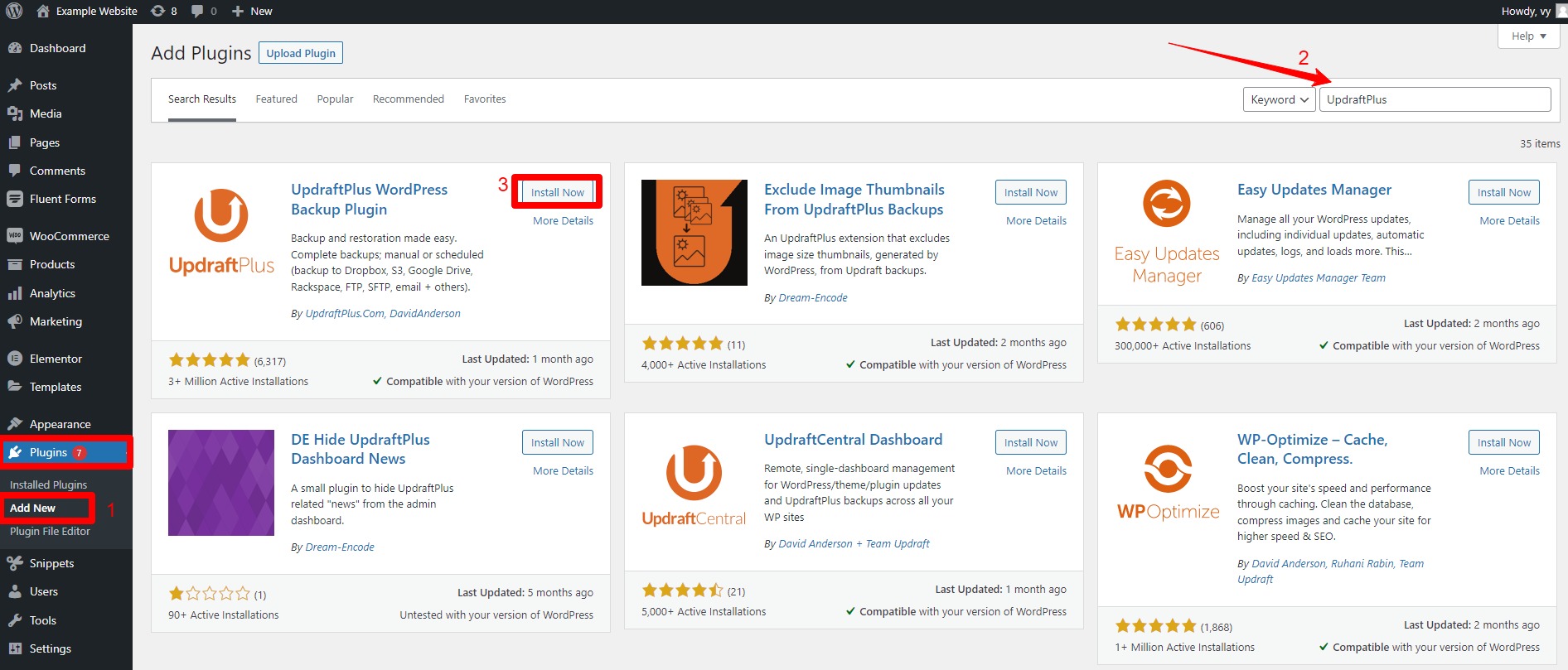 Step 2: Upload Backup files from your computer
Once the plugin is activated. Now, you need to navigate to Settings > Updraftplus Backups > Backup/Restore tab
Then, locate the Existing Backups section and click on the Upload Backup files link as screenshot below.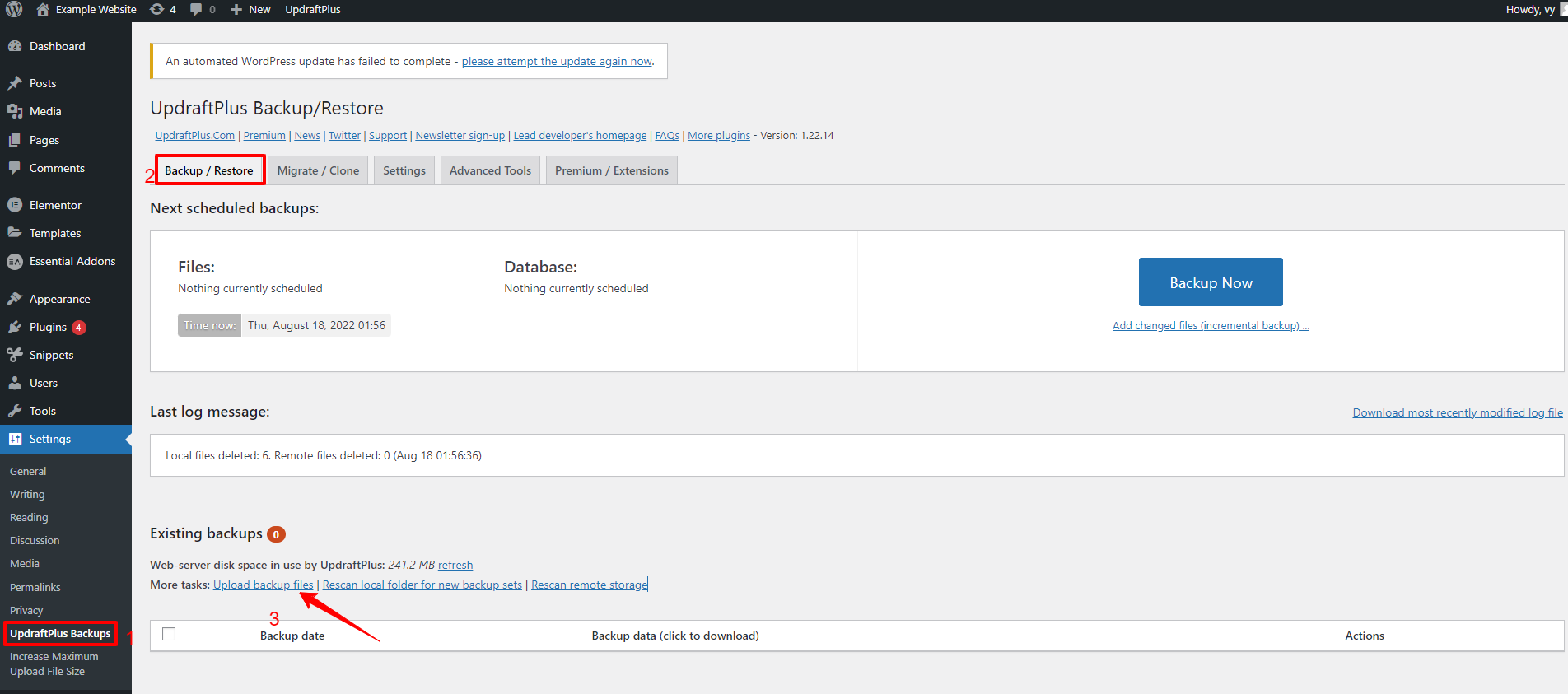 This will open a box where you upload the backup files that you have downloaded earlier by clicking on the Select files button or dropping your backup files.

Step 3: Restore your deleted pages
After the process of uploading your backup files has been completed, all files will be shown below the Existing backups section on the Backup/Restore page.
Now, you can click on the "Restore" button to keep scanning your backup files.

This will lead you to the restoration page where you can choose available backup files that you want to restore including plugins, databases, themes, and others.
After selecting backup files, let's click on the Next button.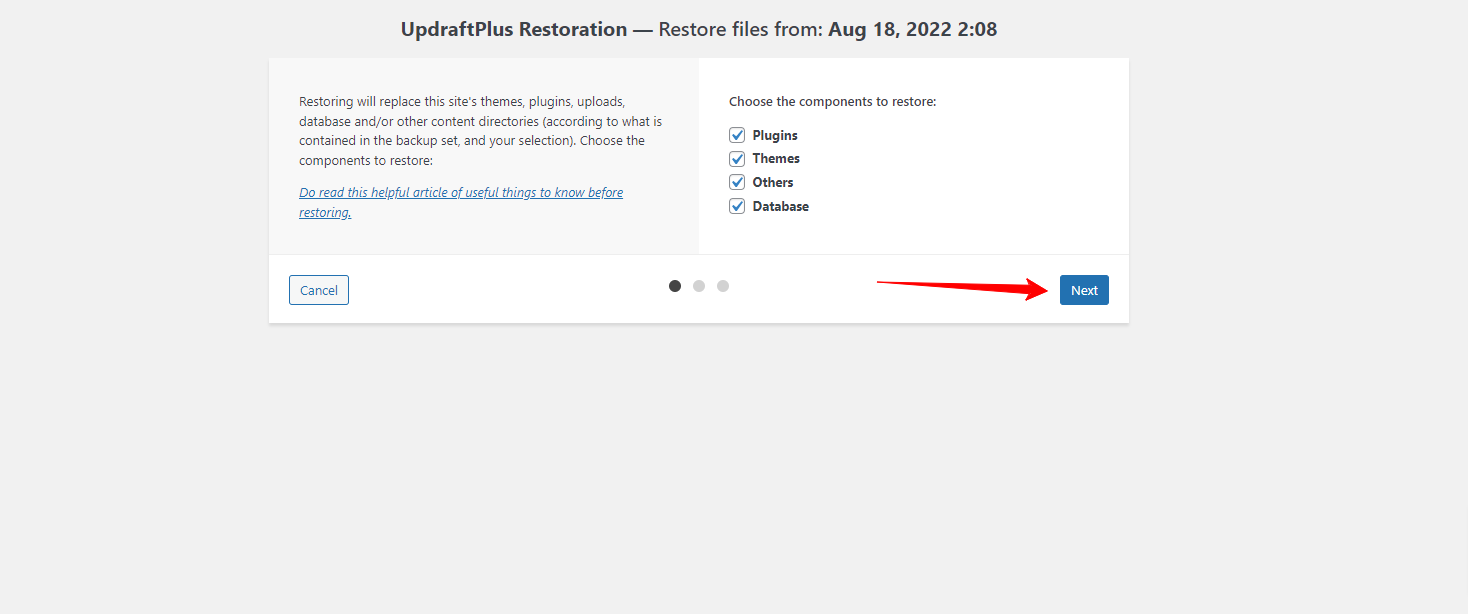 On the next screen, you can choose parts that you want to exclude instead of restoring all your database tables. And next, click on the "Restore" button to execute the restoration process.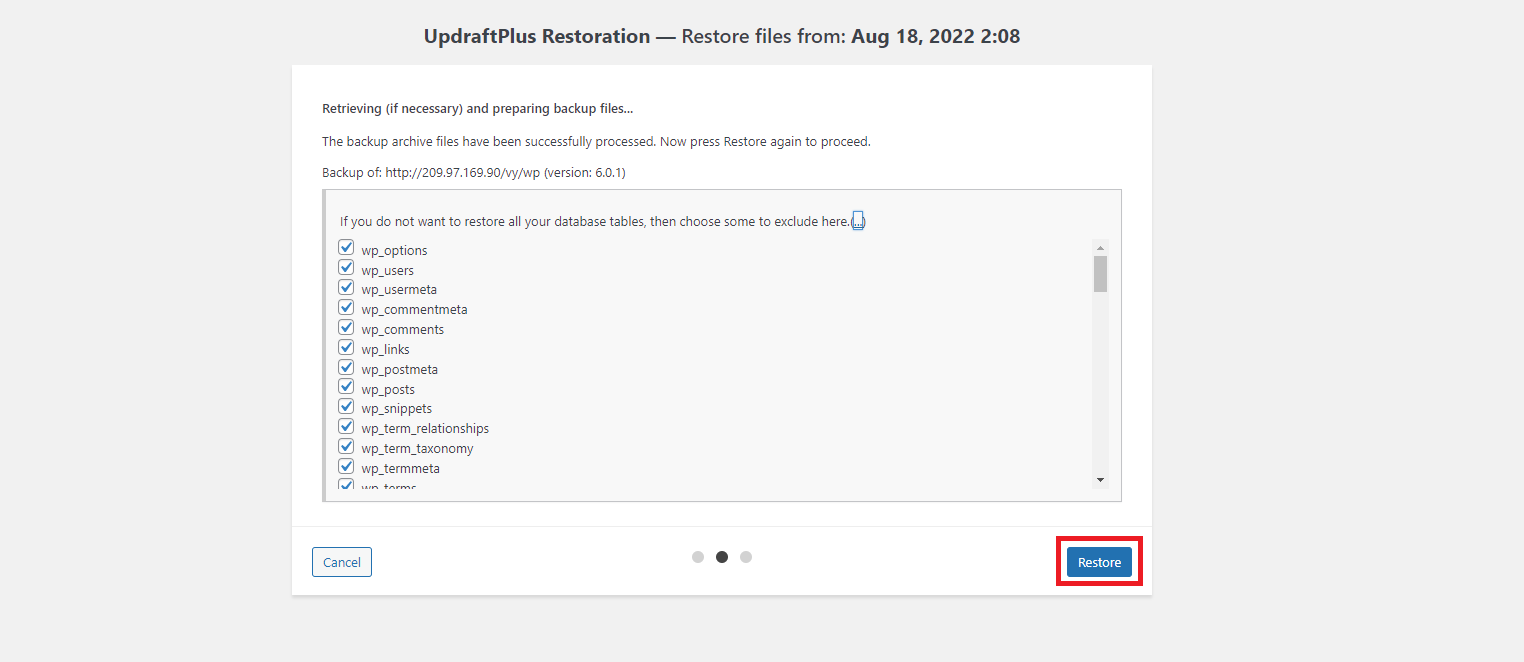 Now, the Updraftplugin will start scanning, extracting, and restoring data from your backup files. Once the restoration process is finished, you will see the "Restore successful" message on the screen.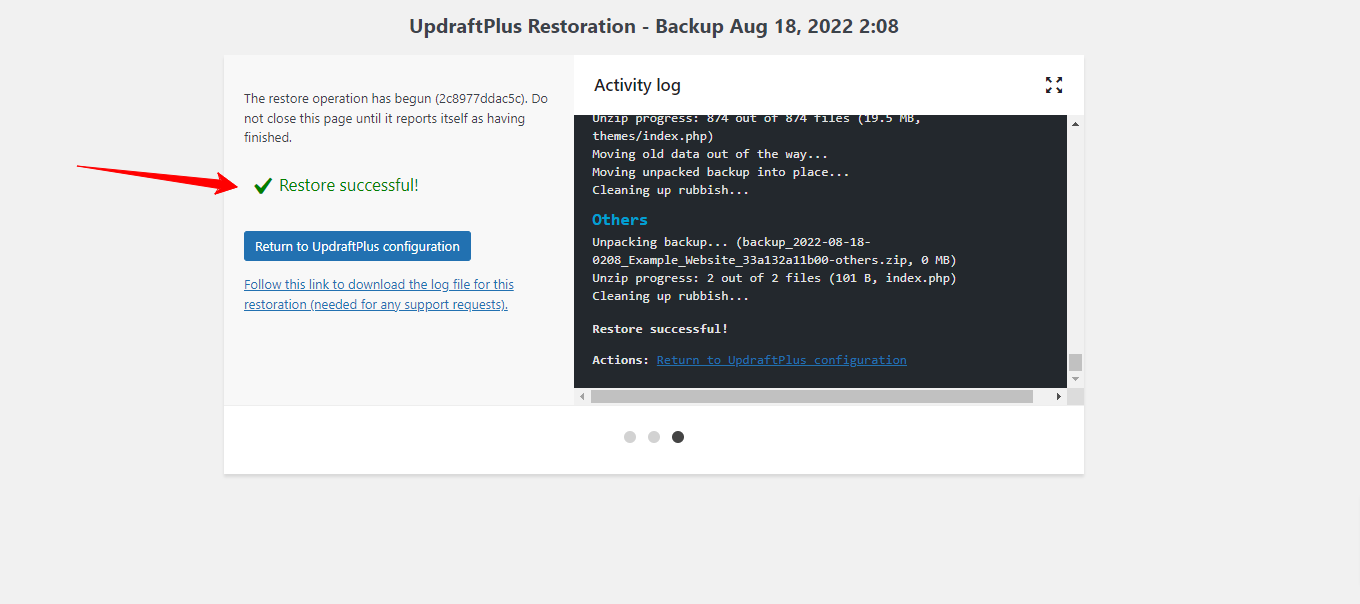 Now, you should see your deleted pages by navigating Pages > All pages and they will be under the trash tab.
Method 3: Restore deleted WordPress pages from Google cache
The fact that search engines will store a cached version of your page content in internet archives. Therefore, you can take advantage of Google's cache to find your deleted page.
To do so, you need to track our instructions below.
Step 1: You need to go to www.google.com.
Step 2: Search for the URL of the page by following the command below:
site:www.example.com/name_of_the_old_page
You should replace "example" with your actual domain and provide the name of your old page.
Step 3: If Google displays your page in the results, let's click on the arrow pointing down next to the URL of your page. This will display two options including Cached and Similar.
Let's choose the "Cached" option. Google will show the page on a particular data that may contain the content of your page that you have deleted before. You can copy it and recreate a new page.
Summary
Which solution is useful for your website? Hopefully, through 3 effective methods, you can easily restore deleted WordPress pages without difficulty. From our point of view, restoring deleted pages from the trash is the easiest way. However, if you don't find your deleted pages under the trash, you can try other ways.
If you have any questions, please leave a comment below. We will support you as soon as possible. Moreover, do you have a beautiful website? If not, let's visit our free WordPress themes to explore a wide range of eye-catching, responsive designs.