Do you want to arrange the structure of content on your WordPress site? Don't miss a list of useful WordPress Gutenberg Table of Contents plugins below. They will help you improve the visitor's user experience effectively.
The advantages of installing WordPress Gutenberg Table of Contents
Using WordPress Gutenberg Table of Content is a great solution to add an effective table of contents to your website because of the following reasons:
Initially, it helps you make a strong impression for the first time. Because your content comes with a table of contents will look more professional than content without one.
Next, this tool will assist you to arrange your content better. A TOCs provides you and the readers an outline of your content. Therefore, the readers can grasp an overview outline of the document without having to read it all.
Additionally, a clear TOCs will offer the reader a road map for user navigation. Thanks to that, readers only need to click the point of reference to quickly locate crucial information.
Now, let's check them out.
Top 6 Best WordPress Gutenberg Table of Contents

First and foremost, we would like to start with Easy Table of contents.  This plugin has the capability of working with a lot of prevalent Page builders such as Classic, Gutenberg, Elementor, Divi, and much more. This plugin has recorded over 200.000 installations and has a solid 4,5 stars. In addition, it automatically creates a TOCs for any posts, pages.
Plus, the plugin allows users to assign themes to their TOCs, and customize them to match their styles.  Furthermore, there is a wide range of useful options, so you can easily customize the background, custom border, and links colors, and much more. Additionally, you can exclude headers and toggle TOCs to make your TOCs more clear.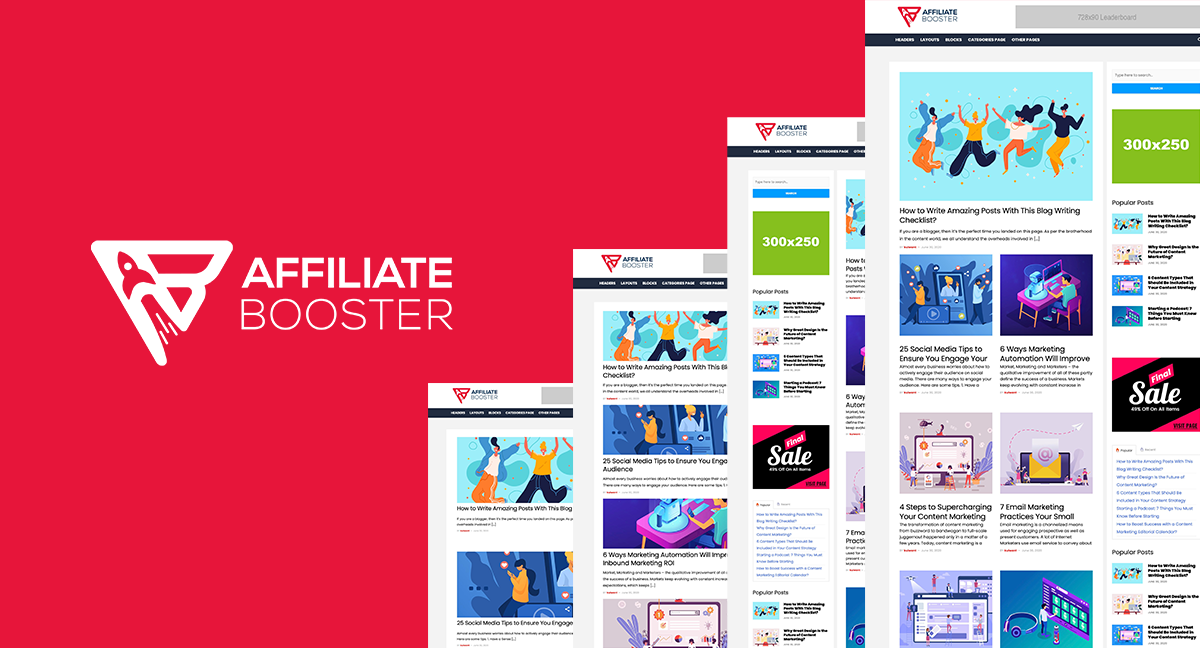 The Affiliate Booster plugin which is created for Gutenberg, comes with a host of remarkable features that serve to enhance the overall functionality and customization options available to users. One of its standout components is the inbuilt Table of Contents (TOC) block, which not only offers seamless integration but also allows for easy customization to align with individual preferences.
In addition to the TOC block, the plugin boasts an impressive collection of over 30 other blocks, each offering extensive customization capabilities.

Lucky WP Table of Contents is compatible with Classical and Gutenberg Editor. It gives you the ability to insert a TOCs based on headings. Moreover, it is optimized for SEO, so it is ready to display smoothly on your site. It also provides users some useful customization options.
You can choose between linear or hierarchical display views. Plus, it allows you to change some elements, the title, font sizes, width, colors, times font size from the control panel.

As its name, this plugin is specially developed for Gutenberg Editor. You can install it to automatically create a TOCs by inserting Advanced Table of contents blocks. One of the significant things is that this tool has an SEO-friendly table of contents and anchor, so your website will showcase greatly on the search engine result page.
If you want to enable bullet formats, this plugin completely allows you to display with decimal, numeric, or iconic. Especially, in order to improve the user experience, you can enable smooth scrolling when clicking anchor.

Another impressive wordpress gutenberg table of contents plugin for your site is Ultimate Blocks. This plugin comes with tons of useful blocks for Gutenberg. In which, the table of contents blocks allows you to generate a TOCs directly from headings with a few clicks.
Additionally, you can enable Show or hide toggle for users. It allows you split the table of content into two or three columns if your content is so long. Moreover, you can choose styles to display the table of contents lists such as bulleted, numbered, and plain styles.

This WordPress Gutenberg table of contents plugin brings a wide array of creative blocks for Gutenberg editor.  And, one of the outstanding blocks is the table of contents block. This function allows you to showcase an index or a list of heading within a long post or page. Thanks to that, the readers can get an overview of your content easily.
Moreover, you can add the title for TOCs and manage the design from the setting panel on the right. It allows you to enable a smooth scroll or display a scroll to the top icon.

Gutentor offers you loads of helpful blocks. In addition, thanks to the drag and drop interface, you can easily choose the table of contents block and drop it to another place on your pages. You can display an outstanding table of contents including all the headings to access large contents of the post/page.
End
To conclude, those are all the best WordPress Gutenberg Table of Contents in 2022. We hope that you can choose one of them to improve the user experience and your post's Search Engine Optimization.
Whenever you encounter any problems, please mention them in the comment section below.
By the way, you can drop by our free WordPress Themes to explore more stunning, responsive designs. Let's give it a look.