In today's digital age, data is everywhere. If you're a website owner or a data analyst, you understand the importance of displaying information in an easily digestible format. That's where WordPress chart plugins come in handy.
They are an excellent way to create interactive and informative charts on your website. With so many options to choose from, it can be overwhelming to find the right one for your needs. This blog post compiles a list of the best WordPress chart plugins for 2023 that will help you create stunning visuals and make sense of your data. Now, let's check them out and find your favorite plugin.
How to choose the best WordPress chart plugins?
When it comes to choosing the best WordPress chart plugins for your website, it's important to consider a few key factors. Firstly, consider the purpose of the chart – is it for data visualization or organizational purposes? This will help you narrow down your options.
Additionally, you can consider the features offered by each plugin, such as ease of use, customization options, and compatibility with your current WordPress setup. By taking the time to carefully assess your options, you can choose a WordPress chart plugin that meets your specific needs and enhances your website's functionality. Now, it's time to go over the following plugins.
List of 7 Excellent WordPress Chart Plugins

It is obvious that Organization Chat is one of the top-notch WordPress Chart Plugins. It allows users to create any type of well-structured chart with ease.  With this plugin, you can create custom charts with any number of levels and sub-levels, add employees or members with their own details and pictures, and customize the appearance of your chart with different colors and styles.
The plugin is designed to be easy to use, even for those with little or no coding experience. Simply install the plugin, create your chart, and publish it on your website using a shortcode or widget. The charts created by the Organization Chart plugin are also responsive, meaning they will automatically adjust to fit any screen size or device, making them ideal for mobile-friendly websites.
Main features:
Responsive(mobile-friendly) design
Gutenberg-ready plugin
Ability to add unlimited themes and elements
Ability to add an image for each element
Ability to duplicate the organizational charts or themes
Ability to add horizontal scrolling instead of mobile view
Ability to select a theme for each element
Ability to change the organizational chart background color and border-radius
Ability to enable Popup functionality
Ability to configure Popup styles
Ability to set User Permissions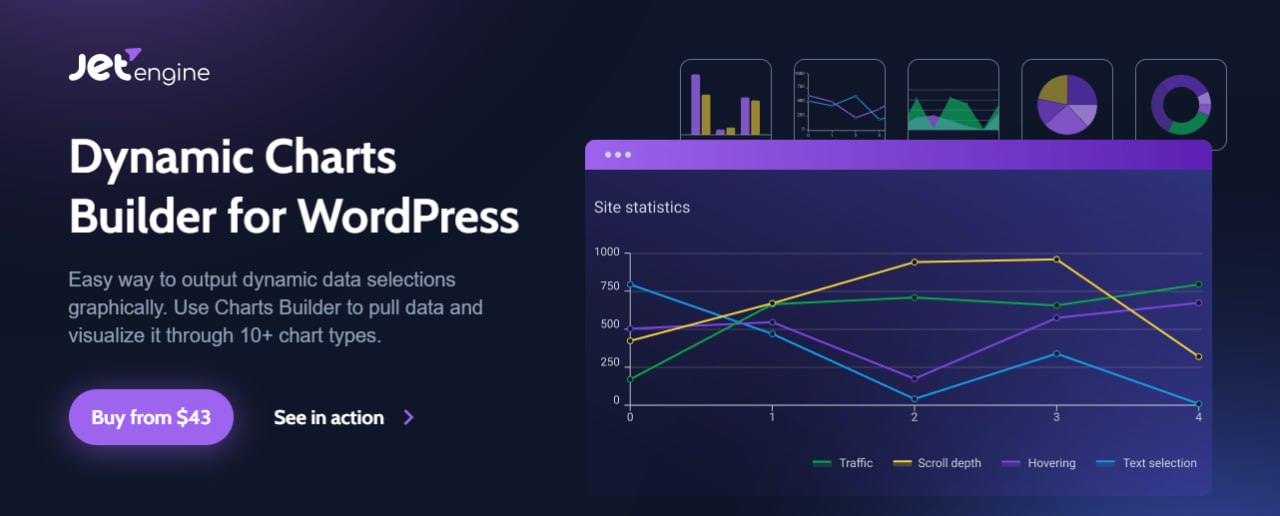 JetEngine is also famous for its high-quality performance. First of all, this plugin allows you to use Chart Builders to pull data and visualize it via 10+ chart types. Moreover, you have the ability to add video stats from Youtube channels to the SQL database. All you need to do is choose a Geo chart and get a great demo of the views' statistics on a live map.
Further, it provides you with tons of useful customizations that allow you to order the columns inside the chart, choose from 10+ ready-to-use chart types, place the chart legend in any positions you want, configure the length and width of the chart canvas, and much more.
Main features:
Give a range of chart types, including bar, line, pie, area, and more
Provide the ability to customize the chart design with colors, labels, tooltips, and other design elements
Offer shortcodes for easy insertion of charts into pages, posts, and widgets
Support dynamic data, allowing users to update charts in real-time as new data becomes available

With the assistance of Visualizer, you can create, manage and embed interactive, responsive charts & tables into your WordPress posts and pages effectively. In addition, it offers a wide range of options for displaying your data, including the DataTables table, 12 charts from Google charts, and 6 charts from Charts.js.
Besides that, the plugin permits you to select from various chart types and showcase data in a dynamic appearance. What's more, you can easily update charts each month by using Google Drive for the spreadsheet.
Main features:
15 Chart Types Available
Display a series of data points connected with line segments
Display visually quantitative data
Render numerical proportions and divide them into slices
Use a column chart to show comparisons among different categories
Organize your data
Responsive charts
External APIs support
Database support

The next great WordPress Chart plugin that you should consider is WP Charts and Graphs. This plugin provides you with plenty of useful features to create a powerful chart such as Chart Generator. Besides that, you can see the chart immediately on the admin without publishing it.
You have the ability to specify the titles and the values and choose the chart types. Then the plugin will help you create the shortcode which you can use to insert any post/page. Especially, the charts are responsive, the size depends on the container element.
Main features:
Responsive, Mobile-Friendly
Chart generator
Live Preview on admin
Several chart types

M Chart is considered the simplest WordPress Chart plugin. However, it can help you create and display various types of charts and graphs on your websites. Besides, there are several useful customization options, allowing you to change colors, fonts, and sizes to match your website's branding.
The plugin supports a variety of chart types, such as bar charts, line charts, pie charts, and more. With M Chart, users can easily import data sets from Excel or CSV files, and the plugin also provides real-time data updates to keep charts up-to-date. M Chart is a reliable option for users seeking an efficient way to create visually appealing charts for their WordPress site.
Main features:
Easy to Use
Responsive Design
Customizable Design
Multiple Chart Types
Multiple Data Sources
Integration with WordPress

Simple Org Chart is ideal for businesses, nonprofits, schools, and other organizations that need to display the structure and hierarchy of the organization by adding employees or members, along with their titles, descriptions, and pictures.
Moreover, the charts created by Simple Org Chart are also fully responsive, which means they will look great on any device or screen size. It has a list of helpful customization options, allowing you to select various color schemes and font styles to match the design of your website.
Main features:
Setup a hierarchical based organization chart
Intuitive and fast
Drag and drop interface
Display a Gravatar image and the user's display name
Multiple Charts
JSON Access
Custom Departments
Simple user management

This is a perfect WordPress Chart Plugin that is developed by amCharts staff. It provides you with the ability to create chart code snippets, then you can insert the chart into your post or page by using a shortcode. It is packed with a list of useful features so that you can create charts with a few clicks. Moreover, it is simple for you to customize the appearance of your chart with many useful built-in options.
Main features:
Easy switching between CDN-hosted or local chart/map libraries storage
Setting defaults per chart type
Automatically locating installed libraries and available resources
The bottom line
After reviewing the top WordPress chart plugins for 2023, it's clear that there are many excellent options available to users. Now, it's time to choose the best WordPress chart plugin that fits your needs and see the difference it can make for your website. If you find our blog useful, don't forget to share it with your friends.
By the way, we would like to introduce plenty of stunning, responsive, free WordPress Themes on our website. Let's check them out.