Is your website dealing with thousands of spam comments? Do you want to delete all pending comments in WordPress quickly? Don't miss our blog. This contains 2 useful solutions for your website. Let's dive into it now.
Why should you delete all pending comments in WordPress?
There are several reasons why you need to delete all pending comments in WordPress. For example, your website receives a lot of spam comments, however, Akismet anti-spam plugin got disabled on your website. As a result, all spam comments will be listed in the pending comment tab by chance.
You also need to remove pending comments if you want to delete unwanted comments that are created by articles on your website. Another scenario is that you might forget to turn off comments on older posts.
These unwanted comments might include spam comments and spammy links that cause negative impacts on your SEO. Therefore, it is necessary to get rid of all your pending comments as soon as possible.
In today's blog, we will provide you with a detailed tutorial to help you bulk delete all pending comments in WordPress. Now, let's check them out.
How to Delete All Pending Comments in WordPress?
Method 1: Delete all pending comments from WordPress dashboard
This is the easiest way to delete all pending comments in WordPress. Since it doesn't require you to install an additional plugin or access the database. All you need to do is log in to your WordPress dashboard and implement bulk delete comments that are similar to what you did with posts/pages.
To do that, first of all, you need to login to your WordPress dashboard and navigate to "Comments". Then, click on the "Pending" tab to open a list of all your pending comments.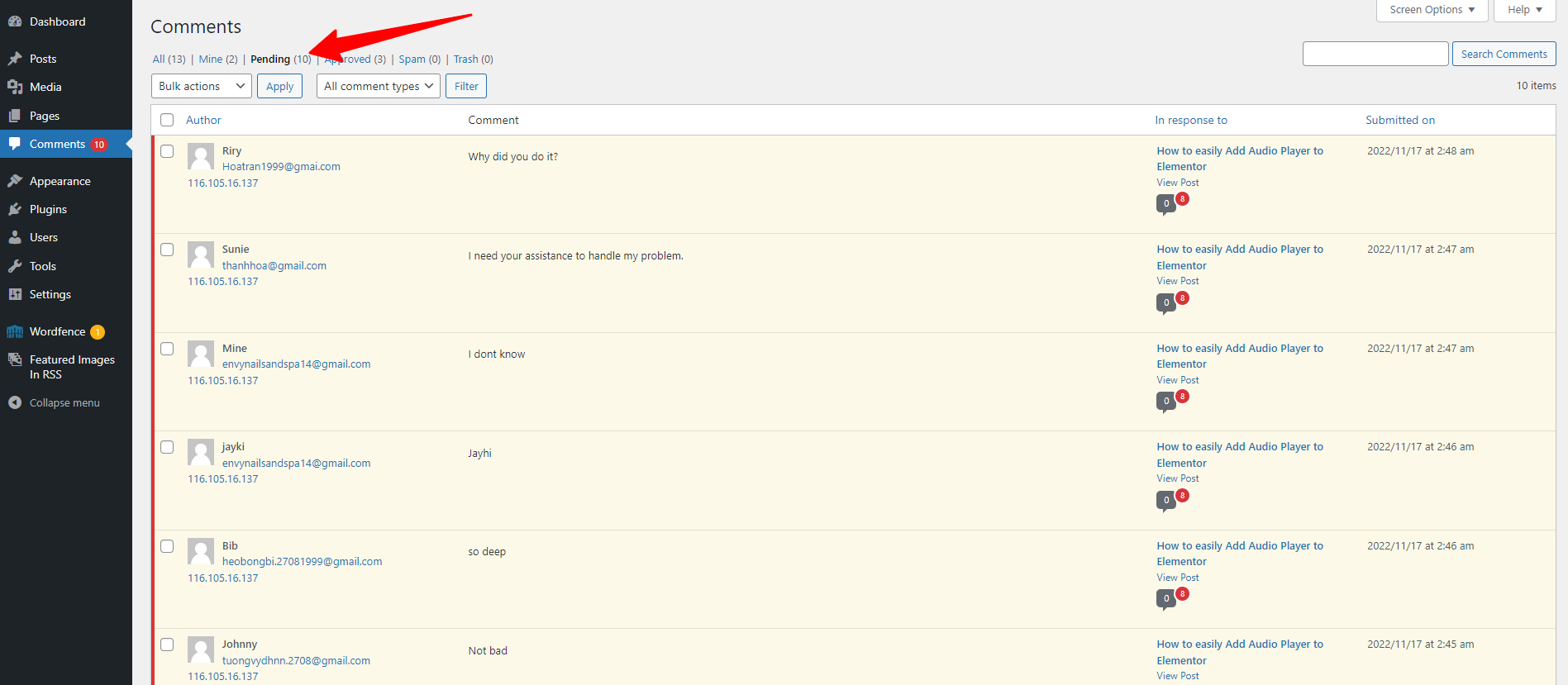 Next, simply click the checkbox at the top of the comments table to choose all pending comments.

Then, click on Bulk actions and choose "Move to Trash" from the drop-down menu and click on the "Apply" button to delete all of them.

However, by default, the list only displays 20 pending comments on each page. If you want to change the number of pending comments displayed on each page, you simply click on the "Screen Options" tab at the top right corner of the page.
This change will help you quickly delete all pending comments in case your website has a large number of comments.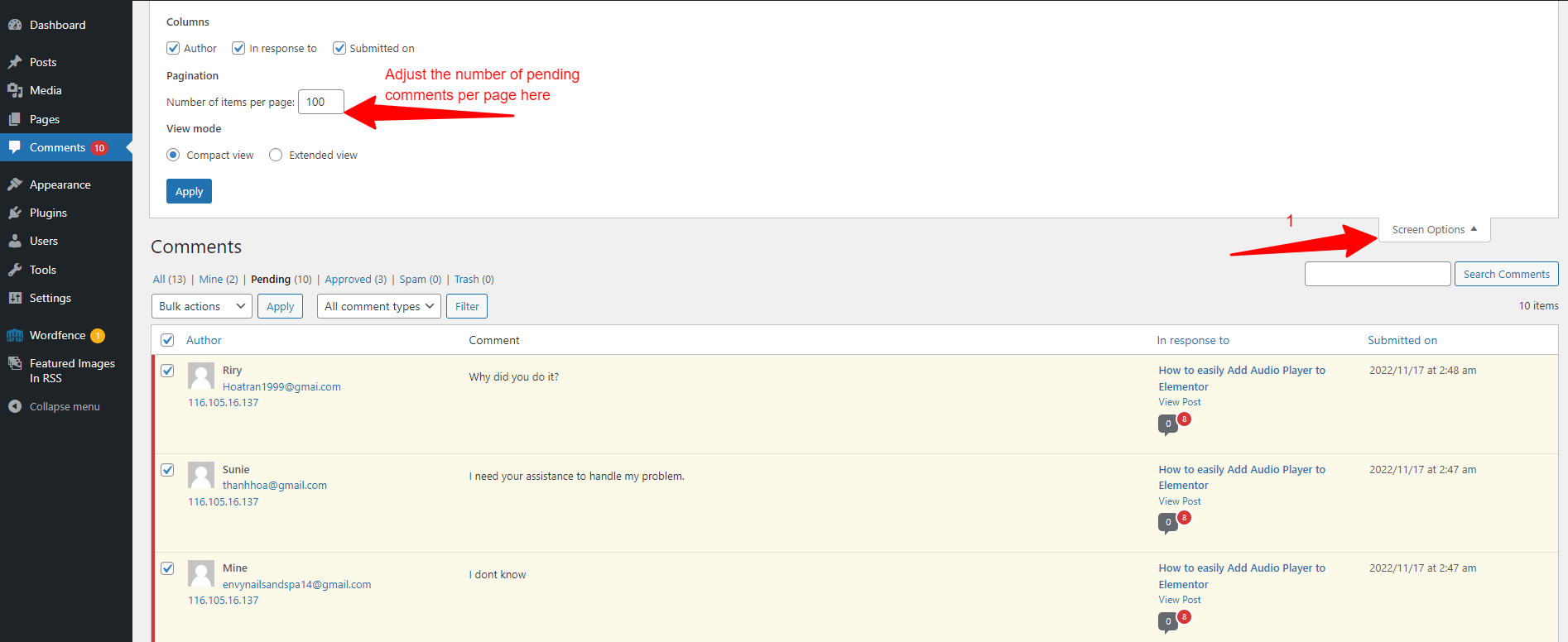 Similarly, you can also repeat the process several times to delete them all without effort.
After all pending comments are removed, they will be moved to the trash and stored within 30 days. If you want to get rid of all the comments permanently, you can navigate to the "Trash" tab and click the "Empty  Trash" button to delete them completely.

Moreover, you can increase the number of comments on each page to up 999 items, however, this change will negatively affect your website performance. In other words, it will make your website slow down.
Therefore, if your website has a large number of comments( more than 1000 comments), you can try another solution that we will mention below.
Method 2: Delete all pending comments using WordPress plugin
Instead of deleting all pending comments manually, there is another way to remove all pending comments by using a free WordPress plugin. The useful plugin that we would like to recommend is WP Bulk Delete which allows you to delete posts, pages, comments, users, etc in bulk based on various filters and conditions.
However, you should create a backup of whole your website before implementing it so that you can prevent your website from getting into unwanted troubles. To create a backup of your website, you can use one of the most high-quality WordPress Backup Plugins.
Now, you need to install and activate the WP Bulk Delete plugin by following our instructions below.
Go to Plugins > Add New from your WordPress dashboard
Enter the plugin's name on the search bar to find the plugin
Click on the "Install now" button and " Activate" it

Once the plugin is activated, you need to navigate to WP Bulk Delete > Delete Comments from your WordPress dashboard.
In the Delete comments page, you need to check all the relevant boxes that you want to delete in the "Comment status" section. Additionally, you can set the time that you want your comment to be deleted within a certain time period or after a certain date.

Once you are done, click on the "Delete Comments" button to finalize the process.
Now, the plugin will help you automatically delete all unnecessary comments on your website including pending comments, spam comments, and trash comments that you don't want to show up.
The bottom line
Hopefully, this post gave you an effective method to help you quickly delete all pending comments in WordPress. We think that you should use the support of the WordPress plugin in case your website has to deal with thousands of unwanted comments.
If you have any queries or need our assistance, please leave a comment below, and we will support you soon.
By the way, our website has a collection of eye-catching, impressive, free WordPress Themes. Hence, if you are going to build a new website, don't miss our beautiful designs.