Are you looking for a useful tool that helps you extend the functionality of the Gutenberg editor? If yes, don't miss our blog. In this collection, we have hand-collected a list of excellent WordPress Gutenberg gallery that is completely compatible with the Gutenberg editor and help you create a stunning gallery.
Why should you use WordPress Gutenberg gallery to add a gallery on your website?
As a website owner, you really want to create a beautiful gallery or nice portfolio to make your site more eye-catching. However, if you are using a classic editor for your WordPress site, this editor doesn't offer any such a feature. Hence, it is necessary for you to install a WordPress Gutenberg Gallery right now.
Moreover, this tool provides you with a bunch of powerful features and other useful functionality. What's more, you have the ability to change various responsive layouts for your beautiful photos.
For this reason, in today's collection, we collected the top dominant WordPress Gutenberg Gallery. Let's dive into the following plugins below.
Top must-have WordPress Gutenberg Gallery

Gutenberg Blocks is one of the most prevalent plugins that are specially designed to extend the functionality of the Gutenberg editor. First of all, it comes with over 20 extra Gutenberg Blocks including accordions, galleries, sliders, tabs, maps, tables, recent posts, and much more. Additionally, you have the ability to manage and control who can use these blocks.
Plus, it allows you to add your own CSS styles for your blocks. Especially, there are several stunning page builder layouts for your website. They are completely optimized for desktop, tablet, and mobile devices.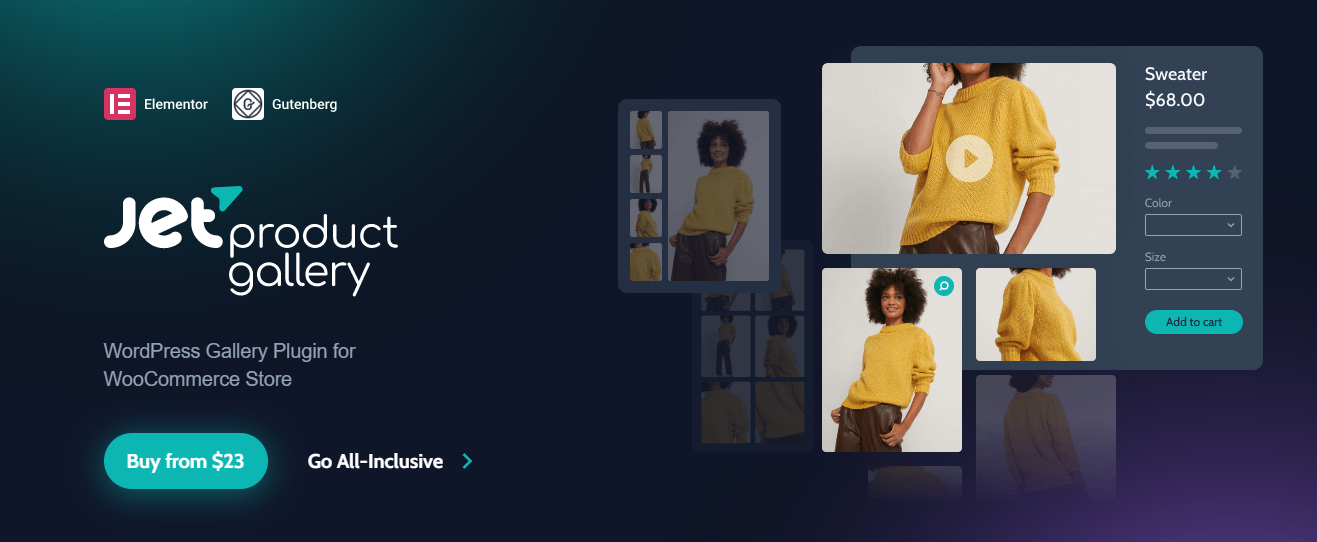 JetProductGallery is the ultimate WP plugin for bringing advanced product gallery functionality to WordPress websites. Perfect for displaying product images, videos in any format (including YouTube, Vimeo, and self-hosted videos), and any other multimedia content, JetProductGallery gives users unprecedented levels of customization so they can create stunning product galleries with ease.

Envira is a perfect choice for photographers, designers, and developers. This plugin support gallery blocks for the Gutenberg editor for WordPress 5.0. Therefore, you create a beautiful gallery with your predefined images and display them in a professional way. In addition, it also allows you to add Youtube, Vimeo, Wistia, and other videos to create a stunning video gallery.
This plugin is 100% responsive and mobile-friendly, so your gallery will look amazing on all devices. Plus, it is very fast because it has been optimized on the front end and the back end.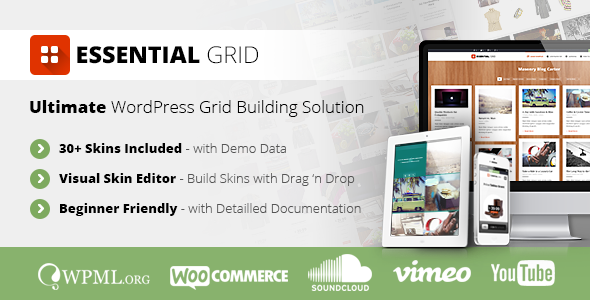 Enter the realm of awe-inspiring websites with Essential Grid Gallery, the masterwork of ThemePunch. This WordPress plugin transcends the ordinary, infusing each pixel with a touch of brilliance. Seamlessly harmonizing form and function, Essential Grid Gallery gifts photographers, designers, and entrepreneurs with an extraordinary canvas to unleash their creative prowess. Prepare to enthrall your audience with captivating grids, sliders, and carousels that transport them into a realm of visual enchantment.

GutentenBee provides you with 25+ powerful blocks: including icon block, divider block, food menu block,…In addition, you have the ability to customize the height, color, spacing according to your preference. Especially, it even allows you to display a lot of beautiful images on a slider instead of the grid. Furthermore, with the Image comparison block, you can make your posts more impressive with a side-by-side comparison of any two photos you want.

Photo Gallery by GT3 completely works well with Gutenberg editor. Therefore, it offers you plenty of useful blocks and functionality to enhance the appearance of your site. It is extremely easy for you to customize the look by using a set of helpful custom settings along with its settings panel.  By using the plugin, you create beautiful galleries without effort. Moreover,  the plugin supports a new shortcode system, which means you can create a grid and masonry photo gallery and put its shortcode in the Divi page builder.

Getwid is a perfect choice for you to generate any landing pages, portfolios, services pages, and much more with a responsive layout. In addition, there are a lot of flexible blocks that you can choose from such as section block, Google map bloc, heading block, and much more.  Moreover, it allows you to adjust the size, height, and apply various layouts. Furthermore, the image block allows you to add animation effect and apply the size in clicks and modify spacing.

With the assistance of Gutentor, you have more opportunities to achieve your desired web pages. Because this plugin comes with loads of fantastic blocks that help your build and design the best web page with a few clicks. Moreover, it is an optimized and lightweight plugin to ensure that the users get the greatest experience on your site. Especially, you don't need to add row/ columns since you just add blocks to make a nice website.

Spectra is completely compatible with the Gutenberg editor. It is packed with a lot of powerful blocks that allows you to add and create a gallery of images, videos, posts, and much more. Besides that, the plugin is extremely easy to use and has a good performance along with plenty of flexibility. It offers a bunch of excellent blocks such as star rating, forms, tabs, Lottie, review schema, taxonomy list, and much more.

With the support of Photonic, you no longer have any problems when creating a beautiful photo on your site.  Since it provides you a lot of concepts to create unlimited portfolios such as Flickr Photos, Albums, Galleries and Collection, SmugMug folder, Albums and images, and much more. In addition, you can use flexible layouts to make your sites more attractive such as masonry layout, justified grid, a grid of circular thumbnails, and much more.  The remarkable thing is that this plugin integrates with Instagram, so you can display your feed from your Instagram account.

Image Hover Effects Ultimate brings a great experience that you have never experienced before with free WordPress Gutenberg Gallery.  It gives you the ability to insert images into the WordPress post, page, widget, and much more. In addition, you can use a lot of impressive image hover effects and transitions to make your galleries more eye-catching. This plugin is really a good option to create image hover/caption hover, portfolio, a gallery on your site with ease.

Coblocks provides you with 54 useful blocks for Gutenberg. After installing the plugin, you can add a wide range of functionality to the WordPress editor without effort. One of the most outstanding blocks is the carousel. This block allows you to display multiple beautiful images in a masonry-style gallery. If you use the Collage block, you can assemble plenty of images into an eye-catching collage gallery.
The final thoughts
We have just provided the best WordPress Gutenberg Gallery in 2022. Hopefully, you can pick out your favorite plugin.
In addition, if you have any queries or encounter any problems, don't hesitate to leave a comment, we will support you as soon as possible.
By the way, if you are a big fan of themes and templates, let's visit our free WordPress Themes to update them for your site right now.