Are you finding a plugin that allows you to show the numerical values of our site? This collection is for you. When running a website, you absolutely need to know how many people assigning to your site or visiting your site. Thanks to it, you can find ways to attract more and more visitors, subscribers or fans as well.
To help you do it easily, today we provide you with the top best WordPress Counter Plugin.
Why should you choose WordPress Counter Plugin?
If you are not good at code, using the WordPress Counter plugin is a great idea for you to display exactly the number of visitors visiting your website per day, month, and year. In addition, it allows you to showcase the traffic static of your website. Some plugins also provide you with plenty of pre-made templates, so you can easily choose from and customize them to suit your demands.
Below, we listed 6 the most remarkable WordPress counter plugins that will resolve your issue with ease. Now, let's get started.
 Top 6 WordPress Counter Plugins

Here is a free WordPress Counter Plugin that allows you to show the social subscribers, fans as well as the number of followers of your site beautifully. In addition, you can also use it to display social media statics as well as attract more people to assign your site.
Provided features:
The latest use of APIs to fetch data
Auto-updates on all APIs
Option to select which social media profile to show
Beautifully designed 5 themes to select from
Major 7 social media included
Display order for selected social media
Cache setting
User-friendly and very interactive user interface
Highlights:
Very nice plugin
Work great
Fantastic Beautifully Design

Counter Number plugin gives you an ability to upload the Counter Number Statistics or your site. Moreover, it also enables you to update their records such as counter statistics, icons, and titles as well in an easy and quick way. A lot of features are also consisted of in this plugin.
Provided features:
1 Preset Design template
Unlimited color Scheme
Bootstrap framework based
Drag and Drop builder API integrated
Draggable box items for easy sorting
Use via short-codes
Awesome input field
Custom CSS for custom design
Add and remove the item from backend Quickly
Custom Post Format
Less for quick customization
Highlights:
Easy to use
Great user Interface
Exactly right

Social Counter is the best counter plugin for WordPress that you can use to display the statistics of the social network for your site. It also includes support of many social media networks such as Twitter, Facebook and Google Plus. Moreover, this plugin also allows you to edit the colors and format of your counter.
Provided features:
Set the order of enabled social networks.
Cache setting.
Supports the 3 major social networks
Use it as a widget and as a shortcode.
Free updates and support.
Import/Export settings to easily transfer configurations.
Practically null impact on page loads.
Highlights:
Very good
Fast and customizable

Cresta Social Share Counter enables your users to share your posts and pages easily. In addition, by using it, you can also display the social counter for the total shares as well as each social media. This plugin also includes a lot of features for you to use.
Provided features:
Fade animation
Show the floating social buttons
Show Social Counter
Choose up to 9 buttons styles
Choose up to 17 buttons styles
Up to 30 effects animation
10 hover button animations
Tooltips on the social buttons
Show the social buttons
Highlights:
Outstanding
Incredibly easy to setup
Work fast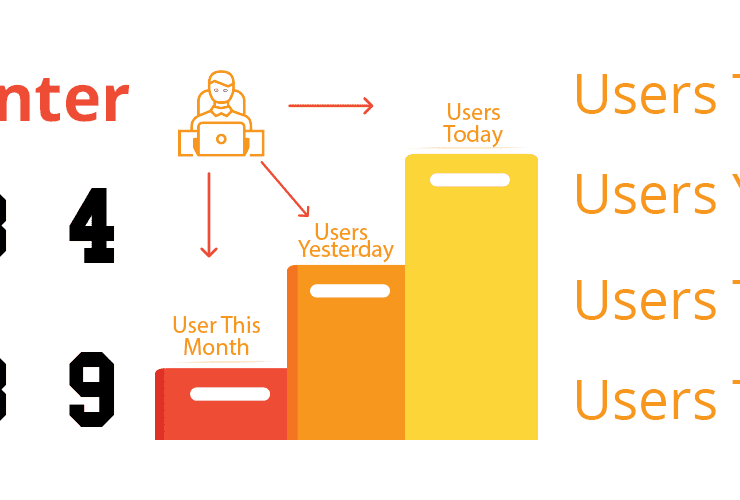 WPS Visitor Counter Plugin will help you showcase the number of your site's visitors and its traffic statistics for your WordPress site such as Users Yesterday, user last 7 days, users last 30 days, users this month, users this year and much more.
Provided features:
Display the number of your site's visitors at various times
Highlights:
Easy to use
Use a shortcode
Gutenberg Block supported

Animated Number Counter is a simple, responsive WordPress counter plugin for your website. It allows you to generate as many as counters as you want with your selected numbers. In addition, you can provide a little description for each number. Especially, it gives you the ability to add eye-catching static or parallax background images to make your animated number counters stand out.
There are a lot of attractive pre-built templates for you to choose from, so you can simply paste the provided shortcode into your posts/pages.
Provided features:
Display animated number counters in grid view.
Number, title, and description (optional) can be set separately
Customization for number font color, font size, line height, font hover color, & font-family and more+
Customization for title font color, font size, line height, font hover color, & font-family and more+
Customization for details font color, font size, line height, font hover color, & font-family and more+
Customize the margin, padding, text-alignment
Highlights:
Work with Elementor
SEO-friendly solution
A lot of pre-build templates
The bottom line
WordPress Counter Plugin is a great option for you to show the number of subscribers, fans or visitors of your site. Besides, don't forget to visit our free WordPress themes to get some beautiful designs for your site.
Thank you so much for reading! If you have any questions, please leave a comment below, we will reply as soon as possible!