When running a website, you always want your site to become perfect and then enhance the experience of customers. These days, there are a lot of plugins that can help you do this easily, one of them is the WordPress Admin Dashboard Plugin.
By using this, you are able to enhance the effectiveness of your site. Today, in this collection, we provide you with top best WordPress Admin Dashboard plugins that may helpful for you.
The reason why you should use WordPress Admin Dashboard Plugin
As you know, the WordPress dashboard is an important place that keeps all information, themes, plugins, and tools. Besides that, this place also allows you to create new pages, change themes, and set up, and operate your entire website.
However, if you are getting bored with your default WordPress admin dashboard, then you can use the WordPress Admin Dashboard plugin to customize the look and feel of your brand needs. Moreover, it not only makes your WordPress admin look attractive and neat but also allows you to add unlimited custom widgets to the WordPress dashboard.
Plus, you are able to completely change the style and remove WordPress texts and logos, and much more.
Here are the top 8 remarkable tools that come with a wide range of features to help you customize your desired WordPress dashboard. Let's give it a look.
Top Best WordPress Admin Dashboard Plugin

This WordPress Dashboard Plugin allows you to track your site effectively by using the newest Google Analytics tracking code. You can also get access to data from the admin area in a direct way. In addition, this plugin also gives you the option of viewing the main Google Analytics statics in the WordPress admin panel.
Provided features:
Page Speed sampling rate control
User sampling rate control
Universal Google Analytics tracking code
Global Site Tag tracking code
Enhanced link attribution
Cross-domain tracking
Ecommerce support for Google Analytics
Exclude user roles from tracking
Highlights:
Easy simple and fast
Works awesome
Excellent

Client Dash allows you to manage the WordPress Admin effectively. Besides, you can also use this plugin to customize the WordPress admin menu just through a powerful Client Dash Customize Admin tool. Thanks to a drag-and-drop function, you are able to organize the menu perfectly.
Provided features:
Remove menu items
Add new menu items
Customize menu items
Reorder all menu items
Client dash customize admin tool
Customize the admin menu
Take control of the WordPress admin
Highlights:
Work great
Fantastic
Easy to use

It is a free but powerful WordPress Admin Dashboard Plugin that helps you to limit the access to your admin. Moreover, you can also select your own redirect URL as well as show a message on the login screen. This plugin also gives you an ability to allowing your users to edit their own profiles in the Dashboard.
Provided features:
User Profile Access
Choose your own redirect URL
Common plugin Toolbar menus
Login Message
Optionally allow user profile access
Optionally display a message on the login screen
Highlights:
Great Plugin
It's Amazing

User Role Editor is a great WordPress Dashboard Plugin that enables you to alter the user roles as well as abilities easily. Furthermore, this plugin also helps you to insert new roles as well as edit its capabilities based on your requirements. You can also remove unessential self-made roles if you want.
Provided features:
Show widgets at the front-end
Block selected meta boxes
"Export/Import" module
Per plugin users access management
Shortcode to show enclosed content
Posts and pages view restrictions
Admin back-end pages permissions viewer
Roles and Users permissions management
"Other roles access" module
Highlights:
Very good top
Great plugin
Excellent

Download Monitor enables you to upload and control your downloadable files effectively. You can also add the download links into posts as well as sell and log downloads within your WordPress site. What's more, using this plugin also allows you to insert multiple file versions to your downloads.
Provided features:
Change the way download links
Member-only downloads
100% Gutenberg compatible
Quick-add panel for adding downloads/files
Add multiple file versions to your downloads
Customizable endpoints
Add, edit and remove downloads
Sell your downloads from
Highlights:
Nice
Straight forward
Simple and useful

The White Label CMS plugin enables you to insert your branding to the header and footer. In addition, by using this plugin, you can also customize the login pages as well as the dashboard effectively. Whta'more, This WordPress Dashboard Plugin also helps you to manage which menu can be presented for your customers.
Provided features:
Customize the login page
Add your branding to the header and footer
Customize the dashboard
Control which menus appear for your client
Setting up a customized dashboard
Highlights:
Fantastic Addon
Simple and beautiful
Excellent plugin

This simple WordPress Admin dashboard plugin allows you to display the last edited posts and pages on your admin dashboard. All information will be shown in a professional way.
Provided features:
Display the last edited posts and pages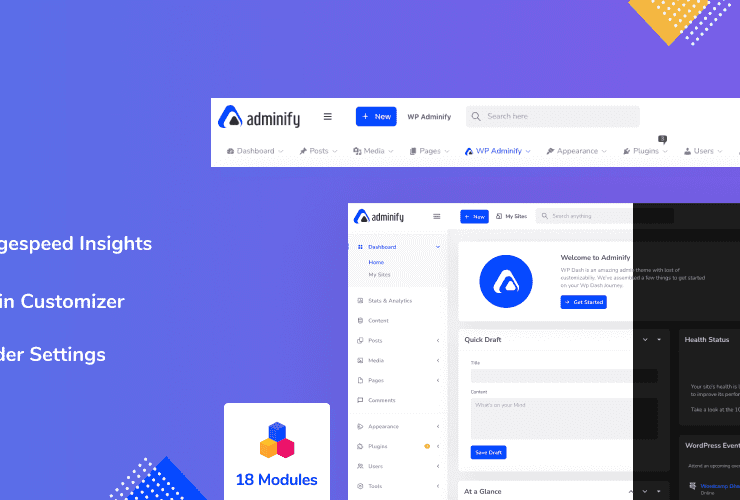 Another powerful WordPress admin dashboard plugin that you should install for your website is WP Adminify. The plugin is packed with 18+ modules including a media folder, Login Customizer, Menu Editor, Admin Columns, Activity Logs, Disable Admin Notice, WordPress White Label, and much more. Additionally, it allows you to change menu titles, URLs, and icons. Moreover, there are over 2000 rich icons.
Provided features:
Admin Columns Customizer
Post type & Media Folders
Google Pagespeed Insights
Disable Admin Notices
Dashboard Menu Editor
WordPress Login Customizer
Highlights:
Easy to implement
Completely customizable
Lightweight and instant loading
Conclusion
Which is your favorite WordPress Admin Dashboard Plugin? To answer this question, you need to chew over mentioned features of each plugin to help you make the right choice.
Additionally, if you have any recommendations, please leave a comment in the box below.
Don't forget to discover a bunch of stunning, awesome, responsive free WordPress themes on our website.