With the rapid growth of eCommerce businesses, many online entrepreneurs are now seeking for a reliable web hosting provider to ensure an excellent performance for their online store. In addition, using the right eCommerce hosting solution can make a huge difference when it comes to site performance, security, and user experience.
In this blog, we will explore a list of eCommerce hosting providers that offer plenty of powerful features in order to meet the needs of online businesses of all sizes. Whether you're going to build an online store, don't miss our blog. Now, let's check them out.
What is eCommerce Hosting?
eCommerce hosting is a type of web hosting service that provides individuals and businesses with all the necessary tools and features to set up and run a commercial website. This includes shopping cart software, payment processing services, SSL, and database support, among others. In addition, the best e-commerce hosting providers also offer standard web hosting features such as web space, plugins, and security.  In this blog, we will discover tons of high-quality eCommerce hosting providers.
List of best eCommerce Hosting Providers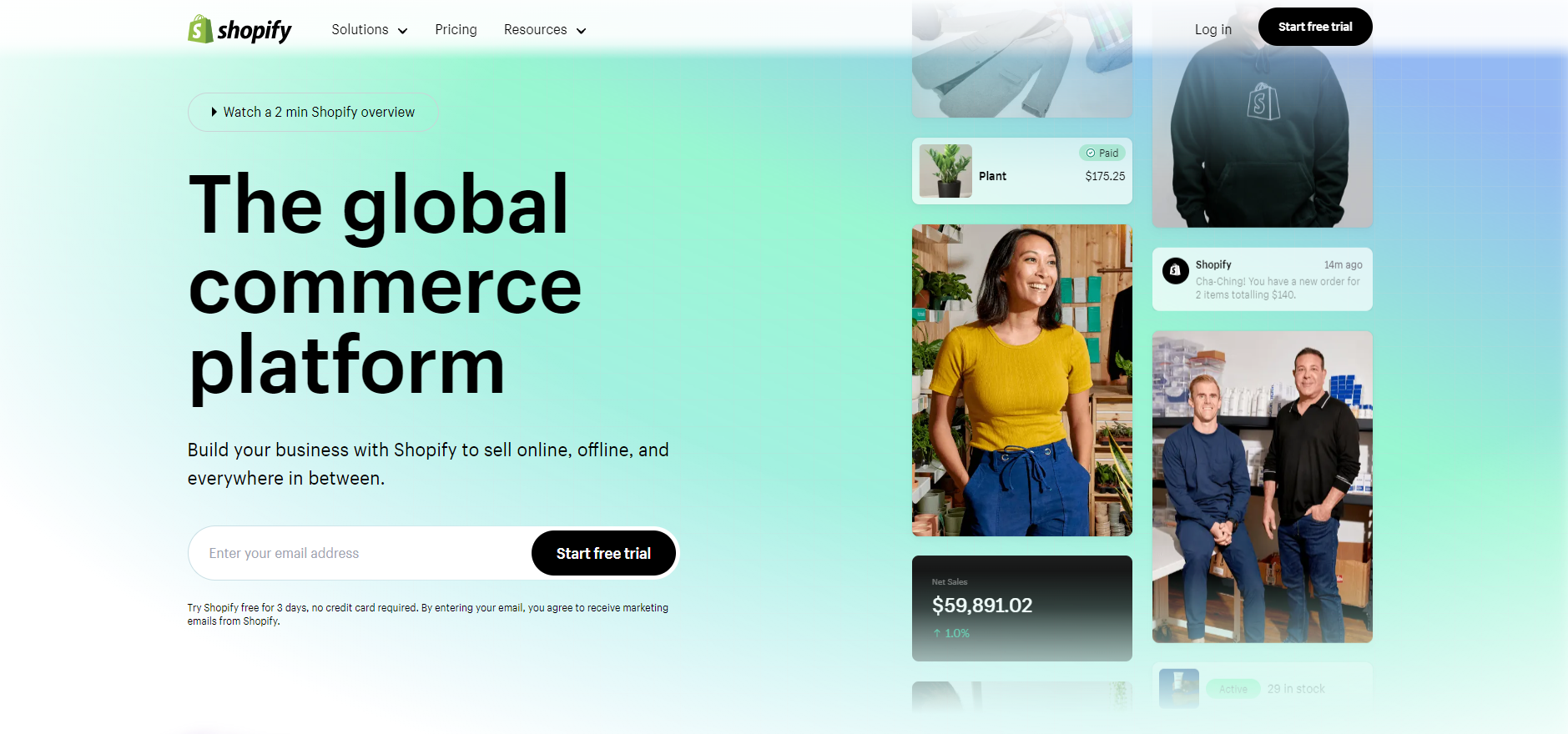 If you're looking to start an online store, Shopify is a popular e-commerce platform that offers all-in-one solutions for launching and running your business. With plans starting from $39/month, Shopify provides unlimited bandwidth and hosting that ensures your site and its content load fast. They also use a Content Delivery Network to ensure your online store is accessible to people worldwide.
One of the best things about Shopify's hosting is that it's PCI DSS Level 1-compliant by default, meaning you don't have to worry about securing your customers' payment info or business data. Shopify also offers many other compelling features such as shopping cart software, payment processing services, SSL, and database support.
Pricing plans:
Basic: $25/month
Shopify: $65/month
Advanced: $399/month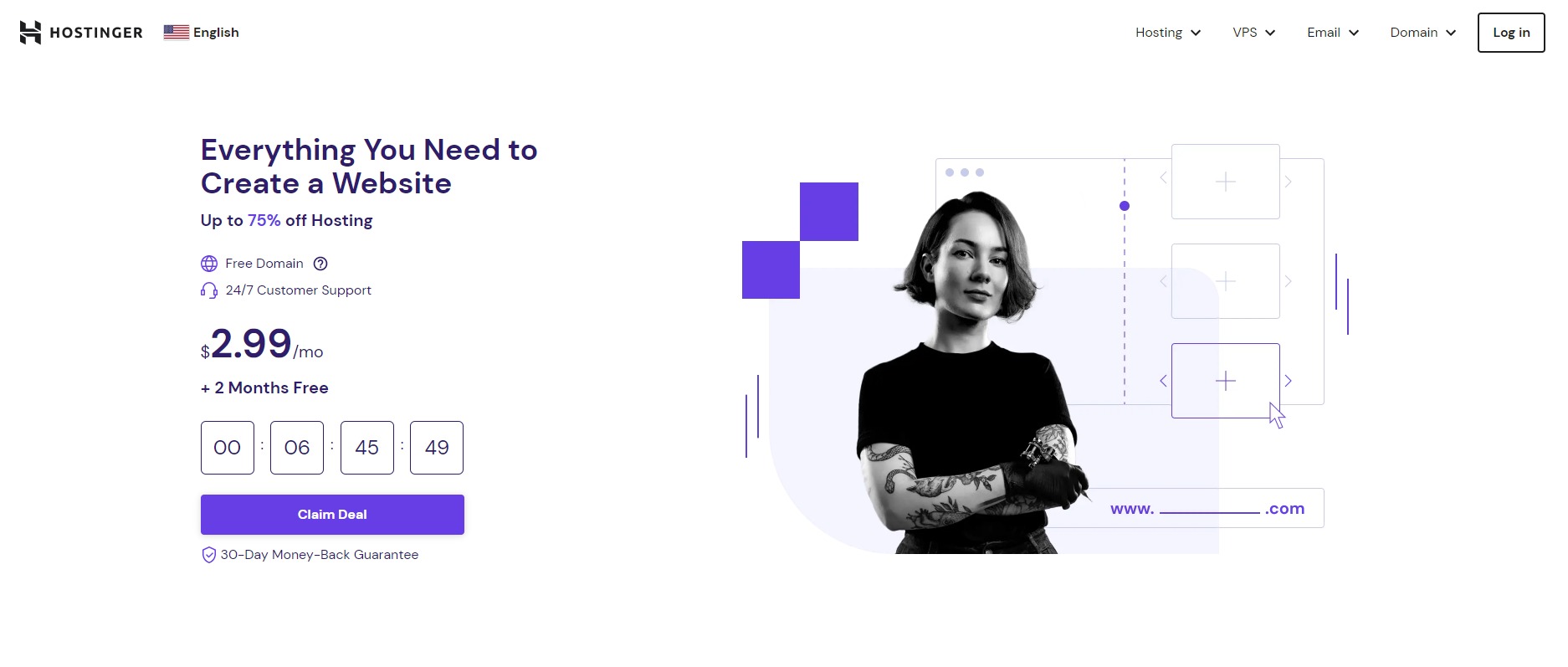 Hostinger is an excellent eCommerce hosting provider that offers a variety of plans to suit your online business needs. With its user-friendly control panel, you can easily manage your website and access your custom email with 30GB of storage. Hostinger also offers a lookup tool to find WHOIS information and supports the transfer of domains. The company is trusted by thousands of customers for its hosting services and offers cloud hosting plans to fit your budget.
Moreover, their fast eCommerce sites are designed to keep visitors engaged and supercharge your conversion rate, boosting sales. Hostinger prioritizes security and offers a free SSL certificate and an in-house built firewall to protect your website. The hosting provider also offers 24/7 live support and an Auto Installer to help get your WordPress site online quickly. Hostinger supports various eCommerce platforms, including WooCommerce and PrestaShop, and even allows for custom-built stores.
Pricing plans:
Premium Web Hosting: $2.99/month
Business Web Hosting: $3.99/month
Cloud Startup: $9.99/month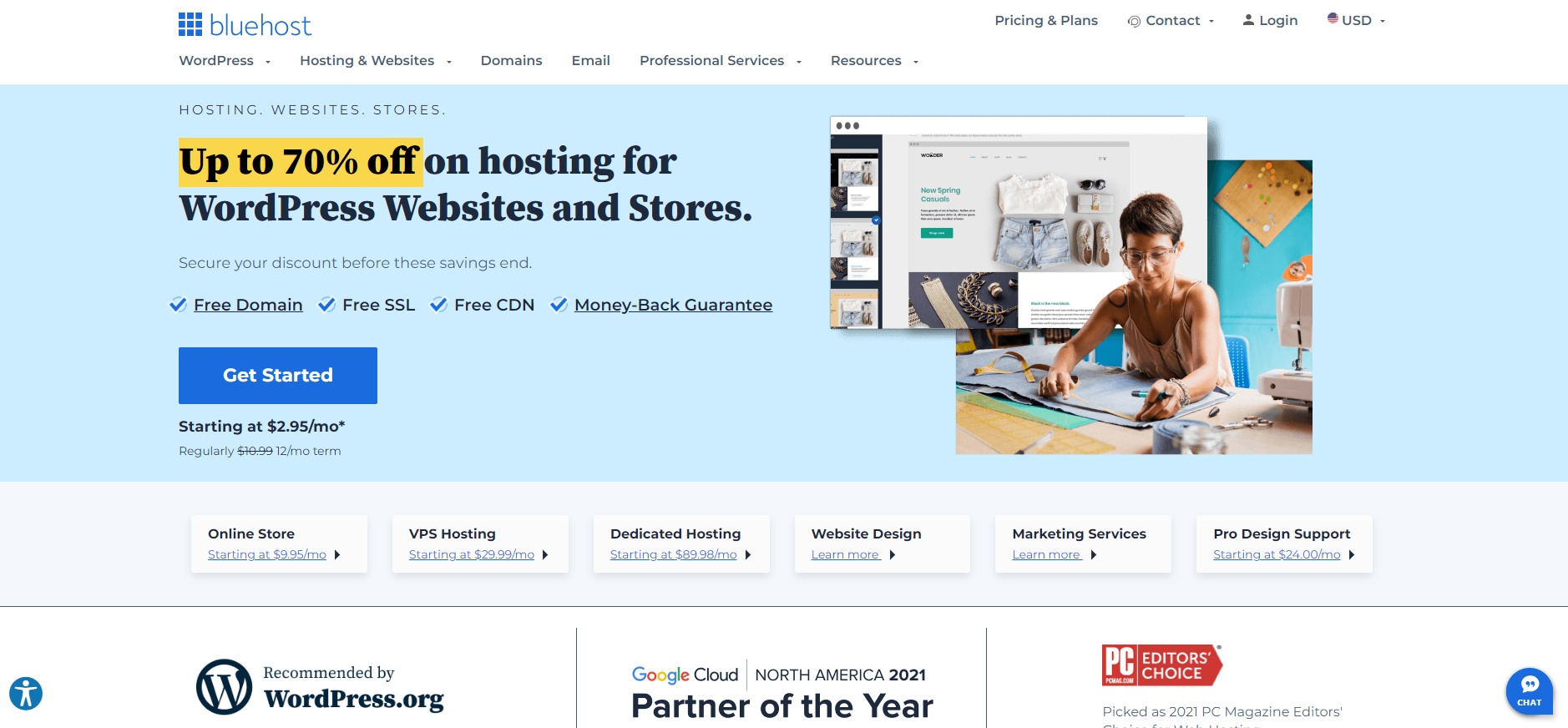 Another great eCommerce Hosting provider that you should not miss is Bluehost. With a score of 4.1 out of 5, it is one of the top eCommerce hosting providers in the market. Bluehost is ideal for those who want to build an online store with WooCommerce, as it offers a basic WooCommerce plan for $9.95/month that comes with a pre-installed Storefront Theme, 100GB of SSD storage, and a free two-hour setup call with a WooCommerce expert.
Further, Bluehost stands out from the crowd when it comes to making WordPress sites. It is one of the hosting providers that is recommended by WordPress itself and offers one-click installations to make setting up a WordPress site a breeze.
Pricing plans:
Shared hosting plans: Start at $2.95/month
VPS hosting plans: Start at $29.99/month
Dedicated hosting plans: Start at $109.97/month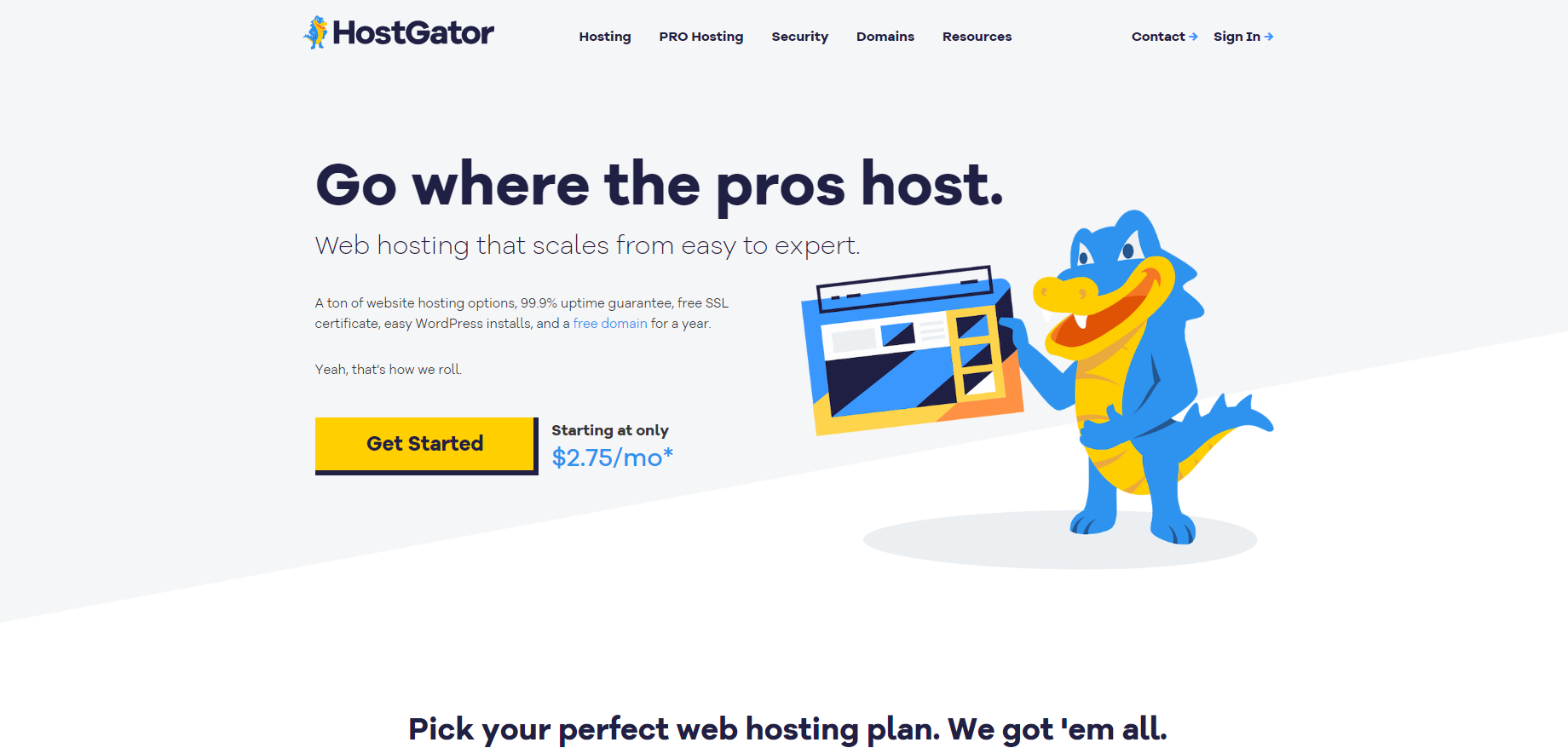 HostGator is a significant candidate in this list. This hosting provider offers tons of powerful features for online businesses. Currently, HostGator has hosted over 8 million domains, so it becomes one of the trusted eCommerce hosting providers. Their plans also come with many useful features such as unlimited bandwidth, unlimited disk space, a free SSL certificate, and much more.
Additionally, HostGator provides users with a 99.9% uptime guarantee. As a result, your website is always accessible to potential customers.
Pricing plans:
Hatching plan: $2.75/month
Baby plan: $3.50/month
eCommerce plan: $7.25/month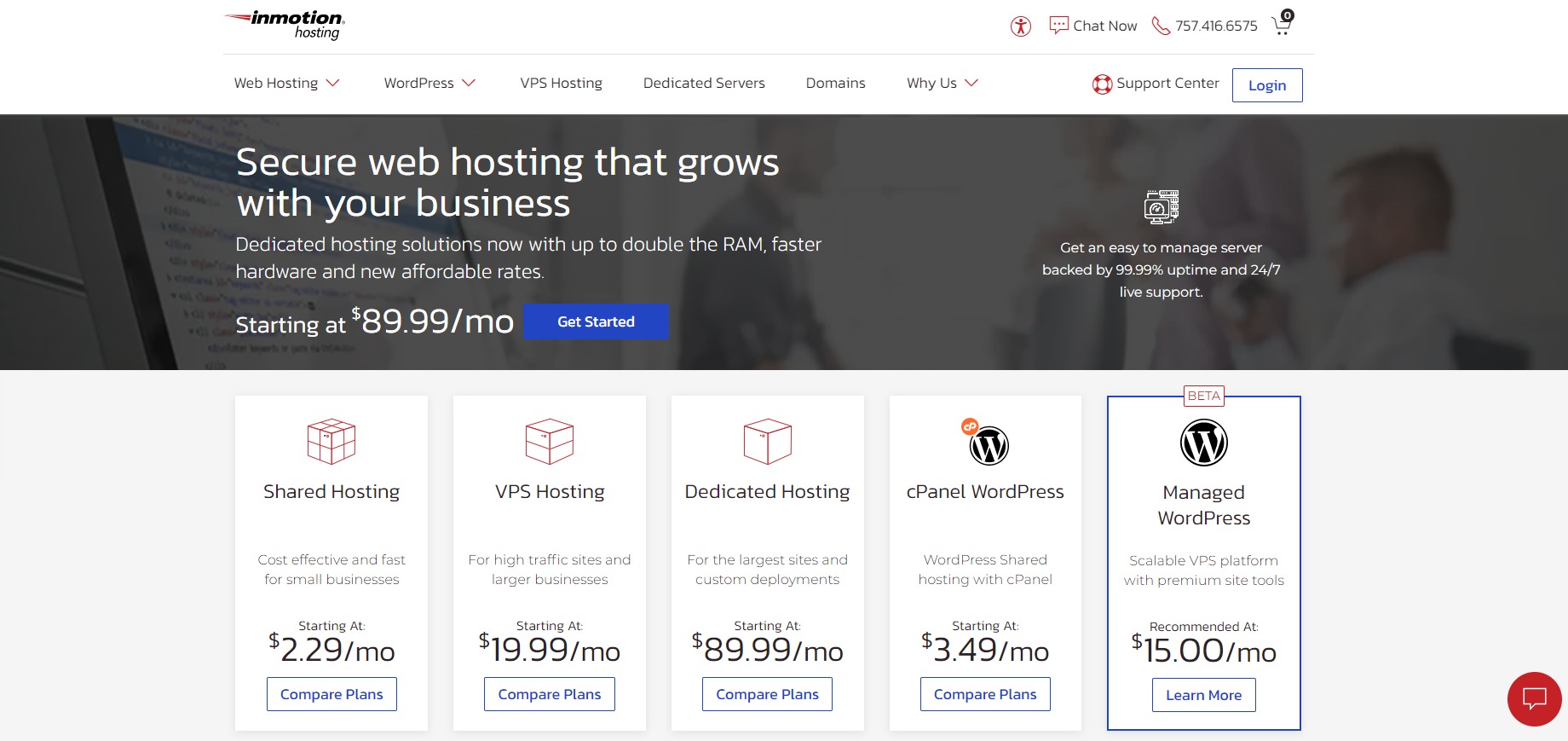 InMotion Hosting is well-known for its exceptional performance and customer service. InMotion's data centers are located in the US and are equipped with the latest technology, ensuring fast load times and optimal website performance. The company also provides helpful resources like website builder tools, marketing guides, and developer support.
Additionally, InMotion Hosting prides itself on its award-winning customer service, offering 24/7 support through phone, chat, and email. Their team of experts is known for their prompt response times and personalized assistance, making InMotion Hosting a solid choice for eCommerce stores looking for a reliable and user-friendly hosting provider.
Pricing plans:
WP Core: $4.49/month
WP Launch: $8.99/month
WP Power: $8.99/month
WP Pro: $16.99/month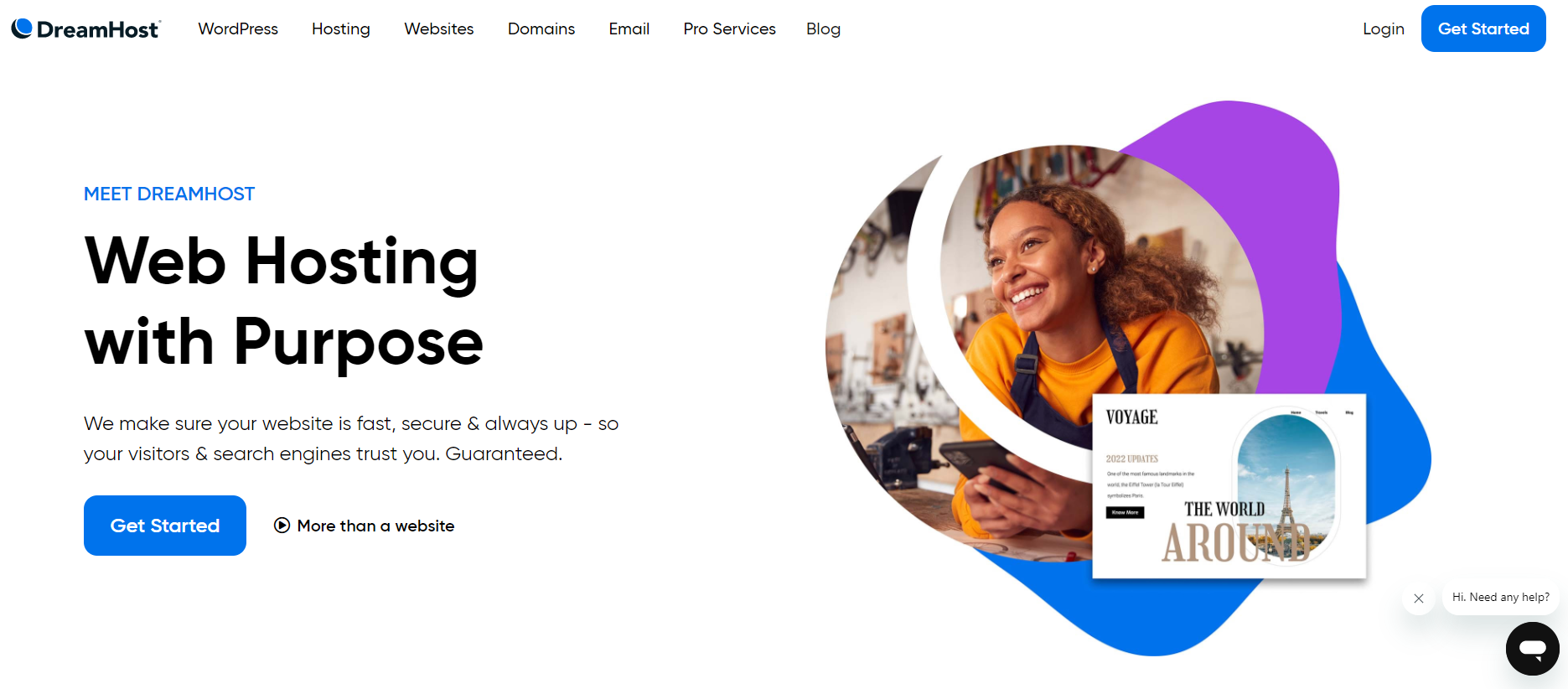 DreamHost is a web hosting company that was founded in 1996. With over two decades of experience, DreamHost has established itself as a reliable and reputable hosting provider. The company offers a wide range of hosting services, including shared hosting, virtual private servers (VPS), dedicated servers, and cloud hosting.
Besides that, it is packed with many robust features such as SSD storage, SSL certificates, and security measures, its focus is more on general web hosting and supporting various content management systems. For small to medium-sized eCommerce businesses with relatively simple requirements, DreamHost can be a viable option to help you easily set up an online store.
Pricing plans:
Shared plan: Start at $2.95/month
DreamPress: Start at $16.95/month
VPS plan: Start at $13.75/month
The bottom line
After reading our blog, now it's time to choose the best eCommerce Hosting provider for your website. Which provider do you think is the best? In our opinion, Hostinger is the best choice in this list, because it comes with a bunch of valuable features for your online store. In addition, it has affordable pricing plans.
What is your selection? Let me know by leaving a comment below. Further, you can take a look at tons of stunning, free e-commerce WordPress Themes on our website.