If you are curious to know about Joomla 4 New Media Manager, this is an article for you!
There are many interesting new features of the upcoming Joomla 4 which we should consider, for example, integration of Bootstrap 4, Framework 2.0, the new Joomla 4 UI, new Media Manager,… And in today blog post, we are going to discuss more the New Media Manager from Joomla 4 for giving you a clearer look about how it has been improved, features built-in, as well as the way it works.
1. Media Manager New UI
The first feature we talk about is the new UI of Media Manager. In Joomla 3, Media Menu was at the position below the "Content" menu item. Now it will be moved to the Parent menu item, along with many new features and perfectly working panel UI to support users managing the media files more simple.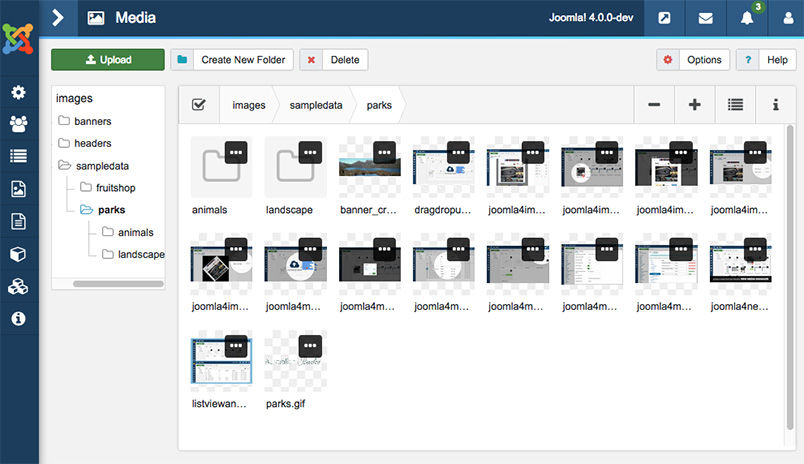 2. DRAG-DROP UPLOADING MULTIPLE FILES AT THE SAME TIME
You are able to save much time in uploading multiple files, even at the same time via this great drag-drop uploading.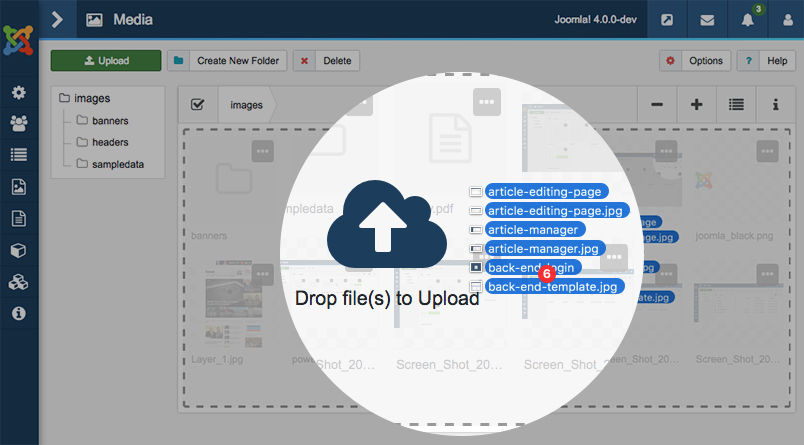 3. BUILT-IN IMAGE EDITING TOOLS
"Image edition" is the feature which helps users in editing images without requiring any tools from the backend. Just click on the ellipsis icon from the image, a list of option will appear with "Edit", "Rename", "Preview", "Delete an image" options.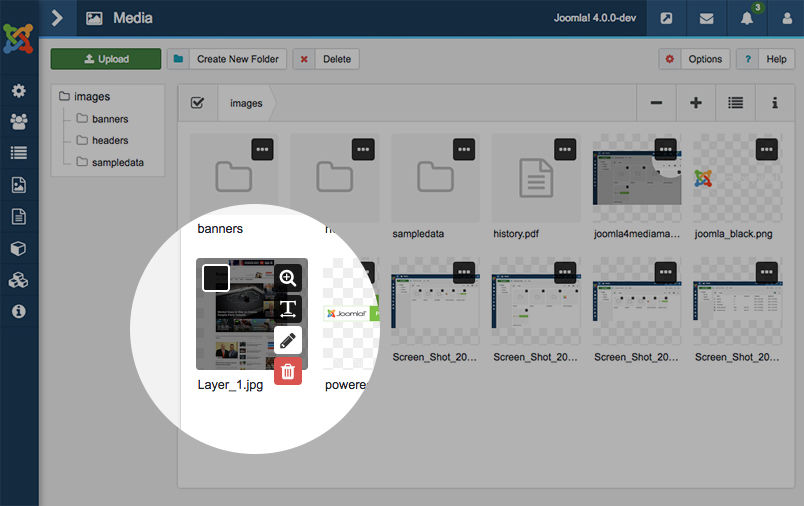 Image editors: With few clicks on "Image editor", an image can be edited and changed to a different look – more beautiful and sharp – with the option "Image Quality".
[1] Rotate options allows you to rotate image (able to rotate up to 360°).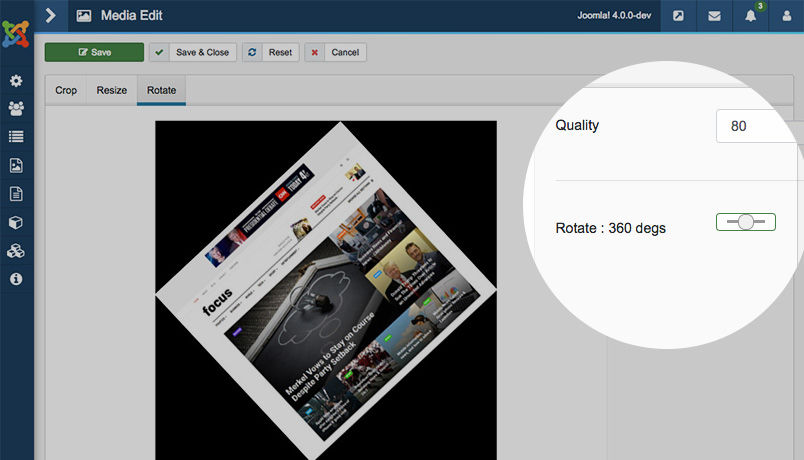 [2] Crop option to crop an image by setting height&width or by X-Y axis.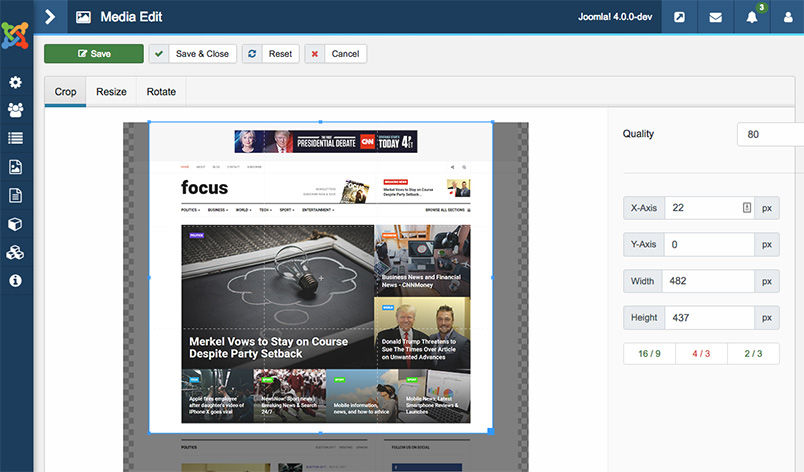 [3] Resize option is to create custom image in width&height.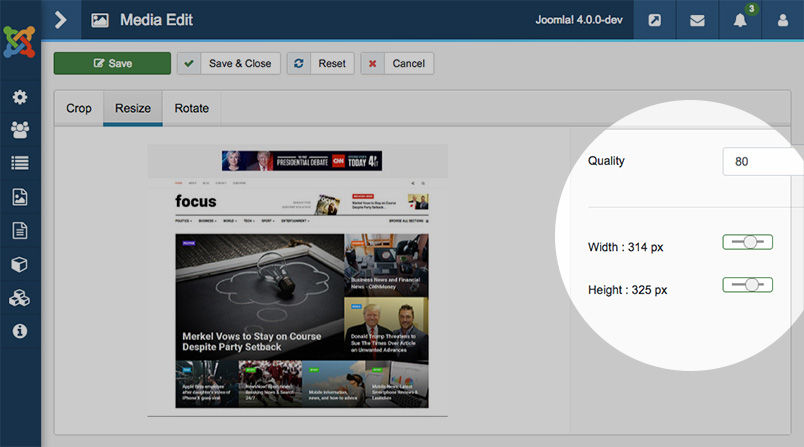 WITH MORE INTERESTING OPTIONS FOR YOU TO MANAGE FILES:
[4] Rename is to change the image name.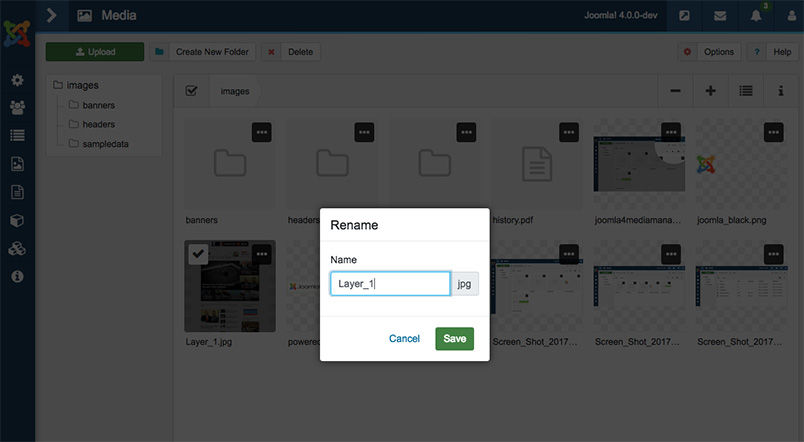 [5] Delete clicking on the Trash icon to delete an image.
[6] Preview Click on Preview(Lens) icon to show up a bigger and beautiful image size.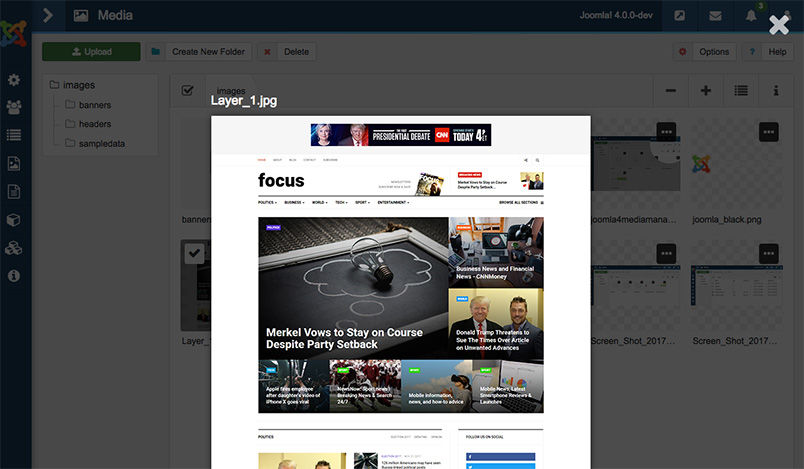 4. ZOOM-IN & ZOOM-OUT OPTIONS
By clicking buttons [+] and [-] on screen top right, you can resize the image thumbnail smaller or bigger.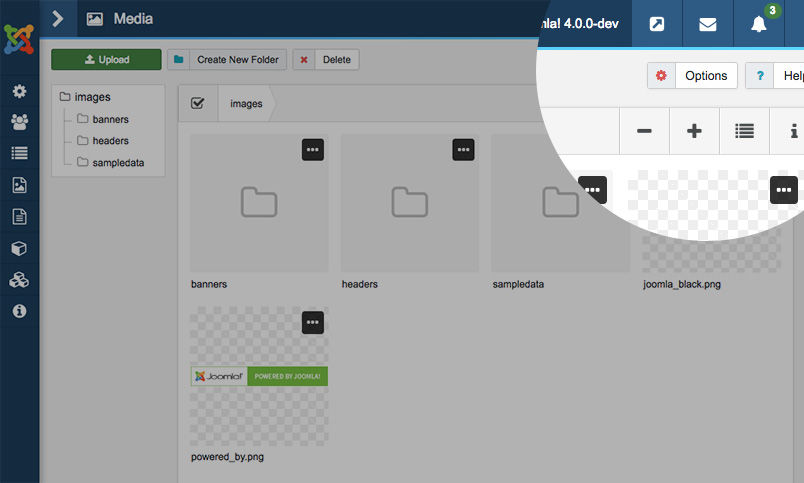 5. IMAGE PROPERTIES
Size, type, modified/created date, dimension are the images properties that you can check easily from the media by clicking on the information icon of the image you want to check. To view another image properties, please click on it, that's it!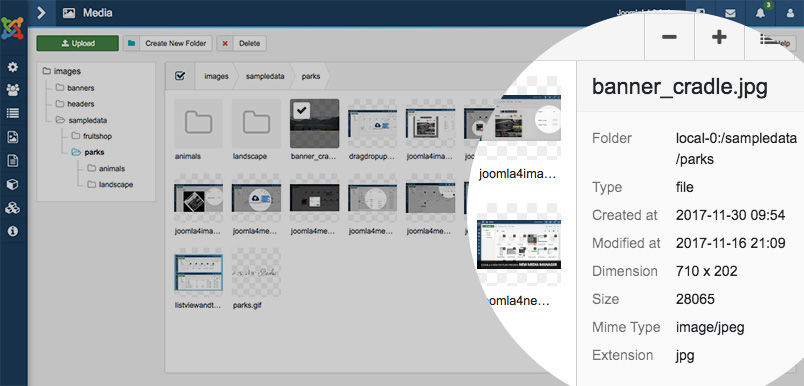 6. THUMBNAIL & DETAIL VIEW
Showing on the top right corner of the screen, Thumbnail & Detail View buttons help you change to a different view easily by a click.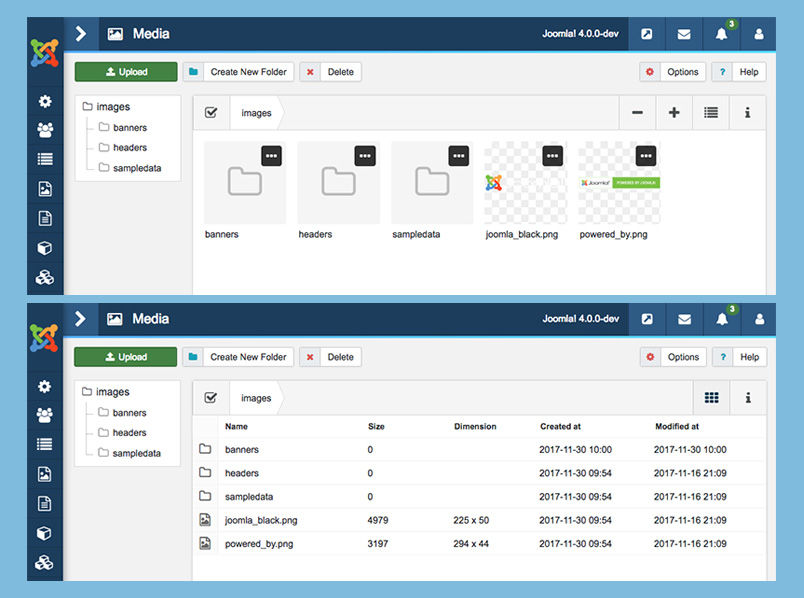 7. GLOBAL OPTIONS CONFIGURATION FOR JOOMLA 4 MEDIA
These options make it possible for you to decide file type, maximum size of the file, restrict uploads, path to the image folder, etc.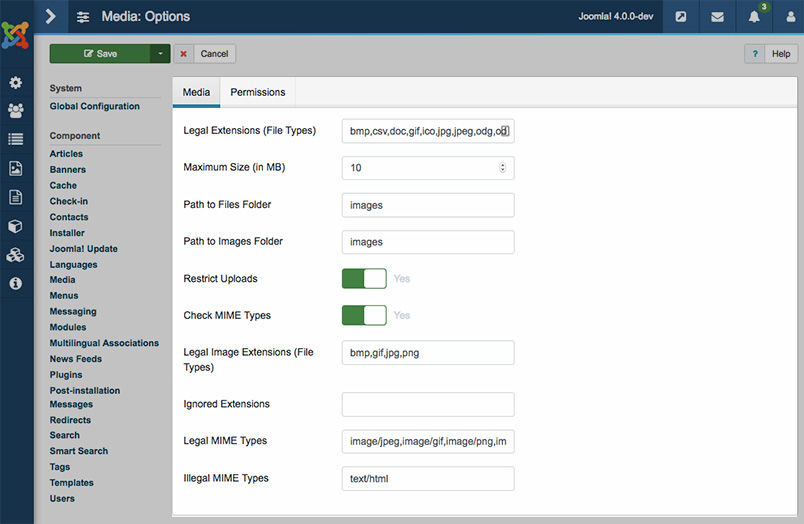 Besides, Media Permission configuration panel allows you to set access level for users or group of users to access media manager.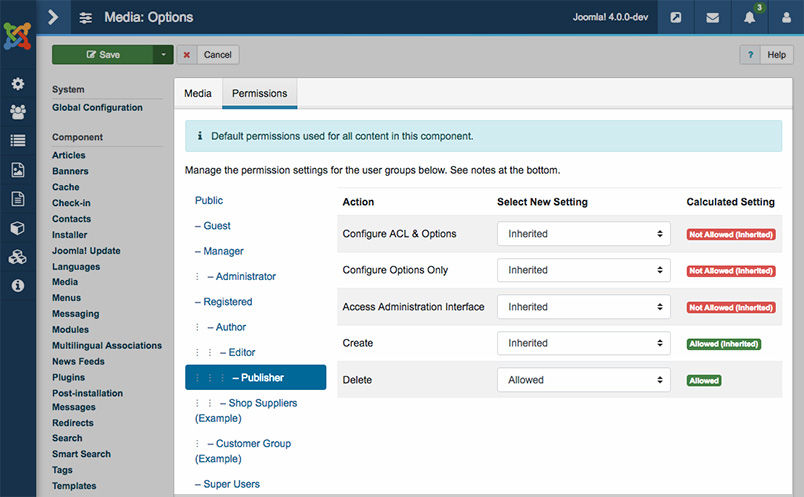 CONCLUSION
That's all for our article of Joomla 4 New Media Manager today! We are really excited about this new release, how about you? There are also more amazing features from Joomla 4 which are worth our wait! Don't forget to have a full preparation for this big upgrade to avoid any unexpected problem!
Thank you so much for reading! If you have any relating question, please feel free to let us know by leaving a comment below, we will reply as soon as possible!
Image credit: Gavick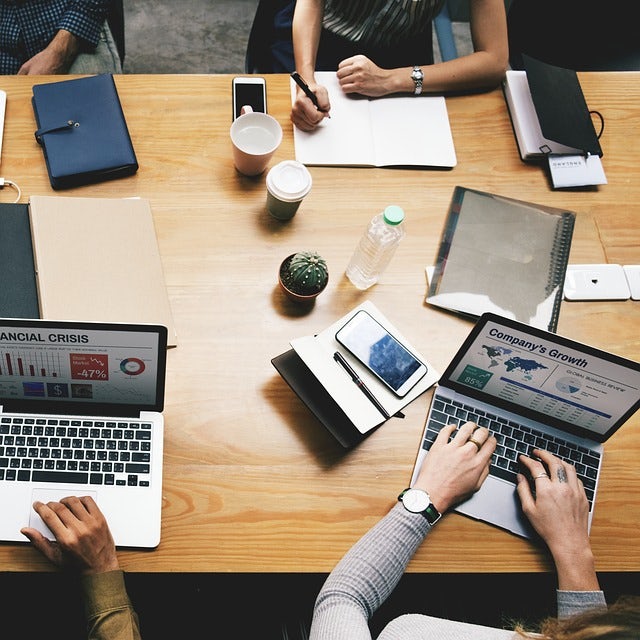 We're a Digital Team from EngineTemplate with 5 content experts. Our team has 5 years exp in open source Joomla and WordPress, we make daily blogs and build useful resources for everyone who is having issues with open source while using it.