Are you looking for a simple way to disable RSS feeds in WordPress? Our blog is just for you. We will give you a detailed guideline to help you tackle this task effectively with 2 handy methods. Let's dive into it.
What are RSS Feeds?
RSS stands for Really Simple Syndication or Rich Site Summary. In fact, RSS is a type of web feed that plays a crucial role in helping users stay up to date with the latest content from their favorite websites without directly visiting that website.  Readers are automatically able to update new content via email newsletters, RSS feed readers, and other devices.
Why do you need to disable RSS Feeds?
There is no denying that RSS feeds bring your website a lot of benefits such as helping readers timely keep up with updates from your website directly and helping you create a loyal audience around your website/blog.
However, WordPress enables all types of RSS feeds by default. But, there are a lot of RSS feeds that are unnecessary for your website such as the taxonomy feed, author feeds, individual post and page feeds, and much more.
You should disable these RSS feeds so that you can prevent search engines like Google from exhausting your website crawl quota. Thanks to that, search engine bots will not crawl feeds that are not related to your WordPress site and will index other vital pages instead.
Moreover, in some cases, you may want to disable the RSS feeds since your website is static and doesn't have a blog page.
How to Disable RSS Feeds in WordPress
Method 1: Disable RSS Feeds by using AIOSEO plugin
Currently, there are a lot of handy plugins that allow you to disable dispensable RSS feeds. However, in today's blog, we highly recommend using AIOSEO plugin for your website. Since this is one of the most high-quality WordPress SEO plugins for your website.
This plugin has had over 3 million active installations and helped a lot of websites get higher rankings on Google search engines. In addition, it is also packed with a list of advanced SEO features to help you disable RSS feeds in WordPress.
To use this plugin, you need to follow our instructions below.
First of all, you need to install and activate the plugin by going to Plugins > Add New from your WordPress admin panel. Then, let's use the search bar to find the AIOSEO plugin. Next, click on the Install Now button and Activate it.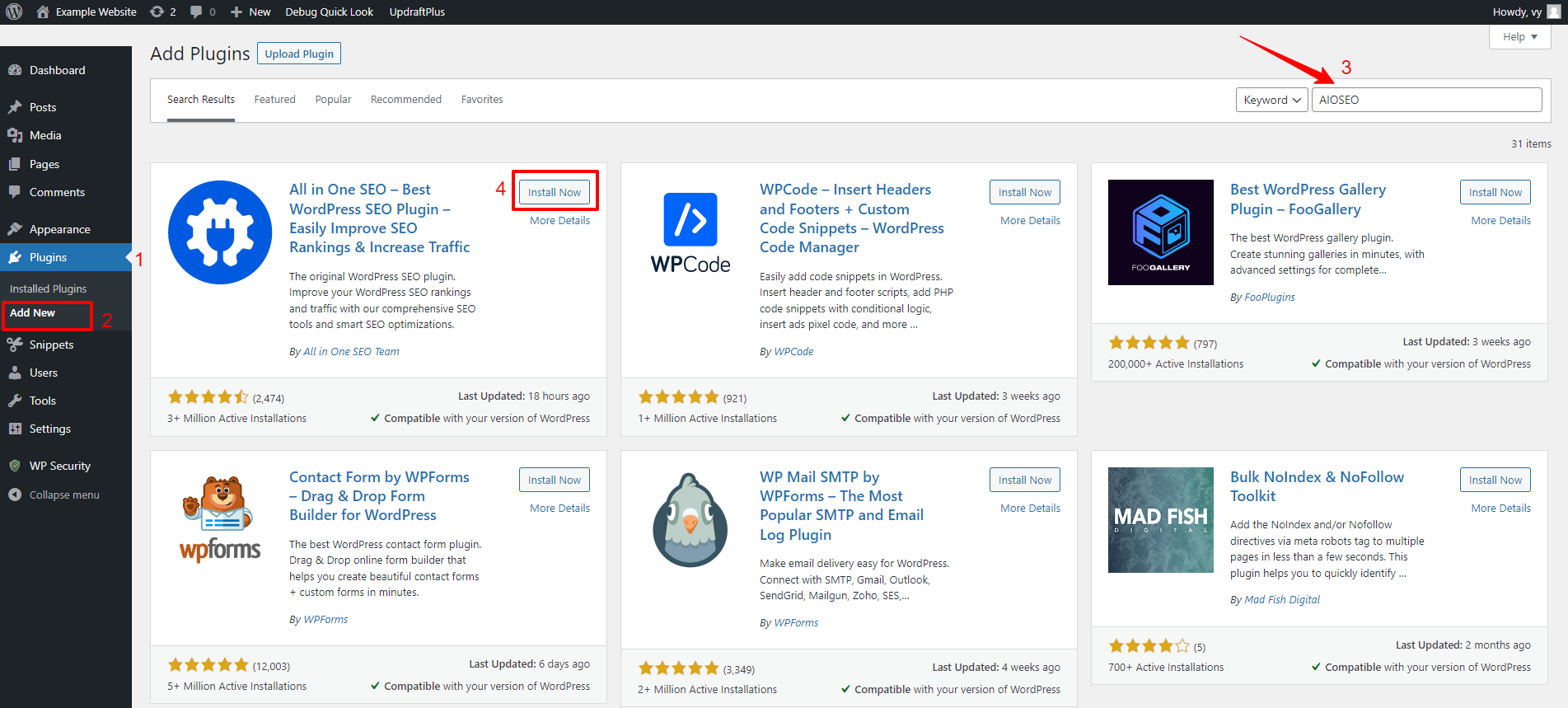 Once the plugin is activated, now you need to enable the "Crawl Cleanup feature" feature.
To do so, you need to navigate to All in One SEO > Search Appearance from your WordPress dashboard and select the "Advanced" tab in the All in One SEO menu.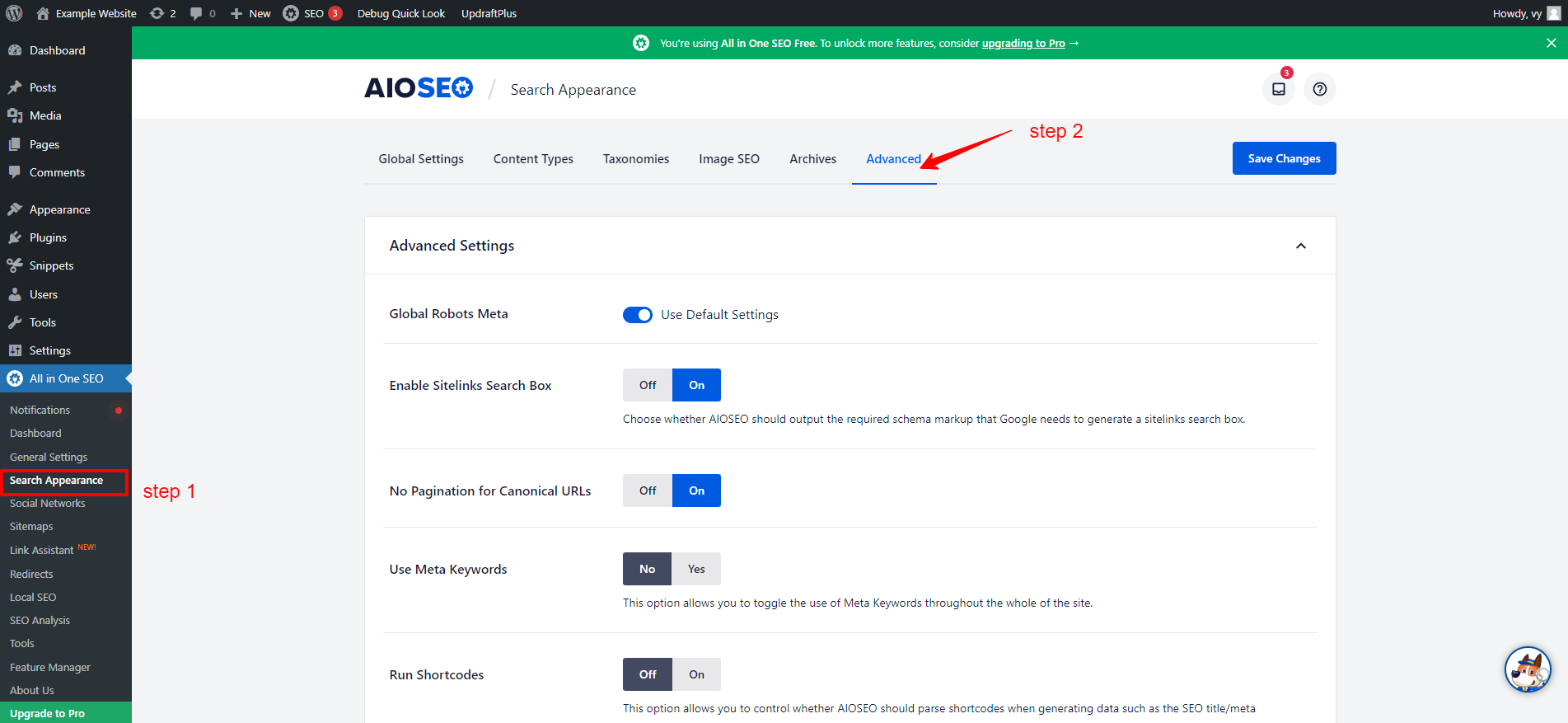 Next, let's scroll down the page to the "Crawl Cleanup" option and enable it.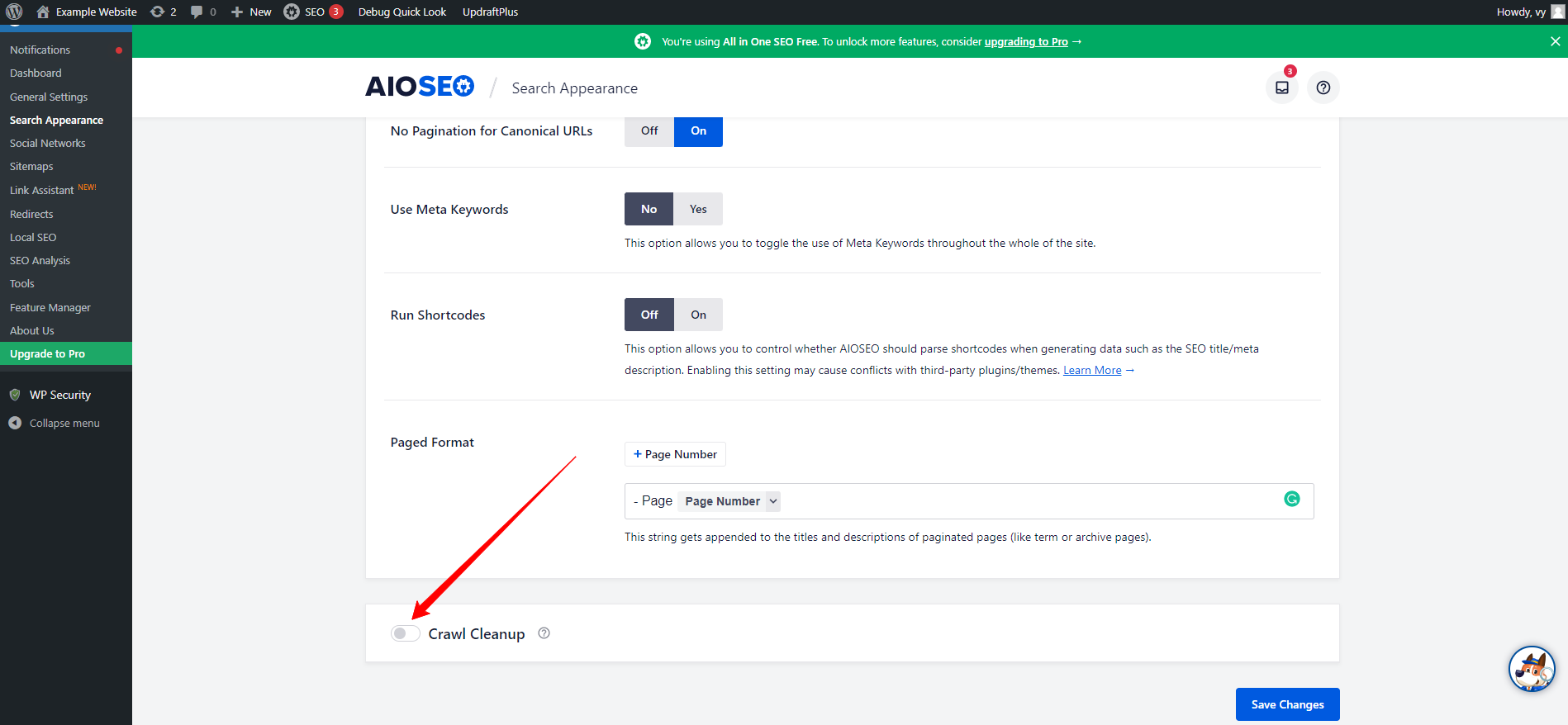 This will open up a section that allows you to manage RSS feeds. From here, you can disable the ones you don't need.
We advise that you should not disable "Global RSS Feed" since it helps your subscribed users to catch up with the latest updates. On the other hand, we highly recommend disabling other RSS feeds that cause negative effects on your WordPress site such as RSS feeds for author, search, attachments, taxonomy, much more.
Once you are pleased with your selections, don't forget to click on the "Save Changes" button to finalize the process of disabling the RSS feeds.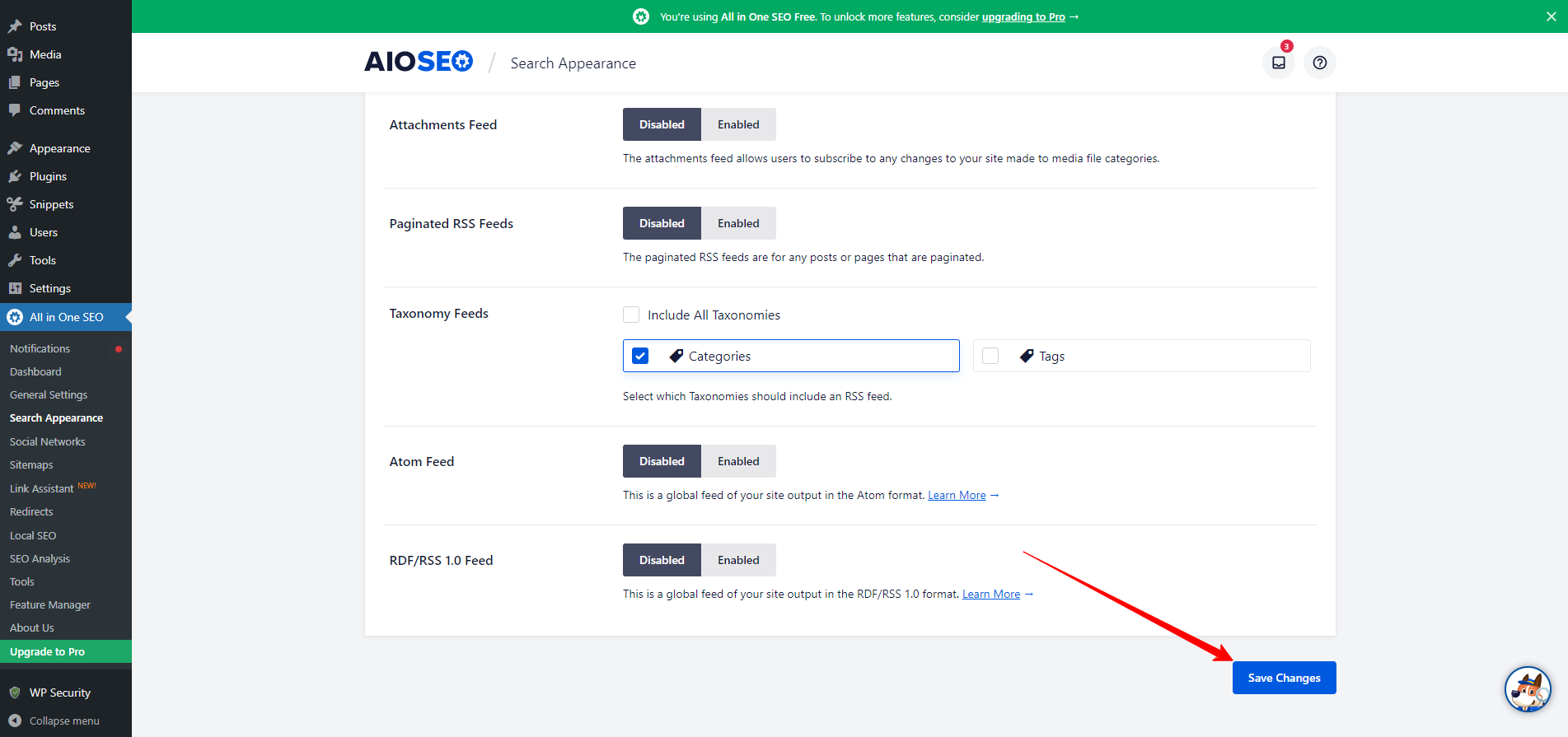 Method 2: Disable RSS feeds in WordPress by using code
In addition to using the AIO SEO plugin to disable RSS feeds, you can still add code to your theme's functions.php file to disable RSS feeds.
However, if you are not a professional, we advise that you should not use this method. Because editing your theme's functions.php file can break your WordPress site if it goes wrong.
Fortunately, you can still use the support of another plugin to insert the code snippets into your WordPress site.
The plugin that we would like to recommend is WPCode. This plugin will make it easy for you to add code snippets in WordPress without having to edit your theme's functions.php file.
First and foremost, you need to install and activate the WP Code plugin. The process of installing this plugin is also similar to what we did with the AIO SEO plugin above.
Once the plugin is activated, let's go to Code Snippets > Add Snippet from your WordPress admin panel.
Then, click on the RSS feeds tab and hover over the "Disable RSS Feeds" settings on the right side that will display the "Use snippet" option. Simply click on this option.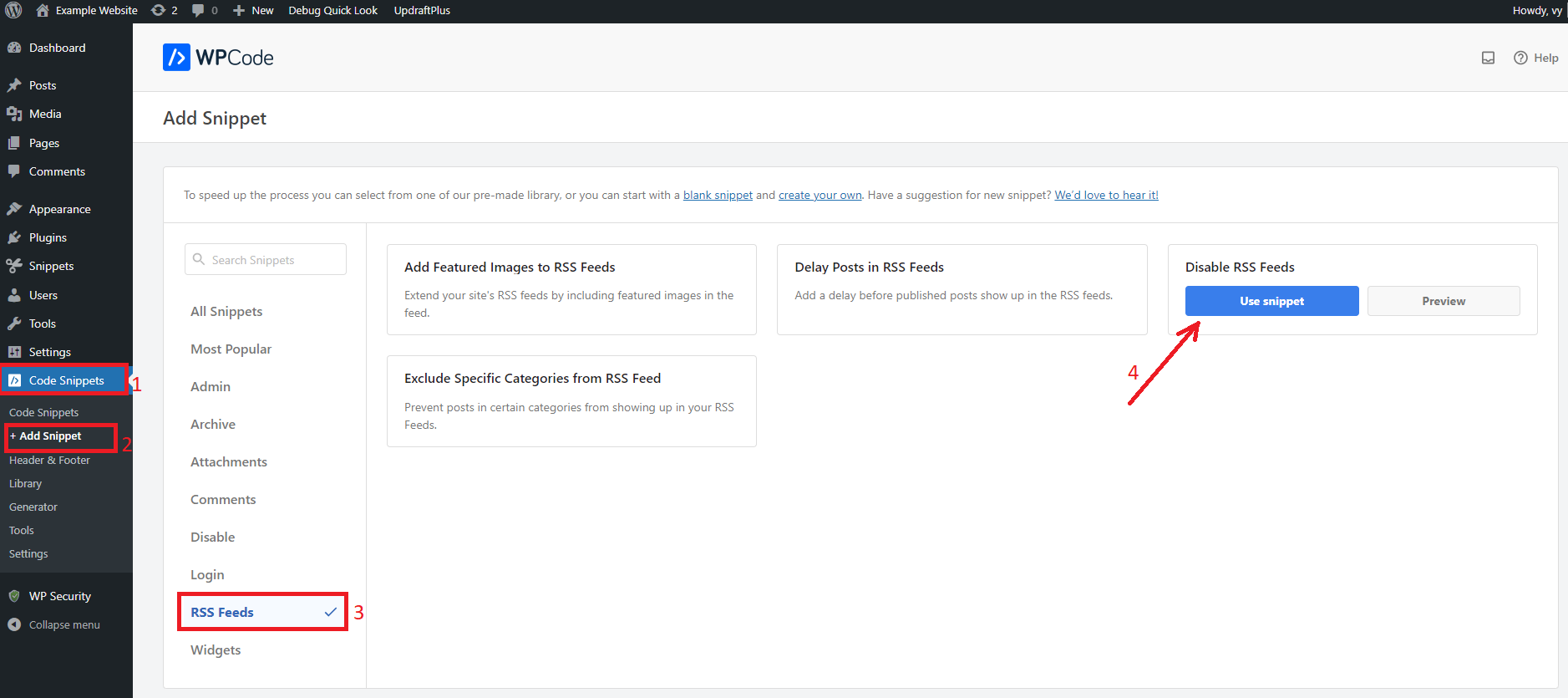 Next, this will take you to the next page where you can see the snippet itself. One of the best benefits is that WPcode has already set all options for you. Therefore, all you need to do is switch on the Toggle at the top right corner to Active mode and click on the "Update" button.
In addition, you can optionally change the placeholder text on line 10 to your own custom message.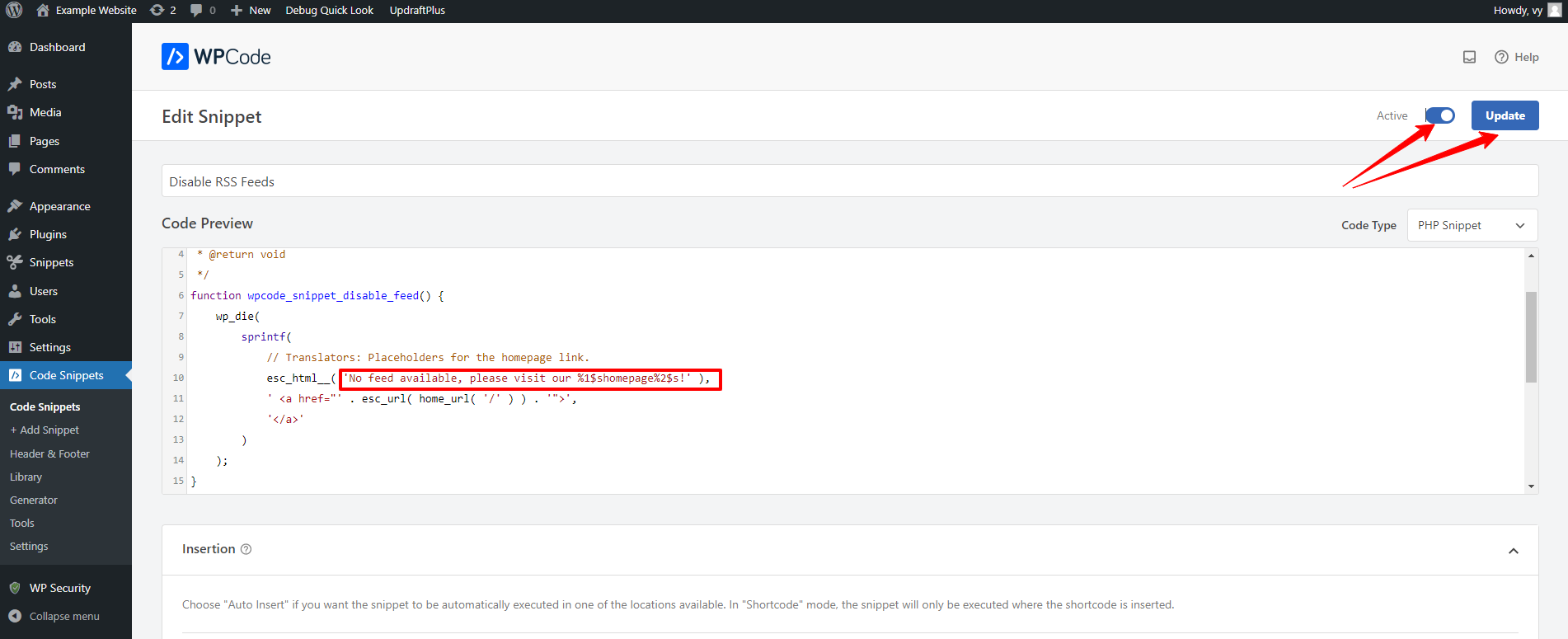 The bottom line
We have just given you a step-by-step tutorial to help you disable RSS feeds in WordPress. Hopefully, with the support of our guidelines, you will not get into any trouble once handling this task.
If you have any difficult tasks related to WordPress, don't hesitate to mention them in the comment below. We will support you as soon as possible.
Moreover, you can visit our website to explore a wide range of impressive, SEO-friendly, free WordPress themes for your website.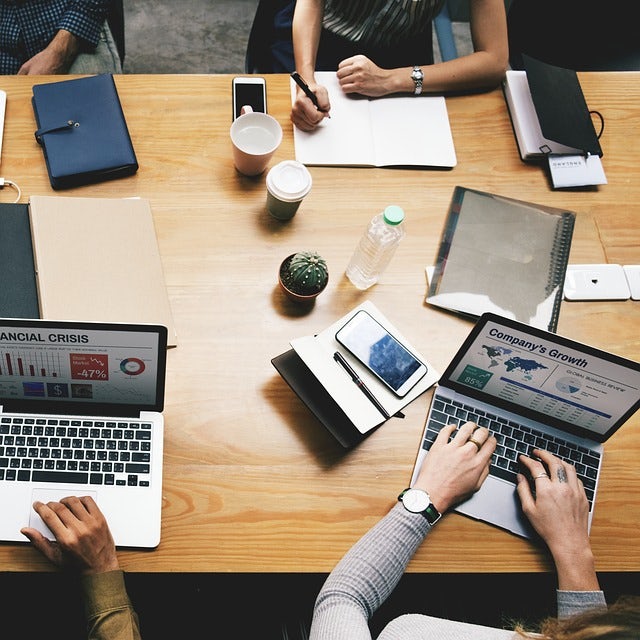 We're a Digital Team from EngineTemplate with 5 content experts. Our team has 5 years exp in open source Joomla and WordPress, we make daily blogs and build useful resources for everyone who is having issues with open source while using it.