Blank Page – White screen of death
When you are trying to edit with Elementor, you receive a blank page. This issue can be caused by some reasons:
Lack of memory – Deactivate a few plugins and see if it solves the issue
The root of the problem –  Contact your hosting company and ask them to increase your WP memory.
Elementor loading – Try to follow these steps:
Step 1: Open WordPress Dashboard > Elementor > Settings
Step 2: Click Advanced, then select Enable for Switch Editor Loader Method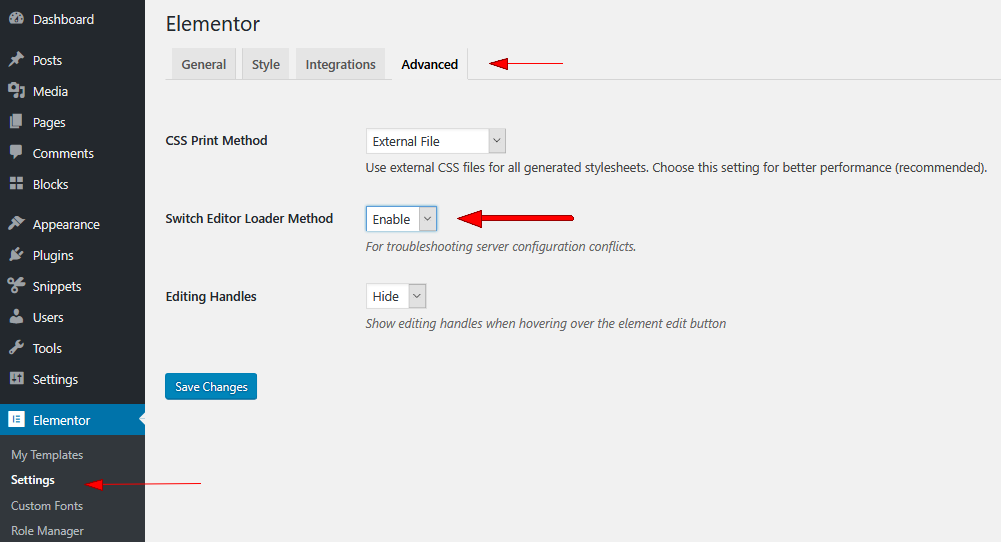 The difference between URL in the back-end and in the front-end – Ensure that the site URL is as same as the Home URL. Click Settings > General in order to check these URLs.
Plugins conflict.
A result of a program introduced on your PC – Alter from another PC.
A Fatal error – Ask your hosting organization to send you the PHP mistake logs of your server to realize what is the accurate issue.
Gray Page – Endless loading
Conflict with another plugin – Deactivate each plugin one by one to consider which one is causing the issue. If you see that a plugin is not compatible, please report this issue to support the conflicting plugin.
Add-on installed on your browser – Switch to another browser such as Safari, Chrome, Firefox or Opera.
X frame restrictions or Cross-origin – Follow step by step:
Step 1: Click right on your mouse > Inspect > Console. The words written in red are errors.
Step 2: Change the X-Frame-Options from Deny to Same-origin.
Rocket Loader –  If you use Cloudflare, deactivate the Rocket Loader
 Cloudflare cache – Your cache must be cleared before updating the plugins.
Can't access the edit page
In the case that you are not allowed to get to the altered page and when you choose the Edit With Elementor, it takes you to live page. You need to check the troubleshooting procedures aforementioned to fix the errors.
CONCLUSION
That's all we want to give you. If you have any question, don't hesitate to leave a comment below, we will answer as soon as possible.
Credit: Elementor Official